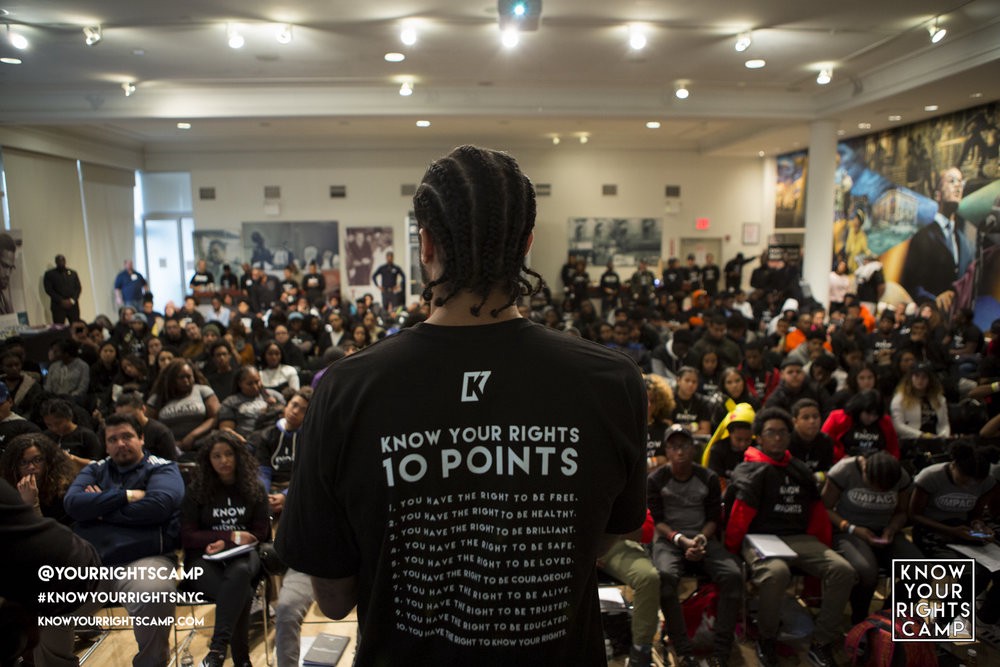 Our nation loves sports, and the Star Spangled Banner has become a part of our sports identity. The lyrics to our national anthem have become somewhat sacred to Americans who hear them fill stadiums and arenas before every professional sporting event. Everyone rises in unity, removing their caps and placing their right hand over their hearts.
In 2016, the sports world would be rocked by one individual who decided to go against that identity. San Francisco 49ers' quarterback Colin Kaepernick grabbed national attention when he silently protested our national anthem before a NFL preseason game.
Kaepernick defended his decision in a postgame interview by saying, "I am not going to stand up to show pride in a flag for a country that oppresses black people and people of color."
While you may agree or disagree with the actions of the 49ers' quarterback, this article isn't intended to sway your opinion one way or another. I want you to put aside your opinions on the methods used by Kaepernick and focus on the objectives this protest has achieved.
After grabbing national attention when he began his silent protests in August, we fast forward four months to January.
Recently, you probably haven't heard much in the news about Kaepernick and the abysmal San Francisco 49ers that finished with a 2–14 record. That's not to say you shouldn't, though. After being told he was "all talk and no action," Kaepernick rose to the occasion by making a Million Dollar Pledge in early September.
"I will donate $1 million dollars plus all proceeds of my jersey sales from the 2016 season to organizations working in oppressed communities, $100,000 a month for 10 months."
— Colin Kaepernick
If you follow Kaepernick on Instagram, you know that he has made good on his pledge thus far. Kaepernick has provided monthly updates along the way and goes into detail about the organizations he has made donations to and what each of them will be using the funds for on his website.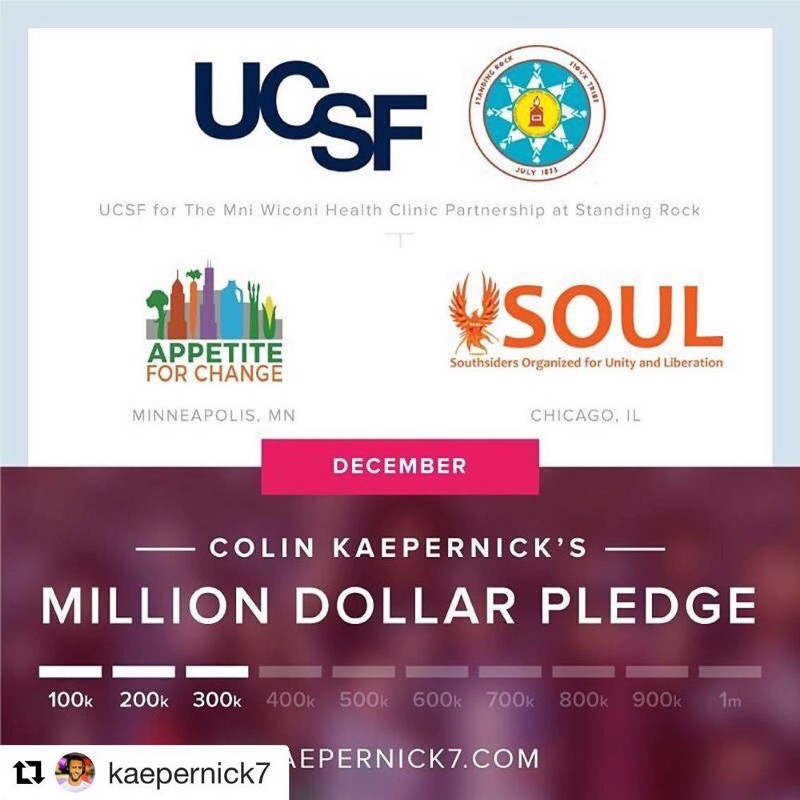 He has donated $300,000 between October and December with another $700,000 planned to be donated over the next seven months to organizations working in oppressed communities.
His goal to make a change in the community through his social activism is evident through his financial contributions. However, he has gone above and beyond just making financial contributions to nonprofits that do the work he is passionate about. He has actually created his own foundation in his name with a goal to fight oppression across the globe.
"The mission of the Colin Kaepernick Foundation is to fight oppression of all kinds globally, through education and social activism."
— Colin Kaepernick Foundation Mission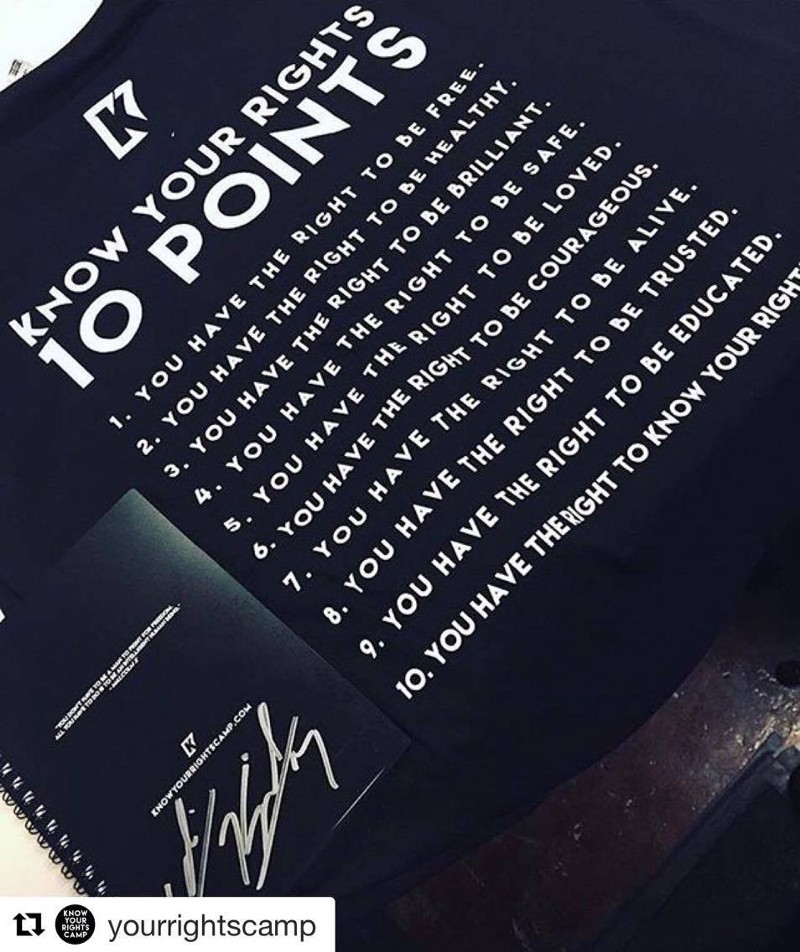 As a part of his goal to fight oppression across the globe, Kaepernick started right here in the United States when he created the Know Your Rights Camp.
The Know Your Rights Camp is a free campaign for youth, fully funded by Kaepernick, to raise awareness on higher education, self-empowerment and instruction to properly interact with law enforcement in various scenarios.
The goal of the camp is to help build a stronger generation of people that will create the change that is much needed in this world.
Since its debut, Kaepernick has hosted two Know Your Rights Camps in Oakland, CA in October and in New York City, NY in January.
Each event has featured keynote speakers who speak to at-risk youth about the 10 Points that are the foundation of the campaign.
Kaepernick is not only providing organizations the financial resources to make the changes he wants to see in this country, but he is also taking action himself.
By providing at-risk youth with the resources they need to beat the odds that are stacked against them, he is giving kids opportunities to explore higher education, become self-empowered and educated on how to interact with law enforcement in different scenarios.
Anyone can donate money, but Kaepernick's specificity on where he has donated the money and the actions to back it up have been remarkable.
At the end of the day it's your choice whether you choose to support Colin Kaepernick and his actions on the field. I'm not asking you to agree with his choice to kneel during the national anthem. I'm asking you to take the time to understand the root of what he is fighting for because there's one thing you can't argue with, and that's what he's doing off the field.
Just because these issues do not affect all of us personally doesn't mean they aren't important.
We need to learn more about these issues and support the organizations that are committed to making these positive changes in our communities.
Kaepernick has come to symbolize a movement that is drawing attention to challenges that some people are neglecting to realize even exist.
You don't have to be a professional athlete to make a difference. You don't have to make monetary donations to make a difference. All you have to do is want to make a difference and take the initiative to put your ideas into action.
We may not want to admit it, but as Shannon Ryan of the Chicago Tribune pointed out, "Kaepernick's protest has further highlighted a general lack of knowledge and complete disconnect among white Americans about black American history, particularly to resistance movements. He's calling on us all to pay attention to inequalities in our country with an act of peaceful protest."
I'll leave you with a choice. United we stand or divided we fall.