A look back at some of the best promotions in sports.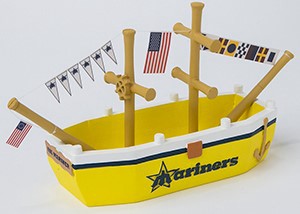 Welcome to the Promo Spotlight! Each month I will look at some of the best promotions that have taken place around the sports world and share them with you.
Promotions play an important part in enhancing the fan experience and can sometimes be the deciding factor in someone going to a game or not. From ticket specials to giveaways, promotions are a great way to engage fans and give them a little "something extra."
With the summer getting hotter, sometimes you have to "think cool thoughts." A lot of July's giveaways certainly help with that. Check out what fans across baseball were able to take home to help them survive the summer heat!
Kingdome/Safeco Field Snow Globes — Seattle Mariners, 7/7:
Not a lot of teams do snow globe giveaways, so it's fun to see what theme and design teams use when they give one away. What I really like about this giveaway is that it was essentially a "mystery snow globe" giveaway. The Mariners ordered 10,000 Kingdome snow globes and 10,000 Safeco Field snow globes to honor the two stadiums the team has played in. Fans didn't know which snow globe they got until they opened the box. There was even a "snow globe trading table" available if fans wanted to swap the one they got for the other. This is a clever move by the Mariners, which I'm sure other teams took note of.
Ode to Tommy John Surgery Elbow Statue — Potomac Nationals, 7/8:
Tommy John is one of the most unfortunate things that can happen to a pitcher. But as unlucky as the injury is, the Potomac Nationals found a great promotion for it. I love that the team decided to base a promotion on the injury, something nobody else has thought of. The best part, though, is that it has a removable UCL.
Jeff Samardzija Shark Snow Globe — San Francisco Giants, 7/8:
Another great snow globe that displays the creativity and versatility they can have. I love how the Giants incorporated Samardzija's nickname "The Shark" by adding a fin to the top and having gray as the prominent color.
Infielders Bottle Stopper Set — Baltimore Orioles, 7/22:
It's hard to go wrong with a drink accessory giveaway but finding a way to differentiate it from others can be tricky. It was a great move by the Orioles to give fans a set of bottle stoppers instead of just one. I also think it was creative to use their infielders and put them in the different uniform combinations. Cheers to this giveaway!
DJ Kitty Onesie — Tampa Bay Rays, 7/22:
DJ Kitty took Tropicana Field by storm back in 2010, and the Rays have had phenomenal promotions for the mascot ever since. This year's giveaway takes the cake. In one of the most ridiculously amazing giveaways, fans were able to get a DJ Kitty onesie, complete with a hood and tail. However, the best part of the promotion is the video of pitcher Erasmo Ramierez dancing while wearing the onesie. The only thing missing is a mic drop.
Replica USS Mariner — Seattle Mariners, 7/29:
Throughout their 40th Anniversary celebration, the Mariners have had many promotions centered around prominent players or characteristics from each decade. This one of the USS Mariner might be their best one. A little history — back in the 80's, the USS Mariner was "moored" behind the centerfield wall of the Kingdome and fired a cannon after the National Anthem and every Mariners home run. It's a quirky, but lovable boat, and was well-received by fans when the replica statue was announced as a giveaway.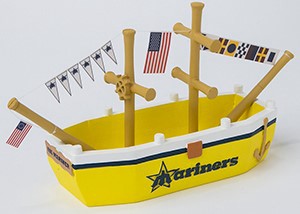 ---
Front Office Sports is a leading multi-platform publication and industry resource that covers the intersection of business and sports.
Want to learn more, or have a story featured about you or your organization? Contact us today.