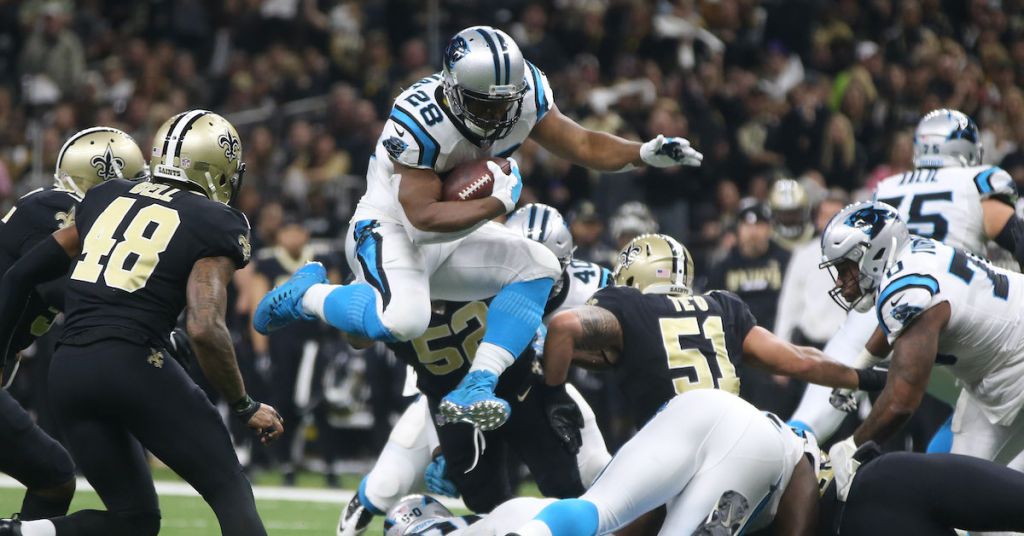 As Jonathan Stewart was running against defenses during his 11-season NFL career, his creativity was bubbling to the surface.
While in college at Oregon, Stewart said he didn't pursue an academic focus related to creativity, as it was a path he said he wasn't attuned to.
But now that he is removed from his playing days he's embracing his creative side as a partner in a marketing firm, Coast Creative, a creator with his wife at Charlotte Lately, as well as his music production and piano skills.
"I wish somebody would have told me," Stewart said of the ability to harness creativity in career. "When I got to the league, that's when I found out. I had people in my life who guided me in the right direction of maybe you want to try that."
"It's important you have the right people and do business with people you trust and admire."
Stewart's view of business relationships as an athlete took some molding- as a young player with the Carolina Panthers he was led astray by his first financial manager. Once he found the right team, he began to shine, said Mark Heligman, a longtime adviser to Stewart and now a business partner at LockerSource.
"He's grown dramatically as person and businessperson, from the time he came into the league when he was shy, reserved and not experienced in the real world," Heligman said. "Once he was surrounded by a good team of people that had his trust, he started listening and embraced his passion."
"Over the course of his career, he just became more comfortable with who he was and gained self-confidence and let that personality show through."
Along with the business team, Stewart gives credit to longtime Panthers wide receiver Steve Smith, calling him an open book when it comes to finances.
"He was very blunt and honest about it," Stewart said.
As his career began to wind down, Stewart began to chat with lifelong friend Tony Rapaglia, who was working at Oracle. Stewart said he always admired Rapaglia, who wanted to leave Oracle and came to Stewart with the opportunity to acquire a marketing firm. Stewart jumped at the opportunity as the two partnered in Coast Creative.
Now with the marketing firm, Stewart is using it as a platform to learn how other industries work and an entry point to invest in additional companies.
"I've learned about other businesses, how restaurants and startups are run, how things flow, what's successful, what's not," he said. "What can we do to really help businesses and people grow and be self-sustained."
One of the clients, LockerSource, has also turned into a partnership. LockerSource is a company that creates replica lockers for fans. It currently has licenses with 12 MLB teams, two NHL teams and outdoor lifestyle brand Mossy Oak. The relationship came from Heligman, who joined the business and brought the marketing client to Stewart at Coast Creative.
"We saw an opportunity to customize our relationship," Stewart said. "It gives us an opportunity to have skin in the game and that we're reaping the rewards of our work."
Both Heligman and Stewart see potential with the lockers, especially as they enter the collegiate space. Heligman said the company will also work with several teams next season for miniature locker giveaways – which can store keys, wallets or signed balls and pucks.
READ MORE: Derek Carr Intent On Providing Others With Opportunity
Outside of Coast Creative, Stewart and his wife, Natalie, acquired Charlotte Lately, a multimedia company that allows him to share his creativity. The couple also is involved with "Inspire the Fire" a nonprofit movement that allows children to embrace their creative side through art and music.
Heligman also touted Stewart's piano skills, which he has used when he graced the stage with the Charlotte Symphony and in the NFL talent show.
Stewart is also deeply invested in commercial real estate holdings.
"Land in general, things that are tangible that I can go look at and touch," he said. "Those things are exciting to me. I have a bit of an artistic ability to see something and visualize what it can be in a sense that not a lot of people can do. There's a lot of cool opportunities in Carolina."