Jason Whitlock is in talks to join either Fox News or Blaze Media, sources tell Front Office Sports.
Whitlock's incisive commentary — and propensity to indict players, coaches and other sports media personalities — has made him one of the most visible columnists of the past 20 years. The move to sign on with a politically conservative media platform is the natural next step for Whitlock, who left Clay Travis' OutKick in December.
The African American journalist interviewed former President Donald Trump at the White House for OutKick last fall. He has appeared frequently on Fox News' "Tucker Carlson Tonight" and "The Ingraham Angle." He's also guest-hosted Glenn Beck's national radio/digital TV show for Blaze Media multiple times.
Controversial is an understatement when it comes to Whitlock. Over his career, the 53-year-old columnist and commentator has been called everything from sexist to page-view-seeking provocateur. During his stints at OutKick, Fox Sports, ESPN and the Kansas City Star, the former college football player has waded into the most polarizing debates about race, sports and culture.
But the son of factory workers from Indianapolis sees himself as a fearless champion of Midwest values. And as a former college football player, he proudly identifies as a fierce opponent of the "woke" sports media landscape — the one he says wanted to cancel the pro and college seasons over COVID anxiety.
Front Office Sports asked Whitlock about why he left Travis' OutKick, his views on today's media landscape, his criticism of women in sports, and other hot-button topics.
Front Office Sports: We hear you're in negotiations to join Fox News or Blaze Media? What's your comment?
Jason Whitlock: I think I'm best judged on my actions. Where I've been writing and talking usually give an indication of my interest. I think both places are tremendous platforms where I could excel.
FOS: So are you leaving sports for politics?
JW: I'm not leaving sports. Sports, politics, culture and race are all in the same lane now. I'm going to continue doing what I've been doing since I became a columnist at the Ann Arbor News in 1992. I'm going to blend it all together. I'm a culture critic who has used sports to analyze culture. Now I'll just analyze culture. Where I'm going to do it is yet to be determined.
I'm taking my time and doing my due diligence. I want to work with people who understand how the topic of race has been weaponized to undermine and divide our country. There's an honest discussion America must have about race, and I feel like I'm the perfect person to lead it.
FOS: Why did you leave OutKick? Travis wrote you wished to carve your own career path — as opposed to being a partner at Outkick.
JW: Clay and our third partner, Sam Savage, misrepresented the business of OutKick. Both Clay and Sam told me directly (and my lawyer in writing) that Sam's equity stake in OutKick was contingent on Sam investing $500,000. Shortly after I arrived at OutKick, my lawyer was told that things were going so well financially that Sam no longer needed to invest $500,000 to get an equity stake in OutKick.
I objected. I confronted Clay and Sam about it. Clay said that he didn't want to waste time or energy pursuing Sam's investment.
I found this preposterous and baffling. My equity in OutKick was based on "sweat." I believe my "sweat" is far more valuable than Sam's. Sam, of course, disagreed. He told me that my arrival at OutKick was a "kick in the nuts" and that all three of us should own one-third of OutKick.
Sam refused to pay the $500,000 and his consulting firm, Savage Ventures, charged OutKick $42,000 a month for work that I deemed amateur. In my view, Sam Savage, the person with the smallest stake in OutKick and the least amount of value, exercised the most control over the company.
I told Clay in November that I was going to exit OutKick unless Savage invested the $500,000 he committed and we backed away from using Savage Ventures. It was a bad business deal, a byproduct of my failure to properly vet my business partners.
(Outkick responded in a statement to FOS: "Outkick provided Jason access to all information necessary to make an informed business decision regarding joining the company. Nothing at all was misrepresented to him — or his lawyer — in any way whatsoever. He chose to leave after a short tenure and as we said over a month ago on the site when we announced he was leaving, we continue to wish him well.")
FOS: Citing a source, The Washington Post reported you paid $500,000 for an equity stake in OutKick. True?
JW: Totally false. I paid no money to partner at OutKick. The writer was fed bad information by his "source."
(Travis also denied it in the Washington Post story. A Post spokeswoman referred FOS to the paper's previous reporting.)
FOS: At one point, your OutKick columns were so popular, they crashed the website. Outkick seemed successful. Were you impulsive leaving after only six months?
JW: I don't think so. I have to work with people I trust. And I have to be involved in projects I truly believe in. It's not just about money for me. I think OutKick is going to be successful. It has a great relationship with a gambling company and I think their aggregation model will work like Yardbarker and others in that space.
I still have a passion for journalism and doing the kind of work that promotes racial unity. I still want to do the heavy lifting.
FOS: Do you regret trading your own TV show — not to mention sunny Los Angeles — on FS1's "Speak for Yourself" for OutKick and Nashville?
JW: In terms of FS1, no I don't regret my decision to leave. I regret not being more deliberate and patient about what to do after leaving FS1. My process was impulsive and childish. On the positive side, I love living in Nashville. And I proved in a short amount of time that my voice and perspective can cut through on any platform. I did the right thing with the wrong people.
FOS: Colin Cowherd, your first partner on "Speak for Yourself," is creating his own podcast network. Will you do a podcast for Cowherd?
JW: No. I wish Colin well. I hope no one tells the Washington Post I paid Colin $500,000 to do a podcast for him.
FOS: What about John Skipper and Dan Le Batard's new "Meadowlark Media?" You had an up-and-down relationship with Skipper. But he picked you to create "The Undefeated." What about a reunion with your old ESPN boss?
JW: Isn't meadowlark some kind of bird? I'm a dragon. Dragon Media would be a better fit. I wish Skipper and Dan Le Batard well. But I'm going to die a dragon.
FOS: You're the only one I know who's worked twice for both ESPN and Fox. Are you interested in a third go-round with either sports media giant?
JW: Seems unlikely. I'm a dragon. You need dragon handlers. Not everyone can handle the smoke I create. I'm not saying that to disparage either network or any of the executives I've worked with at either place. [Fox Sports Chief Executive Officer] Eric Shanks and [FS1 Executive Vice President of Content] Charlie Dixon treated me quite well at Fox Sports.
TV networks are built to serve sports leagues, not the truth.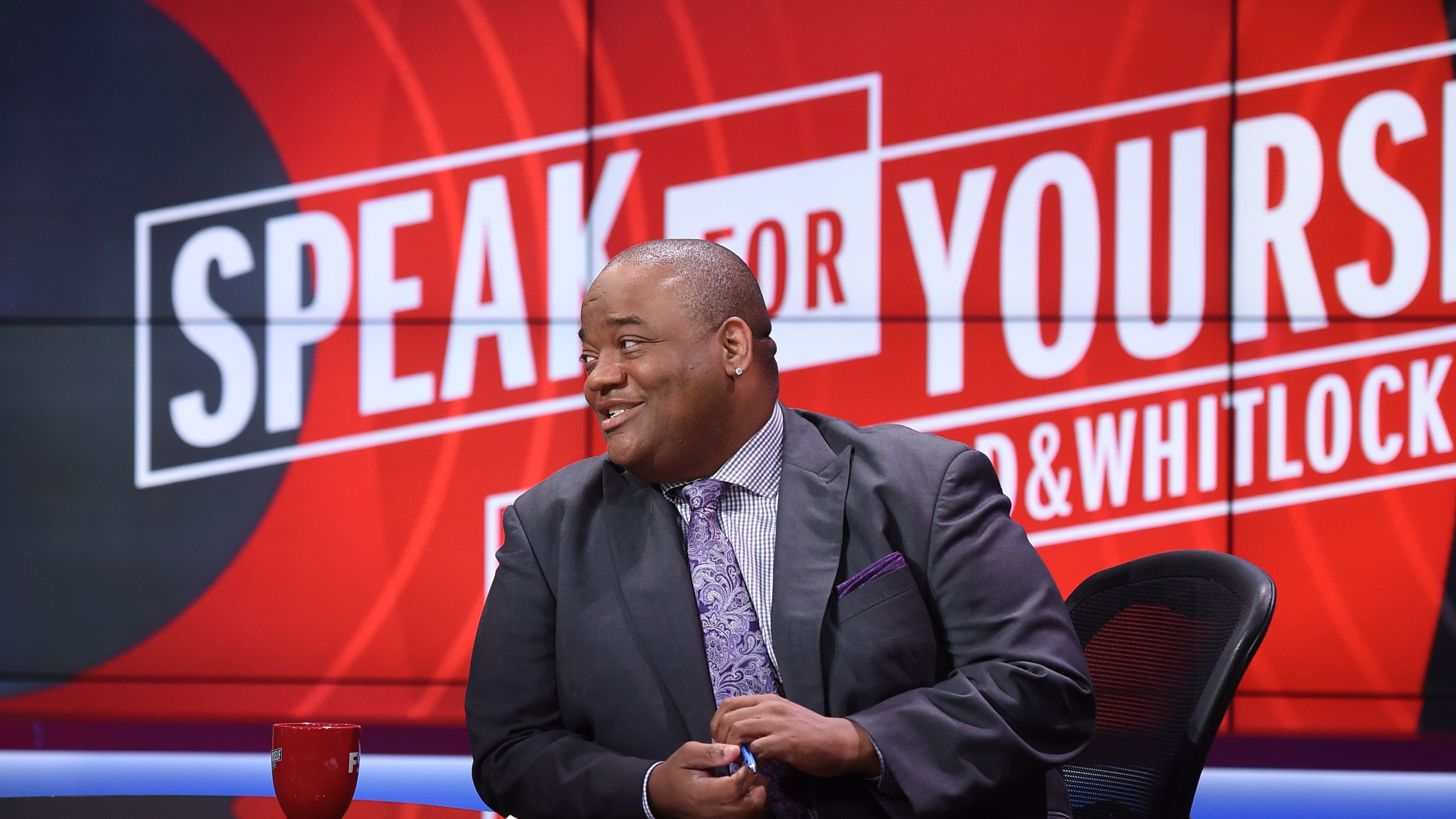 FOS: Some sports media personalities like Bill Simmons, Dave Portnoy and Joe Rogan have made millions going on their own. Is that the future? Creating your own platform?
JW: I think those guys are smart. I definitely want to do something that gives me more control. I feel like I've earned that.
FOS: You've written columns critical of ESPN's Katie Nolan, Maria Taylor's "beauty privilege" and Vanderbilt's Sarah Fuller. What's your response to those who say you don't respect women in sports?
JW: I've written columns critical of LeBron James, Adam Silver, Roger Goodell, Colin Kaepernick, Marty Schottenheimer, Bill Belichick, Joe Posnanski, Mike Lupica, Mitch Albom. What should I say to those who say I don't respect men in sports? It's a dumb criticism.
Sarah Fuller might be the only person in sports more overrated than Katie Nolan. Everyone knows it.
I've never criticized Maria Taylor. I profusely praised her and offered her some advice. I don't have a problem with women in sports. Linda Cohn is awesome. So is Hannah Storm, Michele Tafoya, Sage Steele. Liz Merrill is one of the country's best sportswriters.
I could go on. None of these people [who are] whining face one-tenth the criticism directed at me.
FOS: Are you concerned you've feuded with so many sports personalities that mainstream media companies won't hire you?
JW: No. That's not my concern. My concern is the mainstream media is so hostile to the truth that no one who attempts to speak it is allowed a platform. My whole career is based on [the late Pulitzer Prize-winning Chicago newspaper columnist] Mike Royko. He would be canceled today.
FOS: The Super Bowl posted its lowest TV audience in 15 years — and smallest TV rating since Joe Namath's Super Bowl III in 1969. Why?
JW: Sports have traditionally been a platform to promote joy, unity, fun and masculinity. The NFL caved. It's a political platform, a race-baiting political platform. It's not fun. It's not unifying. It's been emasculated.
Tom Brady apologized for yelling at Tyrann Mathieu during the Super Bowl. You think Lawrence Taylor apologized for calling someone a name? Dick Butkus? The NFL abandoned its brand. Plus, the game was terrible. The refs starred in the first half.
FOS: You were one of the first to warn about Silicon Valley gradually controlling the media, and with it, the national discourse. You asked Trump if the government should break up their monopoly. With their trillion-dollar valuations, are the tech giants coming to take live sports away from legacy media?
JW: Big Tech is coming for everything. We're all being placed inside the Silicon Valley matrix. Jack Dorsey and Mark Zuckerberg have way too much control over public discourse. I pray that one day the country moves beyond its Trump obsession and focuses on the real masters of the universe. They're all headquartered in Silicon Valley.
FOS: Despite the pandemic, you strongly supported college and pro football playing this past season. Now that both seasons are in the books, do you feel vindicated?
JW: Vindicated? Nah. It's not about me. I feel happy that young people were given the opportunity to compete and conquer their fears. I'm glad football did something right for a change. It ignored its critics. The TV networks are probably primarily responsible.
FOS: Mark Cuban's Dallas Mavericks stopped playing the U.S. national anthem this season before the NBA stepped in. Do you expect other teams and leagues to follow Cuban's example?
JW: Sports are no longer a unifying, patriotic event. China, Nike and the NBA have won. I expect more teams to go down this path. Three years from now, more professional teams won't play the national anthem than will.
Taking pride in America is now a polarizing act. I bet NBA players will stand for the Chinese national anthem when they're in China doing the bidding of Nike and the shoe companies. The whole thing is sad. I can't blame Mark Cuban for his decision. Forces bigger than him have perverted and corrupted American sports.
FOS: Trump famously feuded with the NFL, NBA, ESPN, Jemele Hill and pro athletes. Will President Joe Biden have a better relationship with the sports industry?
JW: Yes, President Biden will get along great with the sports leagues. They're all on the same team. They all answer to the same overlords in Silicon Valley.
FOS: You predicted Patrick Mahomes and your Kansas City Chiefs would beat Tom Brady's Tampa Bay Buccaneers at Super Bowl 55. So what happened?
JW: The refs dominated the first half. The tragic car accident involving Andy Reid's son hurt Kansas City's focus. And Tom Brady did Tom Brady things. I was wrong.