The multiyear partnership makes the whiskey company an official marketing partner of the NBA, WNBA, NBA D-League and USA Basketball.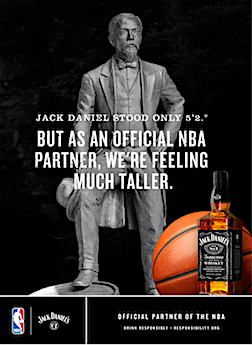 The NBA has announced a new official marketing partner for the league, but it is not a brand that one typically associates with professional basketball — Jack Daniel's whiskey. The multiyear partnership makes the whiskey company an official marketing partner of the NBA, WNBA, NBA D-League and USA Basketball.
By essentially partnering with four different entities, this marks the largest sports partnership in the Tennessee-whiskey's 150-year history.
The partnership is wasting no time, with the first major activation taking place during the NBA All-Star weekend in New Orleans, Louisiana. A hospitality and experiential event, The Jack Daniel's House №7 will be open for two nights and feature musical performances, programming and plenty of libations.
In addition to the brand house, Jack Daniel's will also serve as the host to the 2017 NBA Celebrity All-Star Game.
Want more great content like this? Be sure to subscribe to our newsletter!
While this is the most significant sports partnership in brand history, partnering with NBA teams is not uncommon ground as it is currently a partner of five NBA teams: Atlanta Hawks, Denver Nuggets, LA Clippers, Oklahoma City Thunder and the San Antonio Spurs.
In an ironic first advertisement, the copy reads "Jack Daniel's stood only 5'2", but as an official NBA partner, we're feeling much taller."
With the ongoing evolution of making advertisements and marketing materials stand out and be memorable, this ad certainly accomplishes that.
Alcohol and Sports Sponsorship
The subject of having alcohol sponsors in professional sports has long been one of contention.
However, brands like Budweiser and Bud Light have long been synonymous with Major League Baseball (MLB) and the National Football League (NFL).
For example, when attending a MLB game or watching it on TV, the script Budweiser logo is almost guaranteed to make an appearance at some point.
This past NFL regular season, during broadcasts, the region-specific Bud Light cans with "your team's" logo aired regularly.
Along with the region-specific can, a popular contest run by Bud Light this season has urged fans to purchase a case of the beer in search for a "golden can," which meant that they had won Super Bowl tickets for life.

Speaking of the Super Bowl, a perennial advertisement that people always look forward to is for Budweiser.
The Budweiser Clydesdales (and sometimes golden retriever puppies) are sure to tug at the viewers' heart strings, often times forgetting what the commercial is even promoting.
With actors not able to actually show themselves drinking alcohol in commercials, due to legislation, often times in these Budweiser Super Bowl commercials, the iconic horses are the giveaway for what the commercial is.
Alcohol brands sponsoring sports leagues seems counterproductive, as the participants are usually in peak physical shape and alcohol is not really the best performance enhancer.
However, without these sponsorships, the in-game experience for fans might not be the same.
That is not to say that alcohol increases the amount of fun or has a direct correlation as to how you enjoy yourself. Rather, the act of grabbing a beer and a hotdog at a baseball game in mid-July or the experience of hailing down the beer guy at halftime would not be as synonymous with going to a game.
A fascinating aspect of alcohol sponsorships is the activation and experiential events.
Much like how the NBA will have the Jack Daniel's House №7 in New Orleans, Bud Light had the "Up for Whatever" campaign, in which consumers were swept away to do outlandish events.
These commercials have not only promoted their brand, but also stuck in the mind of the consumers, which is exactly what they set out to do.
When it comes down to sponsorship deals, not only is a goal to align parties with likeminded brands, but the amount of money exchanged in these deals provides teams with opportunities that they otherwise might not have.