In the News
Supply chain issues have been central to many earnings calls over the past several months. In October it was reported by Bloomberg that the term "supply chain issues" had been mentioned on earnings calls more than 3,000 times year to date. This number eclipsed the previous year-long record of 2,100 set in 2020.
Manufacturers and advertisers alike are struggling to deal with the various supply chain issues across the board including truck driver shortages, port delays, and outright factory closures. Manufacturers are unable to get the product to customers which consequently leads to lower advertising budgets and second order impacts on tech and media companies which derive a majority of their revenues from advertising.
An October Bloomberg article cited a Profitero study which indicated unusually high out-of-stock figures in October for 600 websites—with some categories, like electronics (34% of products) and grocery (33%), in particularly low supply. At the same time, Snap and Facebook both warned investors about supply issues that could impact revenues.
The solution? Well, it could lie in the fast-evolving Internet of Things ("IoT") market.
On November 9th, consulting firm McKinsey released an updated report on their original 2015 study of the value of the IoT market. The updated report provides context and analysis related to the market size, structure, growth trajectory, and growth impediments for the industry.
First, definitions. IoT is a term that encompases a large system of interconnected and interrelated devices. In simple terms, it can be defined as a system of interrelated devices, whether digital or analog, people, animals, or objects that can be uniquely identified and have the ability to transfer information over a network without requiring any interaction.
Why does this matter?
IoT has wide ranging implications across a variety of industries. In its simplest form it represents the intersection of the physical and digital world. This means providing business solutions across industries from manufacturing to healthcare to autonomous vehicles to sales enablement to sustainability. Connectivity between devices has become a mainstay in everyday life for consumers and companies. Some immediate applications include:
Fitness wearable technology
Stadium intelligence
Inventory management
This also matters from a market size perspective. According to the McKinsey report, when looking at use cases across industries, IoT enabled devices and services could unlock up to $12.6 trillion of value by 2030.
From a sports industry perspective, IoT plays an outsized role particularly for manufactures and stadium operators. If the market grows at the rate and to the size that McKinsey anticipates, there will be a huge unlock of value related to data utilization, smart device connectivity, and consumer personalization .
McKinsey Report
The McKinsey report provided several key insights and takeaways as related to the market's potential size and how particular verticals should be considered within the industry. Below we have summarized the most important takeaways.
By 2030, about 65 percent of the IoT's potential is estimated to be accounted for by business-to-business applications. But the value of business-to-consumer applications is growing quickly, spurred by faster than-expected adoption of IoT solutions within the home.
For the applications [that were sized] McKinsey estimates that the economic impact of the IoT in factories specifically could range from $1.4 trillion to $3.3 trillion by 2030.
Telecom companies have expanded their 4G networks to cover more people at higher performance, and 5G networks are rapidly emerging. More than 80 percent of the global population had 4G wireless internet access by the end of 2020; 5G is expected to cover about 60 percent of the global population by 2026
In terms of healthcare use cases, monitoring and treating illness could account for more than two-thirds of value in 2030 ($240 billion to $1.2 trillion).
The other part of the health equation is managing and improving wellness ($310 billion to $560 billion range in 2030). Sleep, nutrition management, and exercise help keep the population healthy and worker productivity up. In a recent study, McKinsey estimated that up to 70 percent of actions to improve health happen before a patient seeks care.
From a retail perspective, self-checkout solutions could generate $430 billion to $520 billion in economic value in 2030, with more than 80 percent of the value coming from cost reductions in the store and 20 percent from increased consumer surplus (stemming from reduced time spent on shopping and reduced cart abandonment) for shoppers, primarily from spending less time shopping.
McKinsey estimates that personalized promotions can increase in-store consumer spending by 20 to 30 percent and generate $60 billion to $190 billion in potential economic value in 2030.
The report indicates that manufacturing and factories present the largest opportunity while opportunities in retail could still amount to $1 trillion with various applications relating directly to sports specific commerce. Additionally, while the total number of deals in the sector are down relative to 2020, the average deal size (according to CrunchBase and Pitchbook) has remained in line with recent historical trends. The decrease in the number of deals stems from a majority of recent deals being made in chip design which utilize IoT as an ancillary rather than a core function.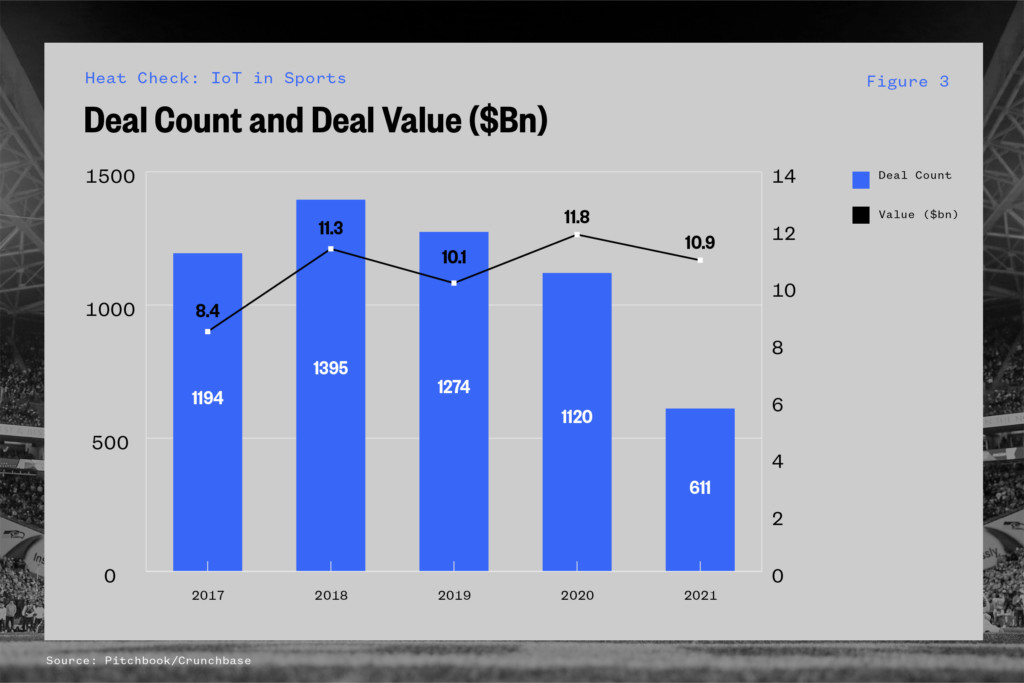 Human health is another area with a large potential market – specifically from an IoT perspective. The assumed $1.76 trillion market size encompasses two main verticals: monitoring and treating illness (healthcare), and improving wellness (human performance). Companies endemic to the sports and performance industry such as Whoop, Oura, and Apple (along with others) will likely see increased adoption as 5G technology proliferates and friction between devices lessens.
Connectivity Standards Alliance
One of the main signals that the space, which saw slower growth in the time from 2015 to 2021 than anticipated, has a real runway for growth is the introduction and (soon) implementation of the Matter standard.
What is the Matter standard? It is a proprietary royalty-free home automation connectivity standard. The goal of the project – spearheaded by Amazon, Apple, Google, Samsung SmartThings, and the Connectivity Standards Alliance – is to enable smart home devices, mobile apps, and cloud services to communicate and interoperate over an internet protocol ("IP"). In a blog post by Toni Richardson – CEO of the Connectivity Standards Alliance – it was announced that the Matter SDK (software development kit) would be released and devices will be able to be certified.
Why does this matter? The McKinsey Report cited the biggest challenge for future growth being interoperability of devices and adoption. If the Matter standard can be implemented and the interoperability improves we are likely to see increased functionality on the consumer side – particularly as it relates to wearables. There could also be implications for new applications in smart stadiums. As the standard is adopted, more and more venues will become device agnostic, allowing for more customized fan experiences.
Case Study: Armored Things
In August of this year Armored Things, the developer of business intelligence software designed to offer crowd intelligence through existing security and IT systems, raised a $12 million Series A led by Nimble Ventures.
The Armored Things platform provides facilities and security teams at venues with an accurate, real-time understanding of how people are utilizing different spaces in arenas, buildings, and on campuses. The company's software allows for smarter decisions related to crowd size, space utilization, security, maintenance, and fan experience while providing easy access to valuable data trends for space management.
Armored Things provides a direct use case for potential sports and entertainment specific functions. The company has already partnered with LAFC and the Cleveland Cavaliers.