Butler and Ohio State are two universities leading the way when it comes to mascot engagement.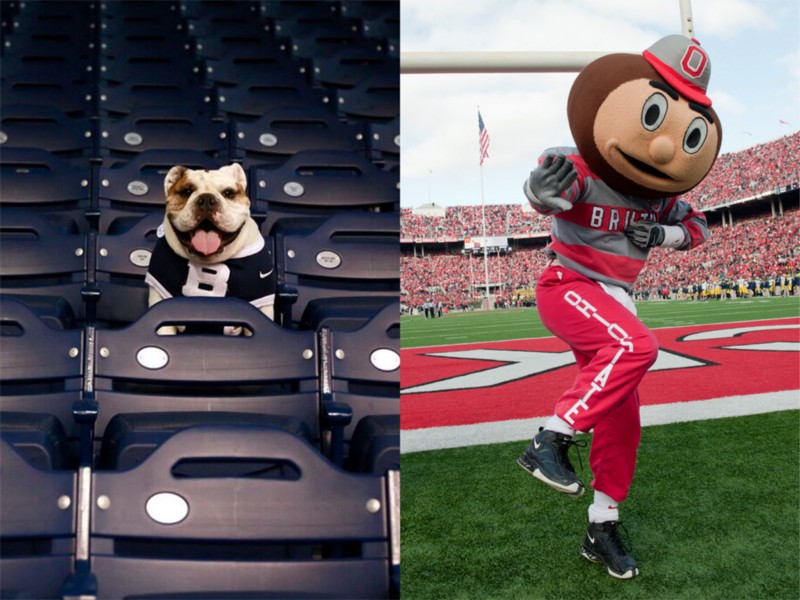 More often than not, life doesn't go as planned. In many vocations, organizations seek to establish a set of guidelines for how to handle the predictable or the extraordinary.
Recently, two top universities, both located in the Midwest, joined together to share some of these best practices, advice and case studies related to their use of their school's mascots in a conference in Orlando. Before arriving on-site, they faced extraordinary circumstances that forced them to put their own playbook to use in a very public way.
MEET THE MASCOTS
At Butler University, there are many traditions on campus. From The Butler Way to historic Hinkle Fieldhouse as just a few, a live mascot program was one that was revived this century and has flourished.
Butler Blue III (@ButlerBlue3) is the third in the line of the school's program. Having first been introduced to fans and alumni back in 2012 in a fashion akin to today's stadium Lion King Cam, Butler Blue III (more commonly known as 'Trip') began his duties in 2013.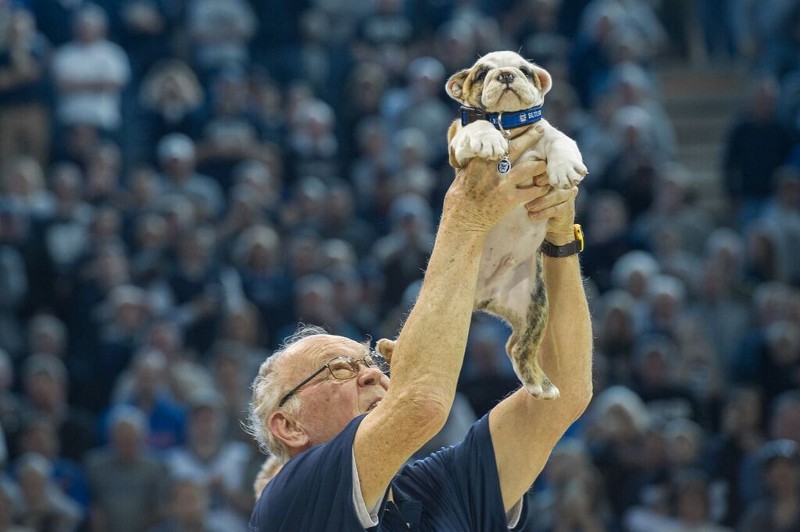 He's hard not to love for anyone who comes in contact with him, from fans to reporters, and he has made his mark in a big way in a short amount of time. From long road trips covered across social media platforms to support athletics or offer admission letters to prospective students, Trip gets around. For his involvement in the 2017 NCAA men's basketball tournament alone, his earned media reach was 814 million impressions.
For those familiar with The Ohio State University, Brutus Buckeye (@Brutus_Buckeye) is no stranger. It's tough to forget a mascot based on the unique nut borne from the Buckeye tree that is indigenous to Ohio and other Midwest states. He also is the most followed mascot across all American sports in social media presence with more than 155,000 Twitter followers.
Brutus first made his debut in 1965 and is a fixture on campus in places such as historic Ohio Stadium, around Columbus, and travels with Buckeye teams to major sporting events around the country. He has even appeared in ESPN SportsCenter and other TV ads. Through his half century of existence, he has assumed many forms with his current version debuting in 1998.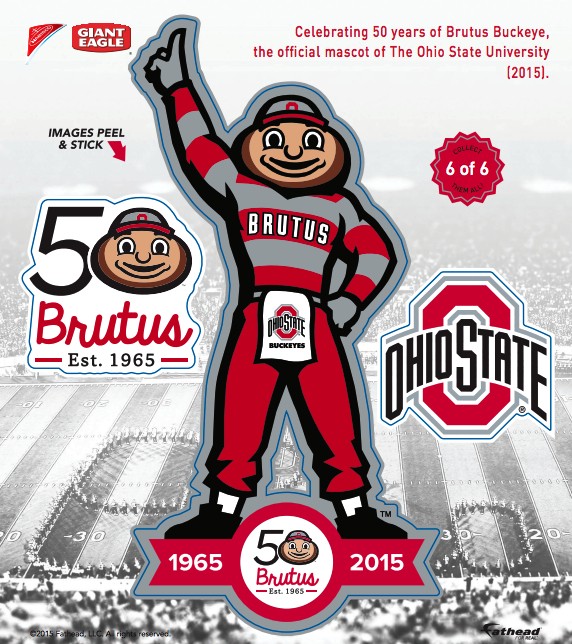 For his long service, Brutus has also been inducted into the Mascot Hall of Fame. Columbus Monthly reported in 2014 that Brutus appears at roughly 200 non-sporting events every year, and that he has three signature moves (the head bang, the Hulk Hogan, and the headstand while spelling O-H-I-O with his legs).
MAXIMIZING A MASCOT TO FULL POTENTIAL
You might think of a mascot as solely being there at a sporting event to fire up the crowd or pose with kids for a photo, but there's so much more to what they can do.
At the national convention held in the Orlando Convention Center for the groups bulleted below, marketing leaders from Ohio State and Butler shared key principles in what additional value and best practices a mascot can bring to a school:
· COSIDA (College Sports Information Directors of America)
· NACDA (National Association of Collegiate Directors of Athletics)
· NACMA (National Association of Collegiate Marketers of Athletics)
· ICLA (International Collegiate Licensing Association)
From uniting the campus community through use of a common symbol to representing university values and beliefs, mascots have an important part to play in the relationship with students, fans, alumni and the community. Additionally, they are a prime brand ambassador for the school and can inspire emotional connections and life-long fan alignment.
That's all well and good, but the recent presentation led by Butler's Michael Kaltenmark, Michael Freeman and Evan Krauss, alongside Ohio State's Karen Dertinger and Pat Kindig, served to highlight ways to take mascots from lovable and huggable to marketable and profitable.
There, several opportunities exist. Mascots have the ability to generate additional revenue streams through sponsorships, merchandise, and appearances. Trip has created a partnership with Holistic Select dog food brands in the past. Brutus, as we'll see later, used the opportunity of his 50th birthday to market a mascot logo across all sorts of additional merchandise. Both mascots have contributed to authored books.
The two mascots have used their platform to strategically boost campus visits, applications, and enrollments. Trip notably has included on-site visits to accepted students shared on social media to highlight the special moment for graduating high school seniors.
Finally, mascots can serve with an ability to cut through broader marketing and communications clutter as well as encouraging action through crowd culture behavior.
Shared at the presentation was the use of Brutus to promote purchases of a new Ohio State license plate at the request of the Athletics Department. The school also uses the Brutus account to promote other engaging initiatives from merchandise to tickets to giveaways and contests.
One final key that arose in questioning was that the territory a mascot could explore through social media and marketing is often more wide open when the accounts are based outside of the traditional setting by functions such as Digital, Marketing, or even Communications. Ohio State Assistant Athletic Director for Digital, Web, and Social, Pat Kindig (@PatKindig) further explained how this can be of benefit.
"During the conference, we stressed to the groups — if their athletics department had not already — to have staff from either marketing or communications or combination of both establish a mascot presence on social media. If a presence had been established already, perhaps by the spirit squad, then to assume administrative role of some sort.
Having a mascot voice on social media platforms allows for marketing flexibility and added engagement elements that department or sport team accounts cannot necessarily always execute."
If you have liked this, click the???? to the left or at the end of the story so other people will see this here on Medium.
PLANNED MASCOT CAMPAIGNS
When you have the time to plan a campaign to utilize your mascot, you can really do some neat things to advance your school.
One of the two case studies shared involved the optimization of Brutus' 50th birthday at Ohio State. Launched as a university-wide initiative throughout the entire year, the effort focused on licensing, athletic marketing, university advancement and messaging, sponsors, and the alumni association.
The key facet in all this was a logo created for Brutus that would be offered internally and externally with any royalty generated being plowed back into a new scholarship fund to support the mascot program.
The 2015 campaign was activated in countless spaces including: a VIP fundraiser, gameday celebrations, licensed t-shirts and other officially licensed promotions and merchandise.
"Offering non-sport specific brand opportunities is a win-win for all involved. Beyond the fun that Brutus always brings to the occasion, 'hot market' scenarios are created similar to a championship event, yet where we know the outcome," shared Karen Dertinger (@KDBucki), Associate Director of Ohio State's Licensing Program.
Ohio State's Kindig also reflected on the success of the campaign.
"That really was a fun year and it was enjoyable watching our fans embrace the celebration. We executed several social and web mini-campaigns to ramp up to the main celebration, where we had the marching band and 100,000+ fans sing 'Happy Birthday' to Brutus at a football game."
"Among those mini-campaigns were a Mascot Monday Brutus 50 merchandise giveaway and promotion, Brutus' Top 50 moments, a birthday cake submission contest — that turned into quite an adventure — as well as the birth of our Brutmoji icons. The Brutmojis were a way to pay homage to the previous Brutus costumes and currently we have branched out to more than 50 versions fans can share via mobile app or web download."

All told, the Brutmojis aspect of the campaign alone made a difference from launch just prior to 2015 through the team's College Football Playoff Semifinal appearance in the Fiesta Bowl. Social media saw substantial response across platforms with three million users reached on Facebook, 390,000 impressions generated on Twitter, and 170,000 impressions on Instagram. Even the web page saw double the length of page visits of the athletics front page.
The second case study teamed Butler Blue with Georgetown University's bulldog named Jack to form a one-two punch and ticket for the apply named Canine Party to serve up to voters back in 2016.
The partnership rolled in the annual Big Dawgs Tour that Trip takes to support Butler Athletics on the road in addition to Butler applicants who have been accepted into the school and visits to workplaces of local alumni making waves.
Director of External Relations at Butler, Michael Kaltenmark (@MSKaltenmark) summed up the campaign and unique opportunity this way:
"Over the past few years we've utilized Men's Basketball matchups as opportunities to generate buzz for Butler in new markets. In this instance, we were able to capitalize on a matchup with Georgetown and scheduled a rendezvous with their live bulldog Georgetown Jack. Since it was an election year, we decided to create a presidential campaign parody with our mascots that would insert our schools into the political conversation in a fun and benign way."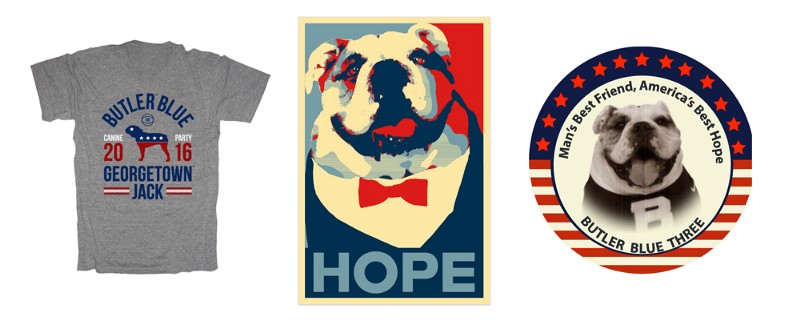 Through the campaign, additional exposure was generated from the trip to Washington, D.C., the basketball game with Georgetown and goodwill visits with Indiana dignitaries. The promotion worked through virtually the entire year to generate additional merchandise sales, provide valuable marketing materials, generate earned media (national and local), viral content and additional revenue.
All said the Canine Party impact resulted in north of $520,000 in earned media with 300,000 social media impressions.
UNPLANNED MASCOT IMPACT
These two schools planned a presentation to share the best practices generated from their respective mascots, but found that life circumstances would put these to the test before they even arrived.
Upon former Ohio State basketball coach Thad Matta's leaving his position unexpectedly during the summer, a national search for a replacement coach immediately commenced. That search led to Ohio State hiring then-current Butler basketball head coach Chris Holtmann for the same position in Columbus.
What was obviously a tender situation was able to serve as an opportunity for both schools to positively advance their brand through a social media back and forth between the two mascots.
Below are some of the highlights of the social media exchange:
The social media exchange itself made news and was featured in the Indianapolis Star, NESN, and Yahoo Sports among other outlets.
On the subject of that challenge, Butler's Kaltenmark reflected:
"The ironic timing of this presentation pairing was surreal. Rather then ignore the awkward circumstances of the men's basketball coaching changes, we embraced it. Not only did we garner more buzz about our presentation, we also generated some nice activity on social media through playful banter. If nothing else, it added a little levity to a tenuous situation, which in essence, can often be the role of a mascot."
Sometimes, you have to practice what you preach and do it in more harrowing times. Both mascots found the opportunity to lighten the atmosphere around a tricky situation and help advance their institutions through the unexpected situation.
Looking back, Ohio State's Kindig noted:
"We always love the banter between schools and especially between other mascots, but we really did kick-around for some time whether a response would be appropriate. However, this is a perfect example of the role the mascot voice can play on social. By no means could we have done the same with our men's basketball account per say. In the end, this is sports, and we are nothing without the fandom that makes us what we are. To not feed that fandom is most critical mistake a social admin can make.
Upon arrival at the conference, it was fun to look back with Michael and his team on how the exchange played out. The 'Mood' tweet was a thing of beauty and I was glad we had something to chime back with. We all loved it. Our fans loved it. National media loved it. And it certainly gave us a nice icebreaker to kick-off each session."
So, the next time you see Brutus, Trip or any of the several hundred college mascots on your local campus or on TV, know that they're there to do much more than just give a high five (or paw) and fire up the crowd.
Relationships are critical more than ever in today's world, and the ability to strengthen and grow these relationships for a college through maximizing a mascot plays a central role.
Be sure to check Butler's Trip (@butlerblue3) and Ohio State's (@Brutus_Buckeye) out in social media across all platforms and look for those from other favorite schools out there as well. You're likely to be pleasantly surprised.
---
Front Office Sports is a leading multi-platform publication and industry resource that covers the intersection of business and sports.
Want to learn more, or have a story featured about you or your organization? Contact us today.