With their new "Beyond Sports" program, USC is making sure their student-athletes get valuable experience away from sports.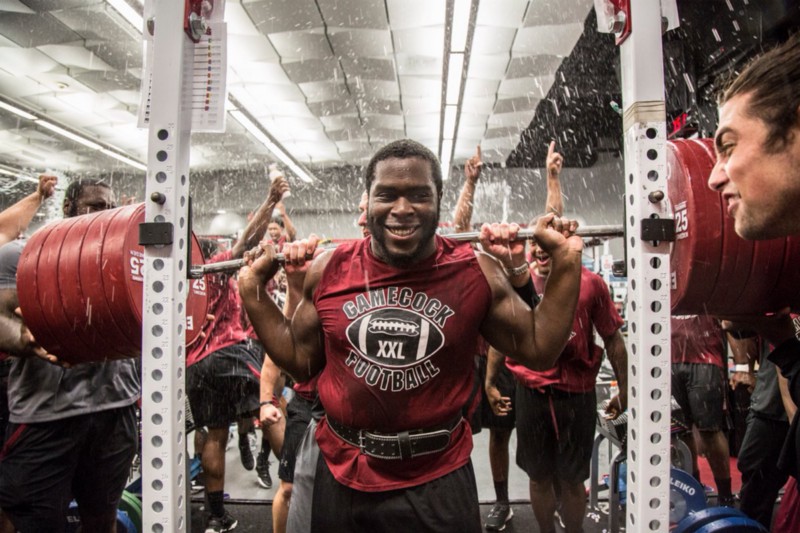 Have you ever looked at a student-athletes' LinkedIn page and realized they don't really have any professional experiences?
There's no way they could because most of their time goes into participating in the sport they have a scholarship for. Whatever time they have left, usually goes towards school.
The University of South Carolina Athletics Department realized this and launched a program called, "Beyond Sports".
It is a "new summer professional development and internship program that is part of the Gamecock Promise," according to their Athletics website.
Athletic Director, Ray Tanner, in the official release, said, "As part of our mission, student-athletes who come to the University of South Carolina should be given the means to excel in all phases of their intercollegiate experience, whether it be on the fields or courts, in the classroom or in the community. Our 'Beyond Sports' professional development and internship program will assist student-athletes for future success outside the fields of competition by giving them real-world experiences in their academic interests. We are excited to begin this program that will give our student-athletes the tools necessary to achieve greatness in whatever field they choose."
According to Cola Daily, the 21 student-athletes participating this summer come from the football, swimming, track, volleyball, beach volleyball, baseball, and softball teams.
Some of the businesses providing internships to the students are Gamecock Athletics, Chernoff Newman, Palmetto Health, Veterans Hospital, Columbia Fireflies, and the City of Columbia Parks and Recreation.
The program not only includes paid internship experiences, but also interview experiences and chances to network.
The Gamecock athletes got to go to the SEC Network headquarters to participate in a panel discussion and then met professionals from the Carolina Panthers at Bank of America Stadium.
If you liked this, click the???? to the left or below so other people will see this here on Medium.
Two people they met were former South Carolina student-athletes themselves: swimmer Kristen Shaver (199–2003) and football player Travelle Wharton (2000–2003). Shaver is the Director of Events for ESPN and Wharton is an offensive line coach for the Panthers.
There are a lot of businesses that love to hire former college, student-athletes because of their work ethic and other attributes that stem from having to essentially juggle two full-time positions at such a young age.
https://frontofficesports.com/six-types-of-interview-questions-and-how-to-ace-them-all-ce54b2b28d49
Unfortunately, in a lot of settings, especially the sports industry, you need experience, like summer internships, to even have your resume looked at.
With a full schedule, there's really no time to do a full-time internship, like most students will do. By partnering up with businesses and companies, USC is giving their student-athletes the ability to gain 20 hours of experience per week, while being able to practice with their team during the summer months.
If you'd like to learn more about each student athletes' internship and what they do, South Carolina Athletics writes up a story about two of them each week on Medium, which you can find here.
---
Front Office Sports is a leading multi-platform publication and industry resource that covers the intersection of business and sports.
Want to learn more, or have a story featured about you or your organization? Contact us today.