With Kids Drive NASCAR, the organization is making a push to engage the youth.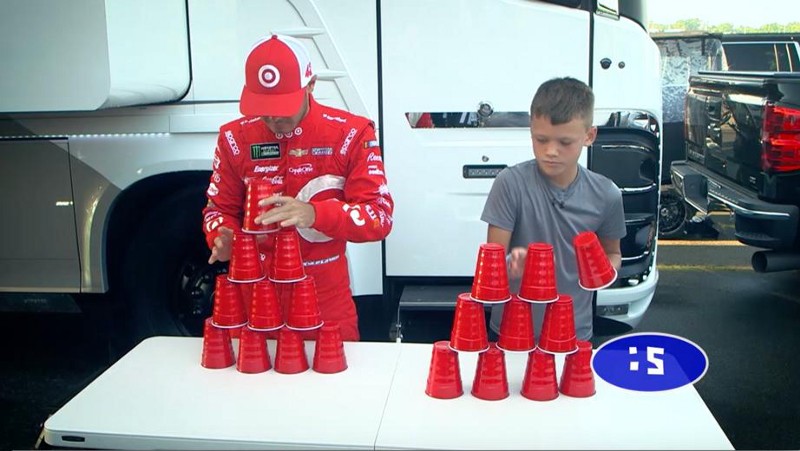 First launched in August of 2016, the Kids Drive NASCAR campaign is back for a second year.
The 2017 campaign has been extended to three weeks across five different race tracks compared to only a single week of activities at Michigan International Speedway and Road America last season.
According to NASCAR.com, in August 2016, Karsyn Elledge, the host of Nickelodeon's "NASCAR Hammer Down," helped introduce Kids Drive NASCAR during a kids-only press conference streamed on Facebook Live from the NASCAR Hall of Fame. The launch coincided with an industry announcement that, for the first time in 2017, kids ages 12-and-younger would be admitted free to all NASCAR XFINITY Series and NASCAR Camping World Truck Series races.
This year, the Kids Drive NASCAR activities will take place at five separate tracks. The program began at Pocono Raceway and Iowa Speedway in late July and was also present at Watkins Glen this past Sunday. Additional tracks scheduled to be included are Michigan International Speedway and Mid-Ohio Sports Car Course.
"This year, we've expanded the campaign to three weeks and five race tracks — with no shortage of fun events, activities and content for children and their families," said Jill Gregory, NASCAR senior vice president and chief marketing officer.
Throughout the initiative, kids are encouraged to compete in "Kids vs. Drivers" Competitions at https://www.accelerationnation.com. This year, there were three competitions, two of which have already been completed.
· Week One: Toss Challenge — Driver: Kyle Busch — Kids had 18 seconds to toss as many coins as possible into three weighted cups, ranging in point values from three to one.
· Week Two: Cup Stacking — Driver: Kyle Larson — Kids attempted to stack 10 plastic cups pyramid style and break them all down as quickly as possible. The goal? Beat Larson's time of 7.6 seconds.
· Week Three: Competition TBD — Driver: Joey Logano
"Attracting more families and kids to the sport and getting them to tracks is such a common priority with everyone involved in the sport — the tracks and the sponsors and the teams and certainly NASCAR as the governing body," said Peter Jung, NASCAR's managing director of brand and consumer marketing. "If you ask [our drivers] to do anything with kids, whether it's signing autographs or partnering with us at different events at schools, it's the easiest thing to get drivers to be on board with because they love interacting with kids."
During each of the weekly challenges, kids were encouraged to participate and upload them to social media using the hashtags #KidsDriveNASCAR and #Promotion. Each of the three drivers participating in the Kids Drive NASCAR initiative gave shout outs on social media to kids with the best videos related to their specific challenge.
https://frontofficesports.com/how-north-wilkesboro-speedway-became-an-inspiration-for-cars-3-a9d50c6800
In addition, kids at the track will have a chance to participate in live Kids vs. Driver challenges, along with a host of other exciting activities. For kids wanting a behind the scenes look at the fastest moving sport on the planet, they can take guided tours of the Monster Energy NASCAR Cup Series garage, attend the driver and crew chief meeting and even be part of a special autograph session.
It doesn't end there, however, as select young fans will become an important part of race festivities. Each of the five tracks participating over the three-week span place kids in special roles, including allowing them to give the command and say the most famous words in motorsports, "Drivers, start your engines," serve as the Honorary Starter and wave the green flag or be a reporter or photographer.
While it's no shortage of fun for the future stars of NASCAR, it is also an incredibly important initiative for the sport. Consider the thousands of jobs associated with the sport outside of driving. There are photographers, videographers, social media managers, public relations professionals, security, and guest services just to name a few. If NASCAR truly goes all out on this initiative and makes kids passionate about NASCAR, not only will they be building a lifelong fan, but they'll develop someone who is so passionate they might pursue a career with the organization.
With the retirements of Jeff Gordon, Tony Stewart, and now Dale Earnhardt Jr. at the end of 2017, NASCAR is in need of new leaders. Years down the road, drivers such as Kevin Harvick, Brad Keselowski, and Joey Logano will all step away from the limelight and ride off into the sunset. A youngster will (most likely) come up to take their place. Maybe in the years to come, someone who first became interested in the sport through the Kids Drive NASCAR initiative will be getting behind the wheel of a stock car in a NASCAR national series, ready to tackle to the toughest tracks in racing.
https://frontofficesports.com/how-north-wilkesboro-speedway-became-an-inspiration-for-cars-3-a9d50c6800
Kids are always the future of sports, and NASCAR knows that it must drum up a passion in a younger generation so that the sport continues to grow and gain new followers each year. That's why the Kids Drive NASCAR initiative is so important.
For more on the initiative and other kids activities, visit https://www.accelerationnation.com.
---
Front Office Sports is a leading multi-platform publication and industry resource that covers the intersection of business and sports.
Want to learn more, or have a story featured about you or your organization? Contact us today.