The league has taken an amiable and collaborative approach.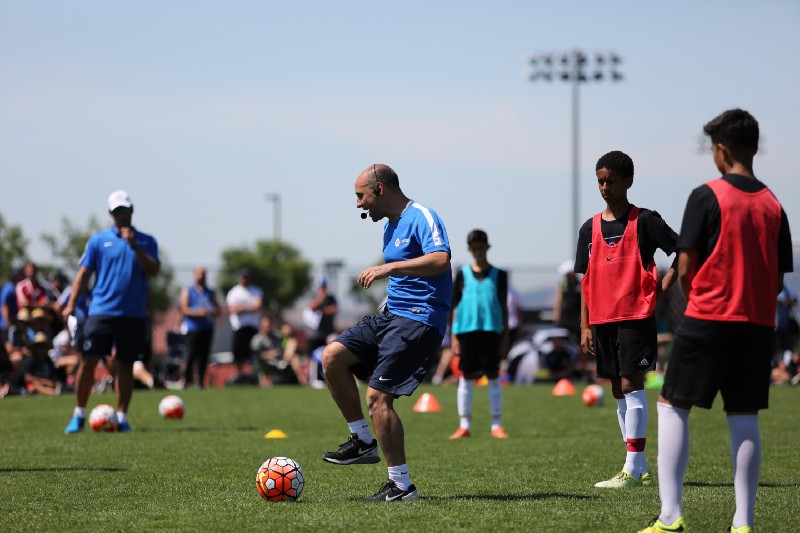 As much is it sucks to say, the United States is simply not a big player on the soccer world stage (USWNT aside, you're great, keep doing what you're doing ladies). There is a lot of work to be done to improve our standing.
Looking to do just that, US Club Soccer has teamed up with LaLiga and FC Barcelona for a dream partnership. While the sheer numbers of soccer fans in the United States are constantly growing and the quality of play is improving, we still have a long way to go to be on the same level as the likes of Spain, Germany, France, Argentina, etc.
That being said, after talking with US Club Soccer CEO/Executive Director Kevin Payne, it is clear we have lofty goals and are looking to the worlds best to help us achieve them. But, out of all the major European leagues, why LaLiga?
"We thought right from the beginning that the country we wanted to try to learn from was Spain. Nike, who is our largest sponsor, introduced us to LaLiga. And when LaLiga asked us what they could do to help, they had a very unique approach. They want to become a much more important brand in the United States beyond just Barcelona and Real Madrid," Payne explained.
"Their approach is, when they go into a new market, they first ask, 'How can we help you?' Their approach is that they want to gain relevance and support by helping improve the soccer environment in the United States, which is a very very different approach than anyone else has ever really taken. The premiership clubs see us as a place to make money and that's about it. So, we were thrilled when they said that and we said the area they can provide the most assistance is in helping us provide better training for our coaches to supplement the US soccer licensing programs." — Kevin Payne on LaLiga's openness to help
LaLiga will provide US Club Soccer and Players First clubs with training curriculum, which will help create a better learning environment and day-to-day experience to enhance the development of all players. The partnership also features reciprocal coaching education courses and elite player training opportunities abroad, including direct involvement with US Club Soccer's acclaimed id² Program and Player Development Program.
US Club Soccer is working with member leagues and clubs to host LaLiga Formation Methodology coaching education courses featuring top player development experts from LaLiga.
The courses — to include three levels — kicked off in spring 2016 with Introductory (Level 3 in the U.S.) and will eventually progress to Advanced (Level 2 in the U.S.) and then Expert (Level 1 in Spain with Spanish academies) courses.
The first ever level 2 course was held in early July this year in Northern California and had 112 coaches from 69 clubs and 10 states in attendance. US Club Soccer and LaLiga are taking their time in rolling these higher-level courses out, as there is a lot of information to be taken in. In order to take the level 2 course, coaches must first take level 3, and so on.
There is a very serious methodology behind these courses and they are being rolled out as such. The thought is that by next March, the second anniversary of the program, about 1,500 coaches will have gone through level 3 while about 350 coaches will have made it through level 2. This is not something that is going to happen overnight, but with the right people and methodologies, the beautiful game can continue to progress here in the US.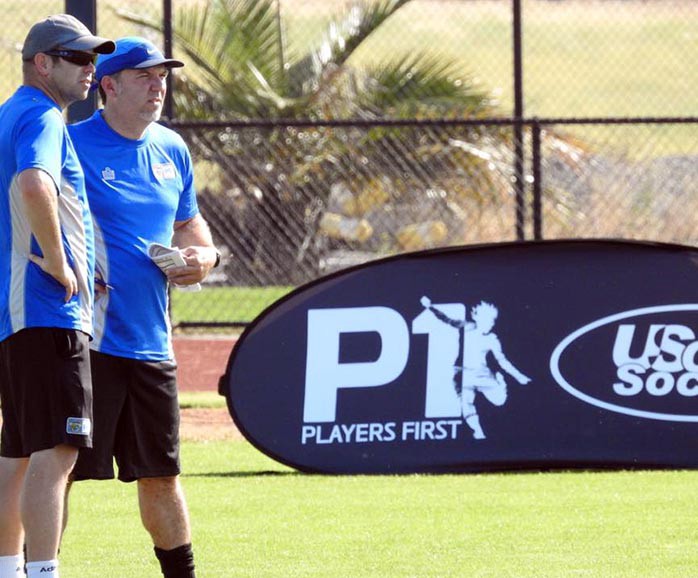 Clearly, a huge emphasis is being put on improving the level of coaching in the United States. This partnership with LaLiga came around the same time that US Soccer was restructuring its coaching license programs. It used to be that an A license was the top license, but was not all that difficult to achieve, and it could be attained by virtually anyone.
Bruce Arena, who is now the head coach of the USMNT, could have an A license while an under-13 club coach could have the same A license. Let me tell you, that is not a good thing. This restructuring saw the licenses become much more specific and more difficult to attain higher levels, with coaches at the professional levels having much different licenses than those coaching youth soccer, and rightfully so.
This lack of coaching ability on top of the fact that the best opportunities are only available to players that show a lot of promise at a young age has resulted in many players leaving the game of soccer before hitting their teenage years. High-level opportunities and training need to be available to all players, so we looked to Iceland, a country that had similar issues and found ways to combat them.
"Iceland is a really great example of this. We presently lose somewhere around 3 out of every 4 players from our game before they're 13 and Iceland had very similar attrition rates. They recognized that they could not afford that because they're such a small country with so few players, so they couldn't lose three out of four," said Payne. "So, about 10 or so years ago, they made a very conscious effort to ensure that kids at various stages of development, before they reached puberty, were placed in similar quality soccer experiences. And their drop out rates went down dramatically; I think they were cut about in half. They believe that a number of their players that are on their national team now are players who, in the past, may very well have dropped out of the sport because they weren't necessarily identified as being top prospects when they were 12 and 13 years old."
The Iceland Men's National Team, a member of Group F in the 2016 European Championship, took second in their group and advanced to the knockout stages. They went on to beat England in the round of 16 before falling out in the quarter final at the hands of the French. They showed tremendous growth as a team and proved they are contenders on the world stage.
"We believe, and this is not a belief that is unique to us, its kind of a philosophical approach that was first really identified by the French who said, 'If we want better players, we need better coaches, and if we want better coaches, we need a better coaching instructional approach.'" — Kevin Payne, US Club Soccer CEO/Executive Director
All of the top countries in soccer have thousands of high-level licensed coaches and great coach to player ratios. Looking to these countries for assistance will be instrumental in our success, especially LaLiga and the Formation Methodology Courses.
So, who is the main man behind these methodologies?
His name is Gari Fullaondo and he is a UEFA-PRO coach with a master's degree in physical training, and was previously the Director of Methodology at Athletic Bilbao, a top-flight team in LaLiga.
To get an idea of the person who is leading the charge to improve coaching in the US, here is a little story within the story: Athletic Bilbao is in the basque country and only field basque players. They have never had on player who was not a basque. Now, there are only about 2 million basques in that region, and they share that with Real Sociedad, another top flight LaLiga team. So, they have an effective pool of about thirty to forty thousand youth players that they can draw from. Despite these, what one might call obstacles, in the history of LaLiga, there are only three teams that have never been relegated: Real Madrid, Barcelona, and, you guessed it, Athletic Bilbao.
In arguably the best league in Europe, they have never been relegated all while selecting players from a pool of maybe forty thousand players. That is unbelievable and goes to show how effective they are in player selection and coaching methodologies.
On top of this push to develop well-versed coaches, FC Barcelona has chosen US Club Soccer to host its first ever North American club in which La Masia technical directors will actually supervise the development of its players. They will play in the New York Club Soccer League NPL Division beginning this fall.
"We are very excited to have them in US Club Soccer, said Payne. "We think that it's the right place for them because of the quality of our competition. And, obviously, they feel the same way."
It is an incredible time for soccer in the US. With the game growing at unprecedented rates, it is only right that our focus is being put on improving our standing on the world stage.
---
Front Office Sports is a leading multi-platform publication and industry resource that covers the intersection of business and sports.
Want to learn more, or have a story featured about you or your organization? Contact us today.