When in doubt, Tweet it out.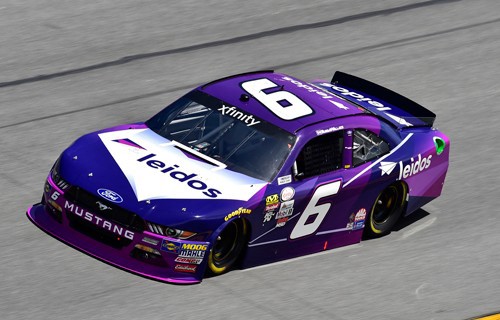 Social media can be of the best ways to meet new contacts and network.
Whether you're a young professional reaching out to someone in your field or even an athlete seeking potential sponsorship, the various social networks available can be instrumental.
It can even help you in times of uncertainty. Just ask NASCAR driver Darrell "Bubba" Wallace Jr.
"It's pretty crazy to see how Bubba has been using social media. People used to cold-call for sponsors, but now I guess you can just try Twitter campaigns," said NASCAR writer Jeff Gluck.
Wallace Jr. began this season in the №6 Ford for Roush Fenway Racing's NASCAR XFINITY Series team. Tough luck hit, however, and he ran only 12 races with Roush due to sponsorship issues. In those 12 events, he recorded seven top-10s, finishing sixth on six separate occasions.
He has raced for the past 15 years, and when he was told he'd no longer race with his Roush, questions loomed over his future.
"I never thought I would lose my ride. Not at that moment, not when we were a legitimate championship contender," he wrote in a piece for NASCAR.com.
"It makes you sit back and realize what all you went through and it is a humbling experience for sure. It sucks. You definitely want to be driving each and every weekend, each and every day if you could. It is just what you grew up doing."
When things seemed to run dry for Wallace Jr., he won in a Matthew Miller owned truck at Michigan. Doubt had crept into his mind at that point, but when he won, it brought "a bit of Bubba back," according to the Alabama native.
Later, he recorded a top-10 for Fred Biagi in the XFINITY Series. Perhaps the biggest opportunity of all was the first one, however, when he made his Monster Energy NASCAR Cup Series debut, filling in for an injured Aric Almirola in the famous №43 Richard Petty Motorsports Ford. He ran four races with the RPM team and made the most of his chance.
"In those four races, I wasn't racing for points — I was racing to show everyone I could do it. The exposure I got from driving the №43 car was great. I had team owners and crew chiefs coming up to me in the garage, telling me 'Good job.' They weren't asking me to drive their car, but they were paying attention."
As he will tell you, he performed well. As a matter of fact, he ran well enough that he is expected to replace Almirola in 2018, if a sponsor comes on board (longtime RPM sponsor Smithfield Foods will move to Stewart-Haas Racing next season). RPM knows that Wallace Jr. is a hot commodity on the market right now. According to a tweet by Adam Stern of the Sports Business Journal, RPM majority owner Andrew Murstein said, "I know he's being courted by several teams, so we have been focused like a laser on signing him."
Wallace Jr. knows that he'll need sponsorship to run races, which is why he began using social media to leverage sponsorship. "Roses are red, violets are blue. Sponsor me. And my fans will buy pizza from you," he tweeted Dominos.
The tweet, which Wallace Jr. sent on National Poetry Day, had a great reaction across social media, with Dale Earnhardt Jr. calling it "brilliant." Hours after his tweet, the pizza chain responded, saying, "We see you, Bubba. DM us and let's talk."
He also produced a hilarious video, also aimed at Dominos. The short video features Wallace Jr. eating Dominos in a variety of situations on a golf course. From holding a pizza slice in his mouth while teeing off to putting into a hole covered by a slice of pepperoni pizza, the memorable video is a huge tool for marketing and promoting his brand.
"The video Bubba made was so high-quality, I thought perhaps it was part of a campaign to announce Domino's had already agreed to a sponsorship. But it seems like he was genuinely just making a pitch. At this point, if Domino's doesn't sponsor him, I think another pizza company should — because that's just dumb on their part to pass up this opportunity," Gluck added.
Wallace Jr. used social media brilliantly to attempt to land sponsorship. Here are two examples:
· Authenticity: Read the piece on NASCAR.com and browse through his tweets. You won't find him complaining about not having a job. You'll see someone who's down to earth and has a good time with seemingly everything (if you follow him on Snapchat, you might recall when he documented his trip out west with Ryan Blaney — one of his moments on social media for sure).
· Outreach: He used Twitter to reach out to Dominos with both a tweet and video. That's a brilliant marketing plan. He knew that he had influence as a NASCAR driver and at that point had performed well in all three of NASCAR's top series (Monster Energy NASCAR Cup Series, NASCAR XFINITY Series and NASCAR Camping World Truck Series).
· Multiple posts — Wallace Jr. didn't just tweet Dominos once. He sent both a poem and a video, which is huge since multiple social media posts are more impactful. Multiple studies have shown that posting content multiple times allows you not only to reach more followers but also to gain new ones and ensure that the targeted company or audience sees it. After all, a social media manager might not see the initial post. Ultimately, it was Wallace Jr.'s video that got Dominos attention, not the tweet.
One has to wonder if his social media efforts have helped him land a potential sponsor for next season. Team owner Richard Petty has made it clear that he is the favorite to replace Aric Almirola in the №43 Ford … but securing sponsorship is necessary.
One can't say that Wallace Jr and RPM haven't taken action. Murstein said, "We are working closely with NASCAR, our existing sponsors and new potential sponsors. When the dust settles, I think our fans will be very happy with the outcome."
"Honestly, I've never seen a more perplexing sponsorship situation than Darrell Wallace Jr. not getting funded. He has talent, is marketable and fans already like him. I don't understand why companies wouldn't jump at the chance," said Gluck.
What will the outcome be? Stay tuned and follow Kraig Doremus and @jeff_gluck for more.
---
This piece has been presented to you by SMU's Master of Science in Sport Management.
---
Front Office Sports is a leading multi-platform publication and industry resource that covers the intersection of business and sports.
Want to learn more, or have a story featured about you or your organization? Contact us today.