Capturing the excitement of the moment is critical for social teams across the country.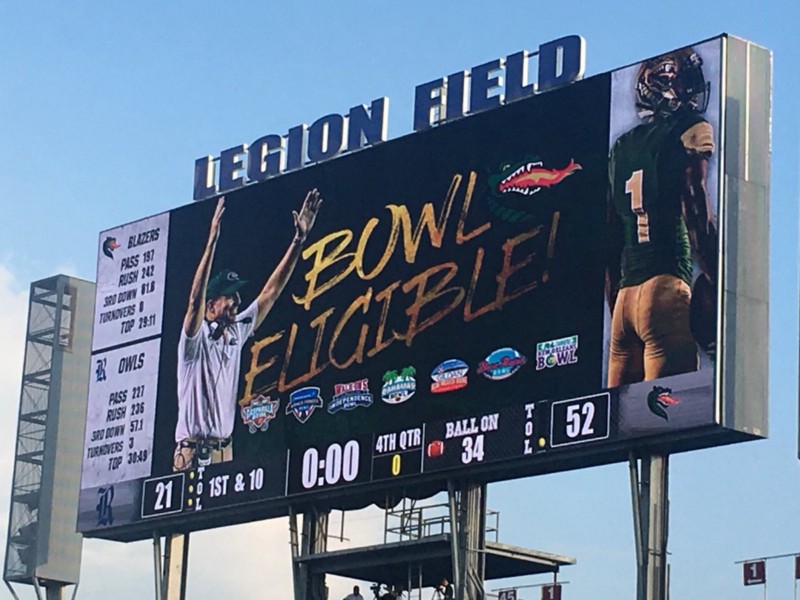 In college football, 6 wins is (usually) the magic number to get your team to a bowl game.
While teams will capitalize on the payday and other material benefits of playing in a bowl game, marketers need to be ready with celebratory content to grow the team's social footprint as soon as that berth has been clinched. As with any social media activation, mental and physical preparation are key.
"The bowl graphics are another example of always being ready and planning accordingly," states Joe Centeno, founder of Team Infographics who have helped athletic departments roll out plenty of celebratory content over the past several years.
"If you look at your entire year and start to map out certain events that you know are going to happen at a certain time or are possibilities (postseason, all-conference awards, Heisman race, etc.) your content will be that much more original and creative when it comes time to post."
For some lower tier programs, reaching a bowl is a massive achievement and should be celebrated as such.
For other programs, when reaching bowl eligibility has become the norm, it becomes a good idea to celebrate sustained success. In the case of the Mississippi State Bulldogs, they chose to note a string of nearly a decade being bowl eligible since the arrival of Dan Mullen.
The Mullen Era continues to raise the bar in StarkVegas!

Your Bulldogs will once again be bowling!#HailState pic.twitter.com/fTLGw9BRJE

— Mississippi State Football (@HailStateFB) October 29, 2017
Other programs tried to add a little motion to their celebratory graphics. This was the route that Houston took, along with a quick review of the six wins that got them to bowl eligible status. If you look closely, you'll notice that the motion noted as each win is noted is a brief piece of video from that particular game.
For the fifth straight season, the #HTownTakeover is Bowl Eligible. #GoCoogs pic.twitter.com/Zm0OUtJAOy

— Houston Football (@UHCougarFB) November 4, 2017
It's obviously a great thing for athletic departments to have the tools to produce high quality graphic content. But sometimes it's just about being able to capture the moments of raw joy that have made us all fall in love with college sports over the years. This was the case with the University of Alabama at Birmingham (UAB) Blazers.
Following the discontinuation of the school's football program after the 2014 season, the Blazers returned to NCAA competition this year and secured a spot in a bowl game for the first time since 2004. The players celebrated accordingly with a dance party in the locker room following the game.
5-0 at home and we are bowl eligible! pic.twitter.com/EnWltYCD2R

— UAB Football (@UAB_FB) November 4, 2017
While the video was retweeted over 800 times from the official team account, it has since been reposted by Sports Illustrated, Fox Sports, and Bleacher Report (among others) where it has gained an additional 2,500 retweets.
Another prime example of this came from Florida International University. The Panthers became bowl eligible for just the third time in program history this past weekend. Their video team was ready for the moment, capturing their on-field celebration which was promptly posted to Twitter.
Bowl Eligible 🎳😎 pic.twitter.com/GQ0uQeTckI

— FIU Football (@FIUFootball) November 5, 2017
This tweet has more than double the interaction of their previously most engaged tweet, which has 633 favorites. This shows that teams simply can't afford to not have eyes everywhere during the biggest moments in their history.
As Centeno puts it, "Like with anything else on social it's not just about posting a graphic anymore, you have to plan to stand out from the crowd. A lot of teams are doing are producing some great content and it's always exciting to try and do something that hasn't been done yet."
With less than a month left in the college season, we'll see plenty more content celebrating teams reaching bowl games in the coming days. What were some of your favorite examples of bowl eligibility related content? Which school's bowl content are you looking forward to? Let us know on Twitter @frntofficesport.
---
This piece has been presented to you by SMU's Master of Science in Sport Management.
---
Front Office Sports is a leading multi-platform publication and industry resource that covers the intersection of business and sports.
Want to learn more, or have a story featured about you or your organization? Contact us today.
*Team Infographics is a proud Partner of Front Office Sports.