There likely won't be a prospect without an agent in the 2023 NFL Draft, at least through the first three rounds.
Lamar Jackson eschewed one in 2018 and still doesn't have one. It's why some within the league felt he dropped to Baltimore at No. 32 as the fifth QB selected after Baker Mayfield, Sam Darnold, Josh Allen, and Josh Rosen.
It's pretty simple math: Agencies pay as much as $70,000 for training and living costs after players declare for the draft. In return, agents get no more than a 3% cut, and some agencies cut that commission down to 1% — which drives established agents crazier than the rare player like Jackson going solo.
"Every kid has got to make his own decision," one agent told Front Office Sports. "I don't think you'll ever regret writing an agent a check. If you're writing a big check, it means you're super [expletive] rich. Yeah, it's a big check, but you won. Like, your kids' kids are set."
On the rates some agencies have cut their commissions to, another agent told FOS that "some firms treat the draft as a loss leader to accumulate more talent."
University of Delaware linebacker Johnny Buchanan led the FCS in tackles last season; although it's not a lock, he will get drafted this weekend. Josh Arnold of Synergy Sports represents him.
"Everyone coming out seems to have an agent," Buchanan said. "I think it improves my chances. Josh has given me feedback on pretty much every NFL team he's talked to. So, I am prepared to get drafted. If I don't get drafted, we're also prepared to sign a contract [as an undrafted free agent]. It's been a dream to get drafted, but if I have to go the free-agent route, it is what it is. The plan is still to make a team and have a long NFL career."
The process of an agent signing a prospect to be among 250-plus players selected has changed over the decades.
"We used to have our very first meetings with potential draft-eligible clients at the All-Star games [the week before the NFL Combine]," said Paul Sheehy, president of the ProStar Sports Agency, who started as an agent 35 years ago. "Now, if you're not trying to get on a player's radar a year in advance to try to develop some kind of relationship, you're probably gonna be out."
And agents and agencies have had to adjust to the sudden onset of the NCAA's name, image, and likeness era.
Agencies from behemoths like CAA and Endeavor to smaller outfits have entered the NIL game since the NCAA implemented its first rules allowing players to get paid through endorsements and collectives in July 2021.
NIL deals are supposed to be siloed with the marketing side — without involvement from agents who could represent the players when they turn pro. Those agreements terminate when a player leaves college.
"The problem we're seeing in with NIL is that it's giving agencies and marketing companies a new vehicle to pay players while they're in school," one agent told FOS. "You are not supposed to be able to pay a player directly, but you can see why some agencies do it. If they give you $100,000 in August, and you don't become a client when they turn pro, you have to pay that $100,000 back."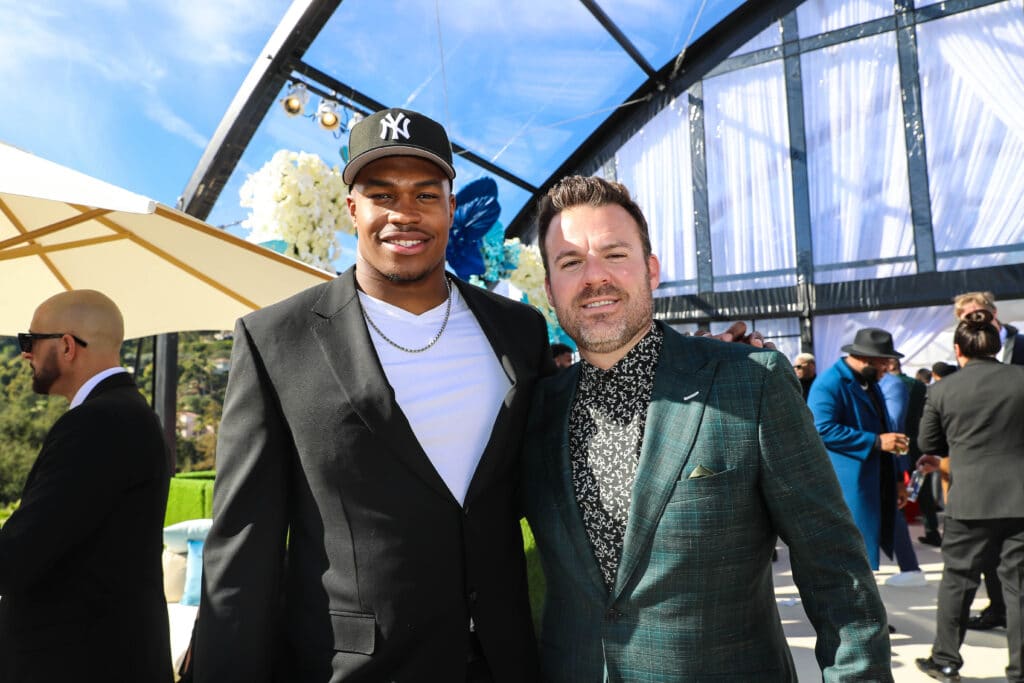 Former Alabama quarterback Bryce Young was among the first athletes to sign a NIL deal with a major agency when he entered into a marketing agreement with CAA. And, as it so happens, CAA still represents the possible No. 1 pick as it will look to negotiate that first contract.
Young won't likely have to wait long on Thursday, but longtime NFL agent CJ LaBoy pointed out that projections can lead to issues.
"Those mock drafts do influence these kids' decisions to turn pro," said LaBoy, a senior VP at Wasserman. "Some guys are coming out of school because they see their name on a list somewhere. As you can imagine, fast forward when they see their names on mock drafts during the draft process — it creates an expectation.
"The best way to manage those expectations is just being very honest and transparent about the information that you have and the realities of the draft and how things could unfold."
Added Sheehy: "It's important to educate their families, maybe even more so than the players. The external pressure on the kid usually comes from the families. When you talk to a parent or a player for the first few times, they ask, 'Where am I projected to go? What's my grade?' You have to tell them to not get wrapped up with pre-draft grades, and, especially, those mock drafts that literally mean nothing."
Beyond the mock drafts, agents have to prepare prospects to ignore other chatter.
"You have to educate them on the front end as to what those expectations should be and how the draft is as uncertain as anything," Sheehy said. "Teams are telling you how much they love you, but they're telling that same thing to 10 other players at your position.
"You know, take it with a grain of salt. We just had that discussion with a player the other day who a coach from a team called and said, 'You are my favorite player at your position, and you are the only one I'm recommending that we spend a draft pick on.' I said, 'Whoa, whoa, whoa. Remember this conversation we had about a month or two ago?'"
There are currently 910 agents certified by the NFLPA, and as the NFL Draft approaches, all their calls, texts, and emails with coaches and teams' player personnel officials will begin to taper off.
Their work is done — outside of keeping their clients' emotionally ready for the draft — until contract negotiations.
"I just try to give guys the ceiling and the floor," said Drew Rosenhaus, the founder of Rosenhaus Sports Representation, who has negotiated more than $7 billion in contracts. "The draft is so unpredictable. I want them to be prepared for the best-case scenario and the worst-case scenario.
"The draft should be such a thrilling moment for these players that the last thing you want is for them to feel like it's a downer. You can prepare them realistically, and that can be really invaluable."
And agents' work behind the scenes has at least some impact on where, and possibly even if, a player's name will be called in Kansas City.
"About 98.9% of the NFL players have agents, and there are a lot of very, very, very smart people just like every other profession," said Erik Burkhardt, co-head of Roc Nation Sports' football division.
"Relationships matter. There are very few people these teams know and actually trust. You can't help every time, but if you can influence a pick by one spot, that covers the agent's fees for a player's entire career. We do a lot more than paying for training pre-draft. It takes some people a while to figure that out."