The brand brought a whole set of immersive experiences to the UofL campus.

By Karen Freberg, @kfreberg
When it comes to brands in the sports and social media space, Adidas always seems to be in the conversation. Creative campaigns, excellent social media branding and visual storytelling assets, and branded content for the teams they support and sponsor.
Adidas has great products and social media content, and has a reputation for being innovative and ahead of the curve on digital PR and creative strategy. You can now add creative execution and event planning to the list here. Why do I say this? Because I was able to experience a truly amazing event in person.
Adidas came to the University of Louisville to be able to celebrate with Louisville fans not only for having College Gameday cover the Louisville vs. Clemson football game, but to host an event that will go down in the books.
So, how did Adidas bring their A-game to Louisville? Well, Adidas partnered with UofL for the #MakeTheNight event, which happened after dark on the UofL campus the night before the big football game.
Adidas created customized UltraBOOST shoes with the Louisville Cardinal logo on them at the Adidas Markers Lab for the game. In addition, these shoes were also created to celebrate Coach Petrino's wins (111) so far. Each individual was numbered, so they were exclusive and unique for this particular event. Fans had a chance to win these shoes in a variety of different ways from social media engagement activities as well as at the #MakeTheNight event. These were pretty awesome!
I had the chance to go to the event, and it was definitely a huge success. The line to enter the tennis courts where Adidas was super long. I was able to get in and see the first few people get in and they were pretty excited. Students had to show their student UofL ID, and once they were able to show their ID, they were able to get a free pair of Adidas shoes (All-stars) that they could personalize and create. This really taps into the creative mindset and theme we have seen Adidas implement with their #HereToCreate campaign, which was very cool to see.
The atmosphere was absolutely electric. There were several activities and stations set up for students to customize their shoes and shirts. These stations were extremely popular, and the customized shirt station especially. This reminds me a lot of what YouTube did for Cannes Lions this year, and Adobe had a customized t-shirt station as well for their Adobe Max event.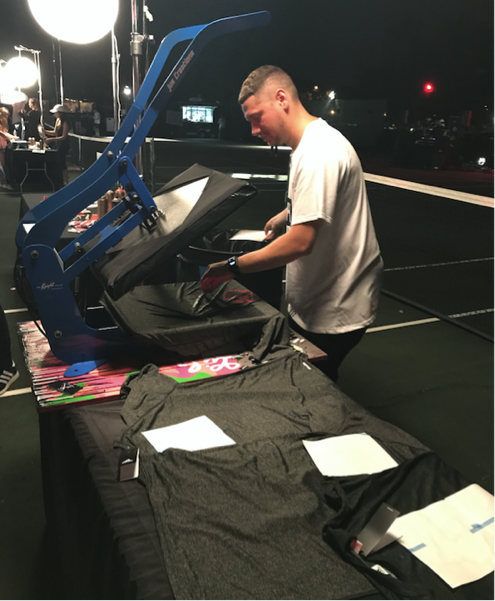 Along with these creative stations, there were other stations students could make memorable experiences to share on social media.
There was even a 360 camera where students could either get an individual video of themselves with Adidas and UofL gear, or with a group of friends. Talking with some of the professionals at Adidas, they said this has been one of their popular features at events amongst students, and it was pretty cool. Along with the tangible gifts students were able to get from the event, they would be able to share these videos (they were sent to students via email) so they can share these with the hashtag #MakeTheNight with #teamadidas.
Lastly, Adidas was able bring on some food trucks and even a DJ to have a dance area for students to have a dance off to try and win a pair of the Louisville customized UltraBOOST shoes.
There were a lot of takeaways I was able to get from being part of the experience with Adidas at UofL from a social media and strategic communication perspective. Here are a few things I wanted to share:
Creative and strategic execution.
Across the board, the strategy and execution Adidas had for this event was excellent. They generated buzz amongst students and the community for this event, so by the time everyone was able to arrive, everyone was super excited. What I liked also was the fact they thought of activities that emphasized experiences not only students want to participate, but they felt they HAD to share with their friends and others on social media. I saw every student in line and at the event sharing videos of the atmosphere on Snapchat, taking selfies and boomerangs on Instagram, and texting pictures of their shoes to friends. If Adidas wanted to generate word of mouth marketing for this event, they definitely accomplished this.
Strong call-to-actions.
Before, during, and even after the event, there were clear messages that asked students to do certain things before, during, and after the event. Download and scan the snapcode to get access to the #MakeTheNight hashtag was one thing that was implemented before the event. Emphasizing the event and team hashtag during the event was also crucial, and it was definitely trending before and during the event. This is important (especially from a social strategy side) to see the impact, metrics, and evaluation efforts that were in direct result from this event, and how this event compares to others that have been done. From what I saw at the event, Adidas will definitely be pleased with the numbers. I was very, very impressed with the strategic mindset Adidas had throughout this event.
Amazing people and pros behind the brand.
I have been a fan of Adidas for years as a shoe and athletic product. However, the people behind the brand are what really impress me. I always tell students in my social media class you get to tell a lot about a brand by the people who are behind the logo. The pros behind the PR, marketing, product management, and social media strategy at Adidas are some of the best I have met. I got a chance to meet some of the Adidas pros over the years (and have a star former student working with them now, Samantha Hughey), and I was super excited to have a chance to meet them at this event. I got a chance to meet Mike D'Olivo (digital marketing) and his team members at the #MakeTheNight event. Everyone was super welcoming, answered my questions about the campaign, and allowed me to explore and be part of the experience as well. I thoroughly enjoyed my time and seeing how it really was a celebration between a brand and a university.
I mentioned this in a video update after the event, but this was one of the best creative execution sports and athletic brand events I have been to. Very impressed and I will definitely be using this as a great example in my classes and share with my fellow social media educator colleagues. I have to give special thanks to Paul, Mike, Erik, Drew, and Samantha for allowing me to be part of this amazing event. Definitely honored to be part of a community with you all here in Louisville!
---
Front Office Sports is a leading multi-platform publication and industry resource that covers the intersection of business and sports.
Want to learn more, or have a story featured about you or your organization? Contact us today.