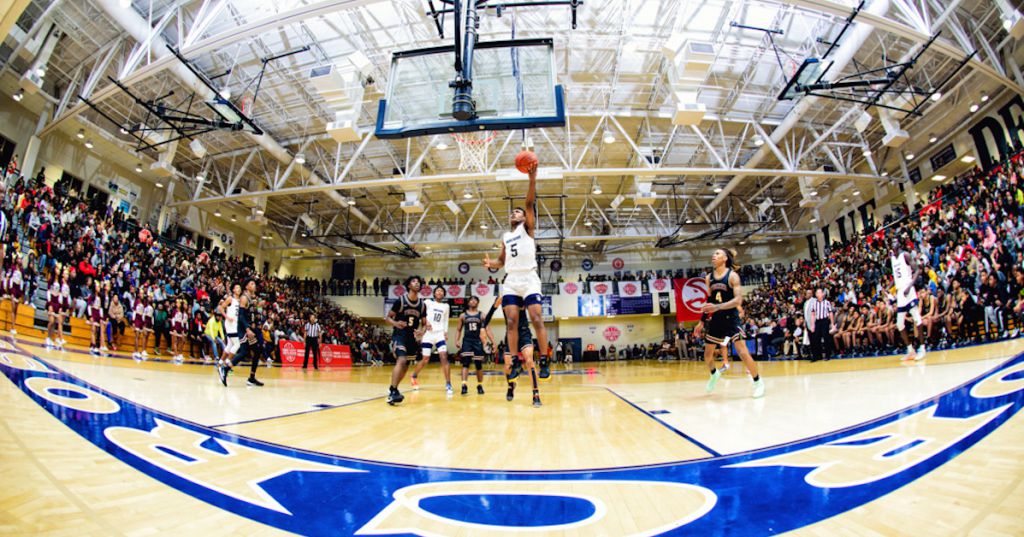 As sports teams continue to find more ways to engage with fans, the Atlanta Hawks are diving deeper into the grassroots with high school basketball.
This season marked the third year the team hosted the Hawks-Naismith Holiday and Tipoff Classics. The events are held in conjunction with the Atlanta Tipoff Club, the administrators of the Naismith Awards.
When the NBA changed its rules to allow its teams to host high school events in 2017, the Hawks immediately jumped at the idea, said Jon Babul, Hawks vice president of basketball development.
"We looked at it as an opportunity to connect with the high school communities in Georgia, just to have a more intimate touchpoint," Babul said. "It's another opportunity to invest in the community; the Hawks Foundation does a lot in coaching education, scholarships, and court builds, this is just a perfect alignment with what we do."
In 2017, the Hawks-Naismith Tipoff Classic was a three-day, 32-team boys and girls high school basketball event. With rousing support and 180 schools already interested in the second year's event, the Hawks have since split the event into two annual two-day, 24-team events: The Hawks-Naismith Tipoff and Holiday Classics.
Babul said part of the fun of the classics has been pitting schools that wouldn't regularly play against each other in games, like a rural Georgia public school against a Metro Atlanta private school. The event typically draws upwards of 3,000 fans and is played at a local Atlanta high school, Babul said. However, Babul said the high school showcase could eventually move to the recently constructed $40 million, 3,500-seat Gateway Center Arena, where the Hawks' new NBA G-League team plays just outside Atlanta.
"The focus was bringing the State Farm Arena experience into a gymnasium that can have an intimate feel with 2,500 people in it," he said. "We wanted to make it a special thing, the best high school basketball in this unique atmosphere with LED boards and instant replays, a professional announcer, DJ booth, Harry the Hawk, Hawks dancers."
Throughout the two days, there was also a pre-, halftime and post-game show onsite as the games were live-streamed and Hawks players made appearances as well.
Professional teams taking an active role in their community's high school athletics is a positive development, said Drew Russell, executive vice president of properties and media assets at Intersport. Intersport is hosting the Under Armour All-America football and all-star volleyball games this week in Orlando.
With the younger generation often choosing a new form of media, like YouTube highlights, to consume NBA content, Russell said the on-the-ground interaction could make a huge difference.
"The attention span in younger athletes is fleeting," Russell said. "So to build that stronger connection with experiences they might not have otherwise, it's a great step in the right direction. I wouldn't be surprised if more and more teams follow suit, especially when it's local in nature to build that affinity for the team."
This is the 13th year Intersport has run the Under Armour All-America Football Game, and Russell said the high school showcase has changed over the years from a focus between just focusing on the games themselves to a more well-rounded off-the-field event. That includes offering players the ability to participate in activities like paintball and beach parties, as well as opportunities to create content and help build their brands.
For some third-party organizers, especially for events like the All-America games, sponsorships are the key. But because elite amateur athletes are a heavily targeted demographic, that has been beneficial for Intersport, Russell said.
For the Hawks, however, Babul said the goal isn't to make money, and the Hawks-Naismith Tipoff and Holiday Classics are looked at as a marketing expense. Tickets were $10 for adults and $5 for youth, with K-12 students getting a free Hawks t-shirt, and free Hawks ticket vouchers were given out as well.
"We'll do a healthy gate, but we're not making money on it, and that's not the goal," Babul said. "It's to attract as many high school basketball fans to congregate and enjoy high school basketball matchups with the Hawks brand leading the way."
READ MORE: Sports Networks Increasingly Interested in Showing High School Stars
The grassroots push also included a free Jr. Hawks Basketball Clinic, sponsored by local attorney Ken Nugent, for 100 boys and girls before the second day's games. Babul said the five events over three years has created thousands of personal touchpoints. While there's no direct correlation to monetary return from ticket or merchandise purchases, the personal touch gives it a tangible benefit, he said.
Having already come a long way in three years, Babul said he foresees the Hawks' high school basketball involvement continuing to grow, perhaps even into a game of the week type showcase. He also said he's seen interest from other teams in hosting high school showcase-type events.
"There's a lot of truth to 'If you build it, they will come," Babul said. "We built arguably the best showcase in the state, and now it's a matter of accommodating the demand, and that's a great problem to have. "
"There's a tremendous opportunity to grow it," he said.