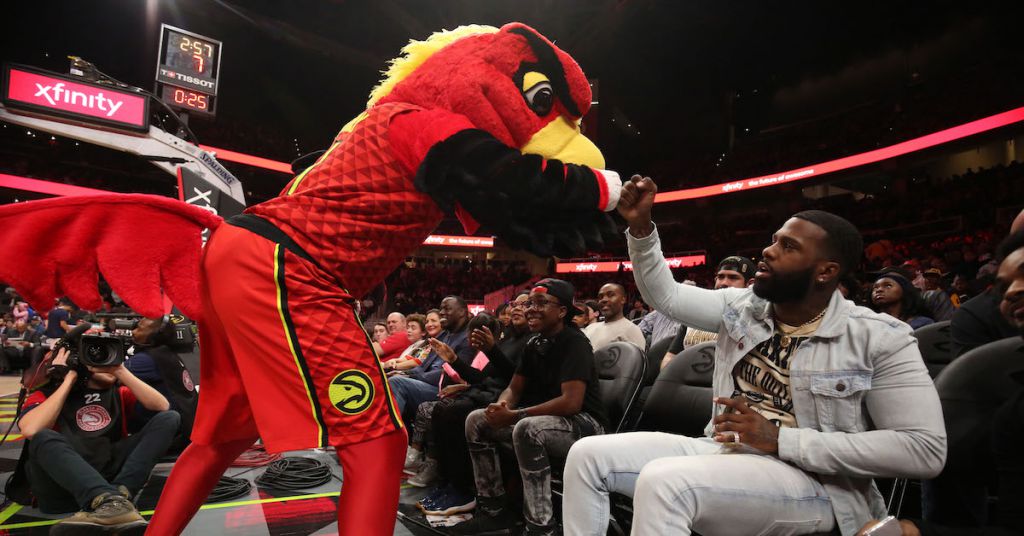 A venue renovation can do wonders for the fan experience. So too can placing a higher emphasis on customer service. The Atlanta Hawks made investments on both fronts this past season, and it paid off.
The Hawks ranked first in the NBA in overall game experience in the league's Game Experience Survey, an annual survey of ticket buyers in each of the 30 markets. The survey found 79% of Hawks fans responded that Atlanta's game experience was "Great" or "Outstanding" last season, compared to 57% in the 2017-2018 season.
"Two years ago, we started going through this transformation, we looked not just at the physical arena, but to transform everything we do," said Brett Stefansson, Hawks EVP and general manager of State Farm Arena. "How do we truly become a great company? That was the challenge at the time."
READ MORE: Cleveland Cavaliers and Aramark Launch In-Seat Ordering
State Farm Arena, previously known as Phillips Arena, concluded a $192.5 million renovation prior to last season that transformed the building's premium and social areas, its technology and its concessions. The arena was built in 1999.
Perhaps more importantly, however, was the team putting more emphasis on fan service. In April 2018, the Hawks hired David Garcia as its vice president of guest experience, an important hire for the transformation, Stefansson said. Garcia had most recently served as director of fan experience for AMB Sports & Entertainment, overseeing the Atlanta Falcons, Atlanta United and Mercedes-Benz Arena. He also had worked in customer-facing roles at Amazon and Disney, which Stefansson said gave him "an innovative service-focused" approach.
From there, the Hawks leadership group then came up with three key objectives it wanted to accomplish: operational excellence, a focus on great employee experience and creating a great fan experience.
The strong focus on those three areas help the Hawks have tighter control on aspects they can control, because, as Stefansson says, there are so many outside of a team's control on game day. That can range from traffic and parking to speed of ingress and egress.
"How can we best control what we can control?" he said. "Great food and drink, customer service and smiling faces, making sure we're treating employees right and that translates to a great front-of-the-house experience."
The NBA doesn't share the results publicly, nor the full results with teams. The information is used to provide teams with information to make their operations better, said Matt Wolf, NBA senior vice president of team marketing & business operations. The survey taps ticket buyers, including full-season, partial-season and individual game buyers.
"The Atlanta Hawks represent the standards of excellence that our teams continuously strive to achieve when delivering the best possible game experience for our fans," Wolf said in an emailed statement to FOS. "Throughout the year, the NBA shares data and best practices from our teams and the survey is just one example of the insights that the league provides to its teams to help them better connect with and service our fans."
The Hawks also scored well in the NBA's Fan Loyalty Tracker this season, with the top score for in-arena food and beverage satisfaction. A major part of the physical renovation was creating "neighborhoods" within the arena and localizing the food options, which was led by VP of Hospitality Bobby DiCicco and executive chef Joe Schafer, a lauded Atlanta chef. The team was also the first NBA venue to offer a fan-friendly pricing menu that featured 11 items priced at less than $5.
New concession options included Zac Brown's Social Club, Old Lady Gang, Gio's Little Italia, J.R. Crickets, B's Cracklin' BBQ, ATL Brew Pub and Rita's Italian Ice.
The renewed focus on fan experience was likely needed as the team was last in attendance in 2017-18, according to ESPN. This year, the Hawks jumped to 27th, ahead of the Nets, Suns and Timberwolves. Stefansson said the Hawks experienced standard year-over-year growth, which according to ESPN was 14,409 fans per game in 2017-18 to 15,327, or 81.8% capacity of State Farm Arena.
READ MORE: What the Atlanta Hawks and Philips Arena Gain from Reduced Concession Prices
As the Hawks hope to continue the transformation of State Farm Arena's operations, Stefansson said there will be a continued focus on its employees, especially around recruitment.
"We have a long way to run," Stefansson said. "We're being strategic about what we want to accomplish. If things worked or didn't work, we're just making the effort and trying to be better.
"We've had some early successes, but we're far from where we want to be, not just in fan experience, but overall as a facility. We want to be one of the world's best facilities," he said.