A good idea for publicity or something that takes away a spot for someone who needs it?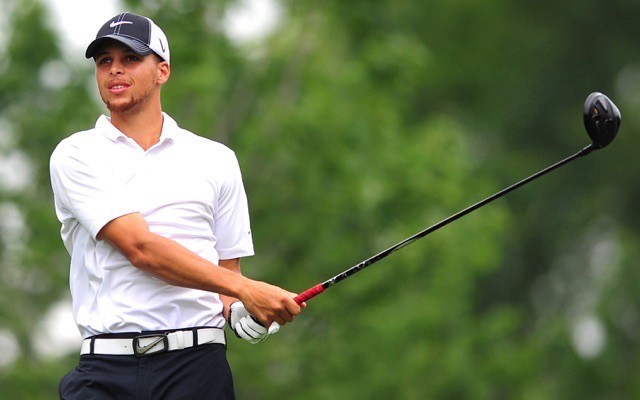 On Wednesday, Warriors' guard Steph Curry received a sponsor exemption into a Web.com Tour event.
The Ellie Mae Classic will be held from August 3–6 in the Bay Area city of Hayward, California.
A sponsor exemption into a golf tournament to a star in another sport is not unprecedented. Washington Redskins quarterback and reigning NFL MVP Mark Rypien was given a sponsor exemption to play in the PGA TOUR's Kemper Open in 1992.
Rypien shot rounds of 80 and 91 to finish in last place. Former 49ers wide receiver Jerry Rice has competed in a Web.com at TPC Stonebrae (where Curry will be competing)three times, with finishes of a withdraw, last and second-to-last.
The Web.com Tour is equivalent to Major League Baseball's Triple-A in the professional golf world. In essence, it is the proving ground for players trying to reach the PGA TOUR.
https://frontofficesports.com/the-unique-nature-of-golf-representation-and-branding-opportunities-be00821be8f9
The Web.com Tour became even more important in 2012, when the PGA TOUR made it the most common path in which most PGA TOUR cards are awarded. Prior to 2012, anyone who had the money could register for Qualifying School (Q-School), where, if a competitor played well enough, they would earn their card and compete at the game's highest stage. Now, Q-School only grants players entry onto the Web.com Tour.
What makes Steph Curry's exemption into the Ellie Mae Classic controversial is in part due to the changes made in 2012.
Web.com Tour spaces have always been coveted, but since 2012, they have become even more desirable. Current professional Lee McCoy is frustrated by the decision and has been verbal against Curry's exemption:
What makes McCoy's story interesting, is that McCoy himself received a sponsor exemption into last year's Valspar Championship, an event hosted each March on the PGA TOUR. McCoy grew up in Tampa Bay, just minutes from the course where the event is hosted . That was a special week for the then rising senior at Georgia, who finished T4. McCoy had to turn down nearly $300,000 in prize money that week to retain his amateur status, and after breaking his wrist in late 2016, he has had to settle for time on various mini tours.
He currently ranks second on the PGA TOUR Canada money list, which is equivalent to Double-A in Major League Baseball. What likely frustrates McCoy and other mini-tour professionals is that they believe Curry is taking a spot from someone who is more likely to have a chance to win.
https://frontofficesports.com/the-unique-nature-of-golf-representation-and-branding-opportunities-be00821be8f9
It is clear that winning is not Steph Curry's goal, when he said in his YouTube acceptance video it was "a huge honor" and his goal is "not to embarrass myself."
The value of a sponsor's exemption is not to be understated on the Web.com Tour. An example that illustrates a sponsor exemption's importance comes from Steve Friesen at the 2011 Cox Classic:
Friesen, originally from Lincoln, Nebraska, played collegiate golf at the University of Nebraska. At Nebraska, he won the Ben Hogan Award, given to the nation's top collegiate golfer. However, after turning professional, he struggled to make an impact, dealing with various injuries. He received a sponsor's exemption into the 2011 Cox Classic, hosted in Omaha, near Friesen's hometown. Friesen held his own, and finished a respectable T49. He made just a few thousand dollars that week, but that money was enough to get him into the field the following week at the Price Cutter Charity Championship. Friesen won that 2011 Price Cutter Charity Championship, a life-changing experience.
This experience underscores Lee McCoy's argument and the monumental importance one sponsor exemption can have.
On the other side of the argument is sponsors and fans.
Steph Curry will certainly boost ticket sales for the event, network coverage and viewership, and the publicity of the TOUR and event as a whole. For most minor league teams and organizations, driving revenue and fan passion is difficult. They have to be creative to get people to pay attention.
After all, we would not be talking about the Ellie Mae Classic, which is over a month away, without Steph Curry. Sponsors pay a hefty sum to receive naming rights for the tournament in addition to paying out the purse to the rest of the field. Therefore, it is their choice to whom they will offer their exemption(s).
The sponsor has a right to promote its own event and generate as much publicity as it can. Furthermore, the event also makes perfect sense for Curry and the Bay Area as it raises money for the Warriors Community Foundation.
The Foundation, according to its website, "supports education and youth development to promote thriving students, schools and communities." Curry will help drive revenue for the Foundation through his involvement.
For professional golfers struggling to make their mark in the game, seeing Steph Curry take a sponsor's exemption is a tough pill to swallow. However, Curry competing will have a lasting impact on the tournament and the community it supports.
There are two sides to the argument, and neither is right or wrong. They are just different.
---
Front Office Sports is a leading multi-platform publication and industry resource that covers the intersection of business and sports.
Want to learn more, or have a story featured about you or your organization? Contact us today.
If you liked this, click the???? below so other people will see this here on Medium.