Report Overview
In this report, we will discuss opportunities within the golf industry and the sports associated sub-categories and niches. Sub-categories such as tech-enabled miniature golf and driving ranges have evolved and resulted from increased demand for access to a sport with a legacy of high barriers to entry and inaccessibility. The report utilizes data from various data sources, including but not limited to Crunchbase pro, company filings, Yahoo Finance, Statista, the National Golf Foundation, IBIS, Grandview Research, VentureBeat, HBR, as well as exclusive Front Office Sports data. The report examines:

Demographic data within the golf industry as a whole
Golf driving ranges, mini-golf, and family fun centers industry
Industry driving economic data
The golf startup space
Emerging Opportunities
Selected case study
Introduction
Golf is on the rise. Increasing time spent on leisure activities, a continued move towards work from home, and more low-cost alternatives to traditional golfing have created an environment ripe for disruption in the golf industry. New companies that have arisen within the golf ecosystem stem either from a shift towards a quicker, more novel version of the game (think high end driving ranges, experiential minigolf, and new form par nines) or technologies that are allowing individuals to access coaching, data, and community more easily by leveraging technology. The newest crop of companies within this vertical are working to reduce many of the friction points not only through technology but also by innovating within the sport itself.
New subcategories in the sport have also exploded with the likes of Topgolf (acquired by Callaway Golf for $1.7 billion in March of this year) or PopStroke (the Tiger Woods funded minigolf experience) increasing the overall total addressable market of the sport ("TAM"). As it currently stands, the estimated TAM for the sports and leisure market in 2021 is $270 billion in revenue, per IBIS reports. Key contributing economic factors include the consumer price index ("CPI"), per capita disposable income ("DPI"), demographic age data, and time spent on leisure activities.
When drilling down into Golf more specifically, we see overall participation in the sport had seen an overall decrease from 2006 through 2017, with participation down from roughly 30 million active on course participants to less than 24 million in 2017. Through 2019, however, the data has ticked back up with total participation above 24 million, and that number has reached almost 25 million in 2020.
While this only includes the participants in "on course golf," the total participation from off-course golf activities (including driving ranges, mini golf, indoor golf simulators, and entertainment venues) reached 12.1 million participants. Lastly, the total number of individuals who had a golf "touchpoint" (defined as on or off-course participation), golf viewership, or golf readership reached 101 million individuals, or 1 out of every 3 Americans age 6+.
Market / Vertical Overview
On Friday, June 18th, CNBC reported that PGA superstores announced that sales from the same period ended in 2019 were up 55% in 2020. The increased demand coupled with some logistical supply chain issues has resulted in golf manufactures considering more overseas manufacturing to keep up with the increased consumer demand. A quote from Callaway CEO Dick Sullivan indicated that the "[D]emand was unprecedented." The signal is clear that Golf is having a moment, but what are the actual opportunities?
When viewed as a traditional vertical, the golf industry can be broken down into two main sub-verticals. First is on-course golf-related activities which encompass any activities related to golf as a competitive sport (i.e. teams, leagues), recreational participation on course, membership, and in large part equipment purchases. This is what – for the purpose of this report – would be coined as the legacy industry.
Off-course golf pertains to some more traditional activities such as driving ranges or miniature golf while also including newer entrants into the market such as experiential activities including Topgolf, VR golf, high-end miniature golf, and tech-enabled miniature golf. Furthermore, the industry has moved onto the technology adoption curve, particularly from a performance standpoint. Swing analytics, digital coaching, and digital scorecards have all recently become important pillars of the overall golf economy.
On Course vs. Off Course Participation
When looking at the participation for on-course golf in the United States over the past 15 years, the trend, while recently improving, has only seen small amounts of growth while rebounding from a 10-year decline.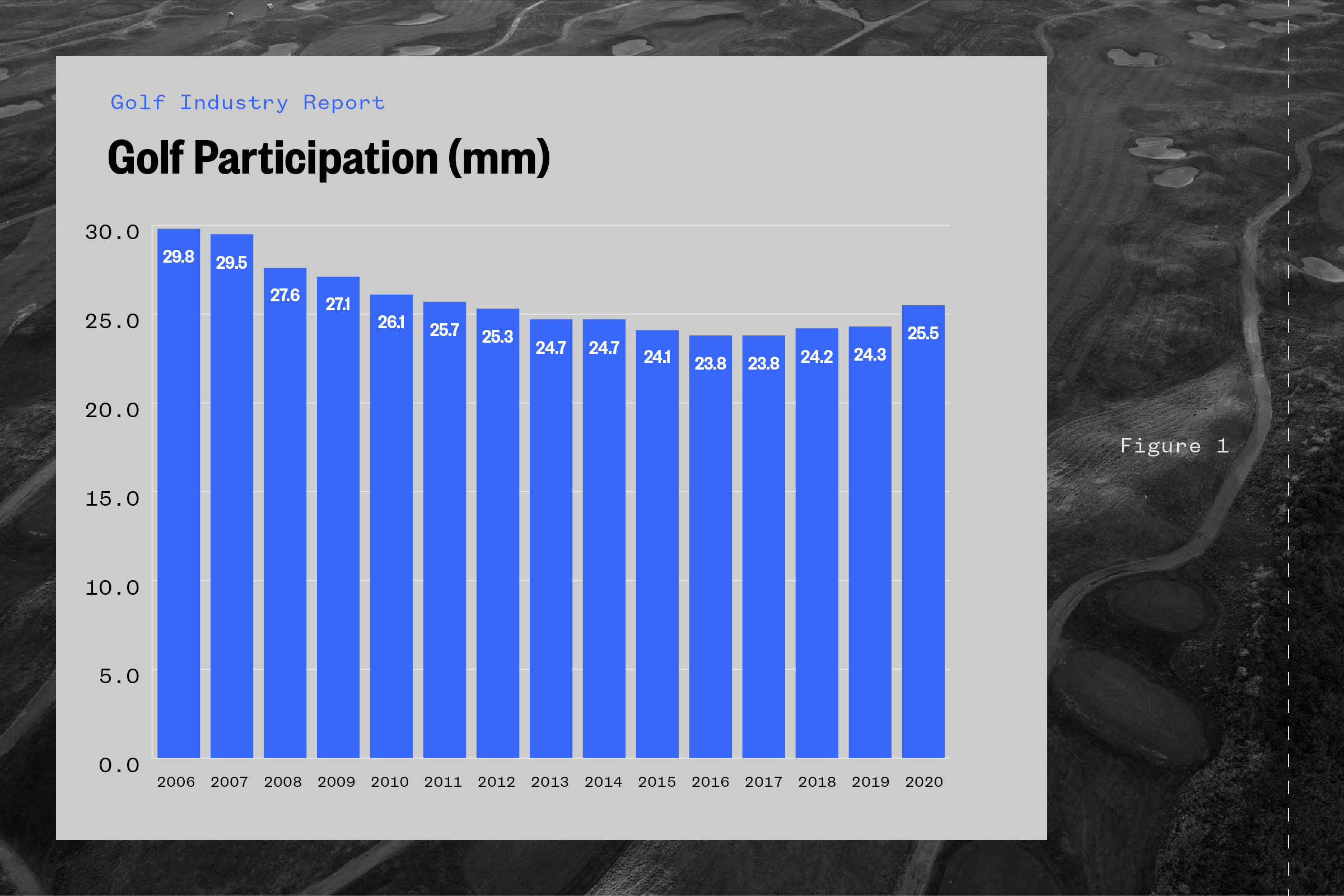 When further examined, the on-course participants have seen an increase in their young adult (ages 18-34) population to 5.9 million participants representing ~20% of the participants. Off-course golf, on the other hand, has seen higher participation from the young adult population. Roughly 5 million of the 12.1 million total participants – representing 41% of participants – came from the young adult demographic.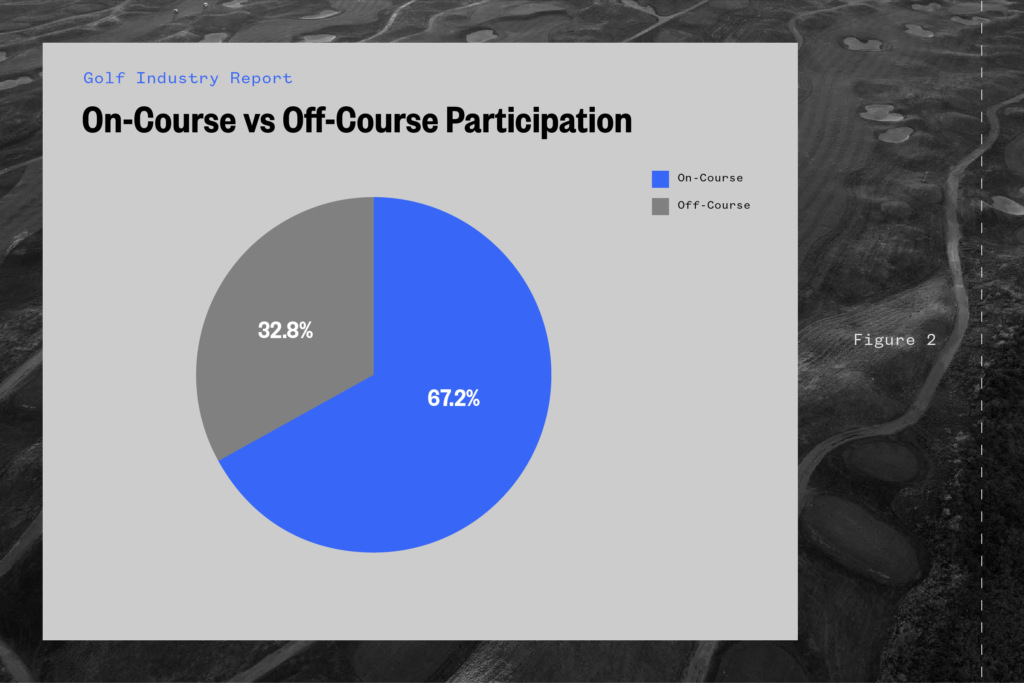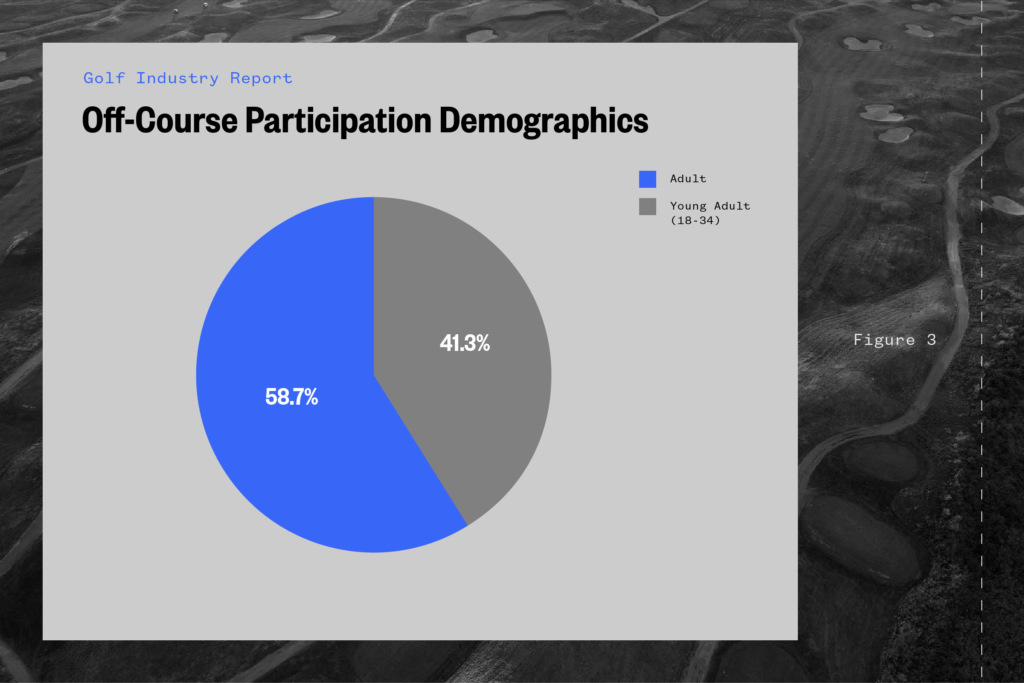 From a consumer perspective, golf has remained relevant as 4 of the top 25 sports search related topics on google trends were golf related – representing 16% of the total web search volume. Furthermore, the golf-related subreddit r/golf is ranked as the 71st most engaged subreddit on the platform as of 6/21/2021.
From a revenue perspective, IBIS estimates that the Golf Course & Country Club Industry – a proxy for the NGF "on-course" activities – generated $25.5 billion in 2020 with an anticipated annual growth rate of 1.3% through 2026. Golf driving ranges and family centers – IBIS's closest proxy for off-course golf activities – estimated the industry size at $13.3 billion but grew at an annual rate of almost 3% through 2026.
These reports represent more traditional outlets for the golf industry and demonstrate that the combined on and off-course revenue streams total almost $40 billion in the United States. Within these industries, particularly the off-course vertical, several areas have received funding in recent months. The likes of TopGolf (M&A), Puttshack (venture), and Popstroke (venture) have demonstrated the market shift towards both high-end and digitized experiential off-course opportunities.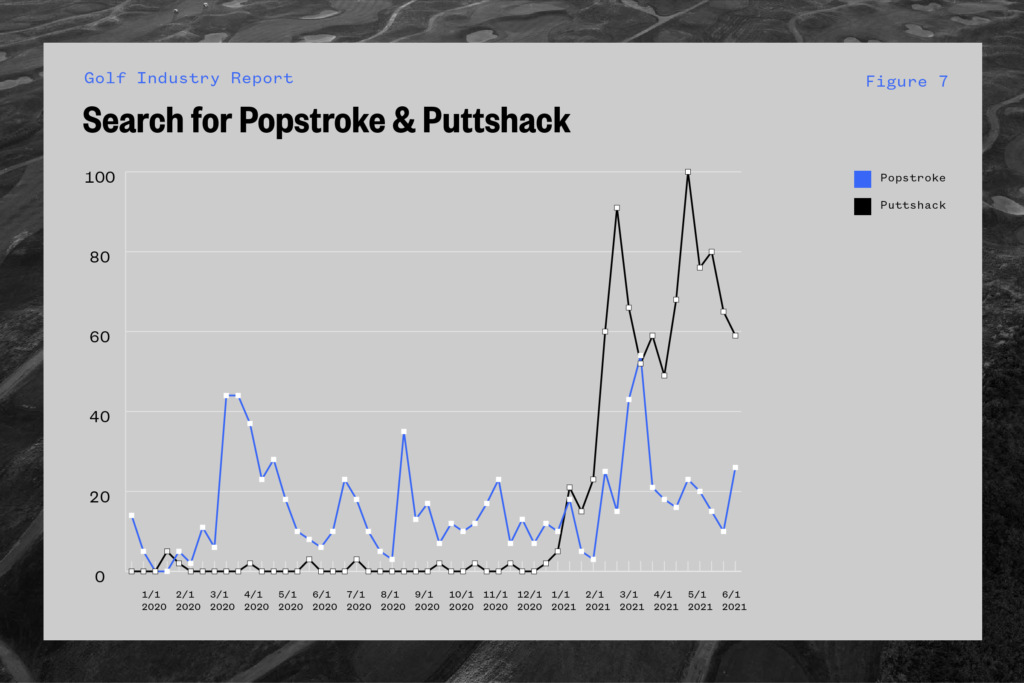 The following sections outline companies that fall within the golf technology and new experiential golf space which have opportunistically taken advantage of the shift in consumer preferences and are seeing early success.
Funding & Capital Allocation
Recently In the News:
This summer alone has seen three large investments in golf or "golf nascent" related start-ups. The likes of Puttery, TOCA, and Full Swing have all received funding from prominent individual investors and venture capitalists. A quick summary is below:
Full Swing: On July 16th, it was announced that Full Swing would receive $160 in funding from Bruin Capital when the VC firm purchased a stake from original investor North Castle Partners. The company utilizes screens and AI to simulate a golf course experience in an indoor space.
Puttery: On July 13th, it was announced that Rory McIlroy and his investment vehicle Symphony Ventures would be investing $10 million for a 10% ownership stake in Puttery (more specifically, in each Puttery venue opened) through 2023.
TOCA Football: It was announced on June 29th that the company raised $40 million from (lead investor) WestRiver Group. TOCA Football is a soccer-focused experiential company that allows patrons to shoot soccer balls while at virtual screen while enjoying food and cocktails. The company is modeled after Topgolf.
On July 16th, it was announced that Full Swing would receive $160 in funding from Bruin Capital when the VC firm purchased a stake from original investor North Castle Partners.
While larger public golf retailers such as Callaway outperformed during the pandemic, there have also been other signals in the market that indicate consumers might be shifting some of their leisure time to golf-related activities.
Since 2019 we have identified 23 transactions in the golf technology and alternative golf space, totaling $537 million in early-stage funding. Additionally, Topgolf – the sports and entertainment company focused on creating a technology-enabled and service-first driving range – was also acquired by Callaway for ~$3 billion.
Source: Crunchbase
The companies have been tagged with a specific vertical for classification purposes. As we look at the more recent fundings, we notice a pattern of high-touch tech-enabled experiences and digital coaching and tracking. Here are a few quick insights from the funding results:
Topgolf, given its first-mover advantage, has dominated the funding landscape and has also provided a roadmap for future companies to leverage technology, media, and dining experiences for their customers.
Additionally, while the demand for VR/AR-related products has recently surged (According to a report by Valuates, the VR and AR market is expected to grow at a CAGR of 63.3% between 2018 and 2025 it will reach $571 billion CAGR by 2025). There has yet to be many entrants into the market here, leaving ample white space for incumbents.
Lastly, the market for data aggregation tools (i.e., Strava for Golf) and digital coaching are crowded but have yet to see any one company gain real traction. In an analogous market, the VC-backed company MSTRD – a digital baseball coaching application that utilizes computer vision to track users biometric movement data – has gained some traction in the market as professional baseball players from various ranks have utilized the app.
If any company can capture market share in the digital coaching sphere, it could benefit from current cell phone camera technology, which allows for the utilization of biometric data that previously would not be available and would have required sensors.
Sub Verticals
The three main sub-verticals that we see within the space are as follows:

Consumer experiential (driving ranges, miniature golf, intermediate shots)
Golf technology (ball tracking, ball velocity, rotation, data visualization, etc.)
Coaching/instruction (virtual coaching, low-cost AI-based platforms)
As we look at these sub verticals, the funding tends to skew towards the more technology-enabled products and services. The "breakout" in tech-enabled experiential products seems to be lagging other industries within the leisure sports world.
From a growth and opportunity standpoint, the ability to merge some of the consumer experience with new technology could present attractive opportunities. Below are some key insights from the individual verticals:
Consumer Experiential: The current market skews towards miniature golf, with 5 of the identified companies being in some capacity related to the sport. From a funding perspective – the money seems to flow most to multi-purpose use facilities – like the current model for new professional sports stadiums. These facilities, however, receive relatively little funding when compared to tech-enabled products as they don't benefit from the same potential for scalability. Tech platforms simply have more attractive growth potential.
Golf Technology: The subset of golf technology companies are predominantly AR/VR or GPS/ball velocity companies. As stated previously, the application of AR/VR to the golf and nascent industries will be a driving force in expanding the total TAM and allowing new demographics to participate. The AR/VR market is the least developed of the sub verticals, with most companies identified as being some form of virtual driving range. From a product standpoint, the AR/VR move into sports thus far has skewed heavily towards enhancing the "in-game" experience. The next step in integrating these technologies into the mainstream is through gamification.
As more traditional gaming properties adopt the technology, the golf industry will be able to benefit as it has recently doubled down on gaming with releases of new 2K and EA properties. Looking one step further, XR companies (an extended reality which is a mix or AR, VR, and mixed reality) are working to build full-stack products and experiences that could eliminate the need for physical real estate altogether. Tennis and Golf look to benefit most from these innovations as the application for AR/VR on those sports already exist. From a partnership and marketing standpoint, the proliferation of virtual products – particularly gamification – will open new revenue streams for the industry and allow for a shift
Coaching/Instruction: The third sub-vertical deals in large part with the democratization of legacy coaching. Coaching platforms or coaching applications are intended to replace in-person coaching and provide a lower-cost alternative to existing solutions. While this ties in with the previous section on AR/VR, the technology required to create coaching products can be found in an iPhone camera. As an example, the PerfectMotion app (included in the funding table) is a mobile application that provides coaching cues and swings analysis. The app utilizes the iPhone camera to capture swing inefficiencies and subsequently provide coaching instruction from tour professionals. The cost of the app is $5.99 per month or $59.99 annually, a significant step down from the $50-$100 price range for an individual session with a pro.
Coaching specifically has broad applications for the existing landscape of golfers. According to research done by Jeehae Lee (former LPGA Tour member and current CEO of SportsBox AI), only 13% of current golfers receive any form of annual golf instruction. The 87% who do not receive instruction require a low-cost alternatives to the current model and the technology now exists to provide them with top level coaching.
We believe that the three identified sub-verticals will have a meaningful impact on the near and long-term growth of the industry. As a participatory economy, golf will require a larger overall market and greater participation from a younger demographic. While the main Leagues and Associations (i.e., PGA) have their initiatives to drive growth in the sport, outside invested capital in technology and complementary products indicate that the sport has ample room for growth as it explores these new channels.
Industry and Economic Drivers
While examining the greater golf market trends specifically, it is also important to observe some of the larger macro-economic factors at play. Two items of note are per capita disposable income and the savings rate displayed by Americans. Given the complex impacts of COVID-19 on the local economy, it is important to have context surrounding the economic environment.
Per Capita Disposable Income:
When looking at the data, it is important to note the impacts of COVID-19 and the associated stimulus measures enacted by the government. Prior to the pandemic, the economy had seen moderate growth in disposable income as we came to recovery from the 2008 financial crisis. Since 2000, the DPI in real terms (inflation-adjusted) is up 46%. Furthermore, since the beginning of the pandemic, the DPI increased from roughly $45k in February 2020 to $59k in March of this year before normalizing back to $48k during the summer.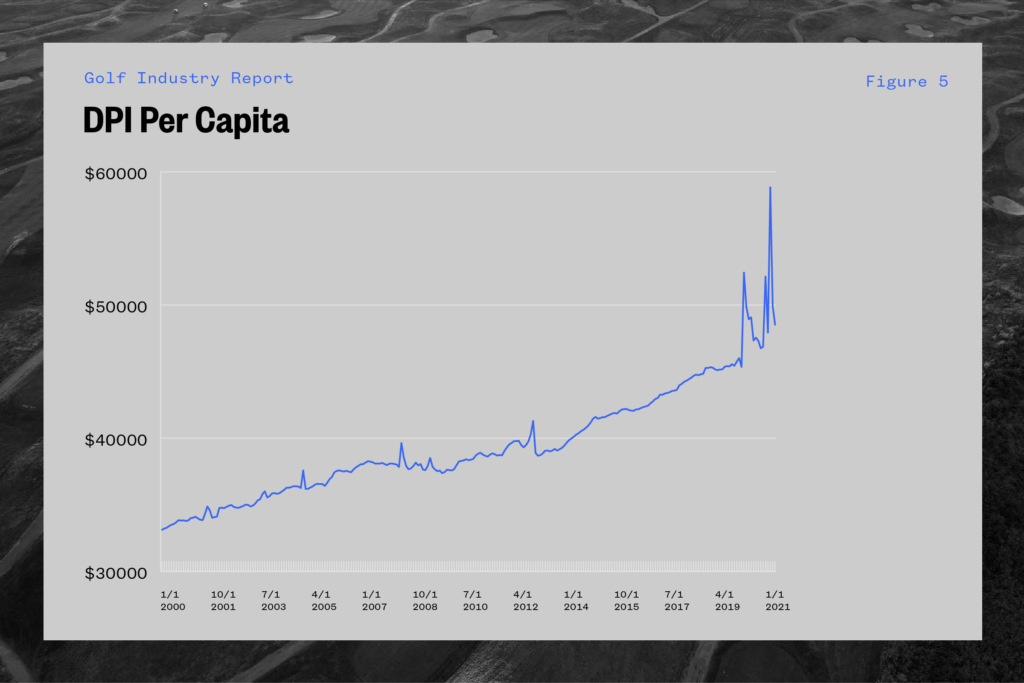 Furthermore, since March of this year, the personal savings rate has been trending downward, reducing savings rates from 27.6% in March to 12.4% in May. In this case, context matters. Prior to the Covid-19 pandemic, the savings rate had hovered around 7%-8% before spiking to recent all-time highs at 33.7% in April of last year.
These trends bode well for consumer spending habits going forward. While there are still a lot of dollars pent-up from the COVID-19 saving period, it appears as though the rate of savings is decreasing, and consumption is on the uptick.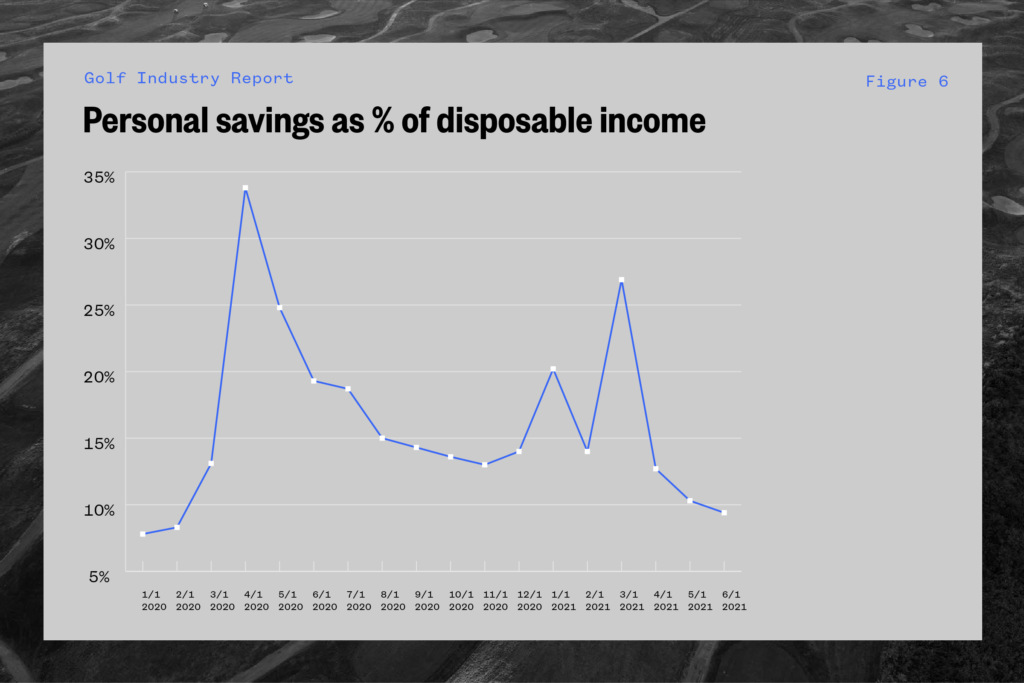 According to estimates from Wells Fargo, there are $2.4 trillion dollars that savers have accumulated since the beginning of the pandemic. Important to note, this figure represents roughly 15-20% of the annual consumption.
According to an estimate by Pantheon Macroeconomics, if households spend just 15% of the accumulated savings over the next two years, there could potentially be a 0.8% boost to GDP per year. Furthermore, according to the Bureau of Economic Analysis, in 2019 (last full economic dataset), the percentage spent on total core outdoor recreation activities related to or including golf was nearly 12%. This figure equates to roughly $28 billion (recreational spend was ~$226 billion).
Further Examination:
We also believe that the size of the market can be increased. Technology and experience associated with these "nascent golf experiences" will provide more and more market expansion opportunities. As it currently stands, Golf as an activity requires significant investments in time and equipment that act as an impediment to participants. A new subset of participants is likely to emerge with the proliferation of more "time efficient" and less equipment-intensive alternatives within the space.
Additionally, Golf requires large upfront capital investment and a great deal of land from an operator standpoint. As the proliferation of VR/AR technology continues and prices trend towards affordability, many of the barriers to entry can be lowered for participants. By no means would this shift in digital replace legacy players but could drive interest in the sport as a whole and open the space to new demographics.
To contextualize the opportunity within the digital golf space, consider the esports market. The global esports industry is anticipated to grow to $6.81 billion by 2027. This includes a wide-ranging array of IPs from traditional sports (FIFA, Madden, 2K) to strategy and battle games.
In May of 2021, an article by VentureBeat indicated that over 2 million copies of the new PGA Tour 2K21 video game had been sold since its release in August of 2020. EA has also launched a new video game EA Sports PGA Tour, and Nintendo released a new golf game – Mario Golf: Super Rush – in June. All of these properties are either new or are being reintroduced after a hiatus from publishing. This does not even include the market size for VR/AR products (market size estimated at ~$16 billion for 2020), which could impact participation and new gaming products. The reintroduction of these golf gaming properties could dovetail favorably with the current trend in esports.
The potential increase in the TAM of the golf related gaming industry paired with the substantial increase in personal disposable income bodes well for increased visibility of and participation in the golf industry. To allow the legacy industry to grow, there has to be a shift to digital. On the viewership side it will be through streaming and new interactive viewership options, on the participation side, gaming could have an outsized impact on increasing overall participation and adoption.
Time spent on Leisure and Sports:
In addition to the total dollar spent on the industry, the amount of time spent on these activities is important. According to a study conducted by the Bureau of Labor Statistics, the time spent on leisure and sports by U.S. citizens was an average of 5.19 hours which falls within the average range for the 10 years. According to the data, roughly 10% of that time is spent on physical activities and sport, which has been around the mean for the last 10 years.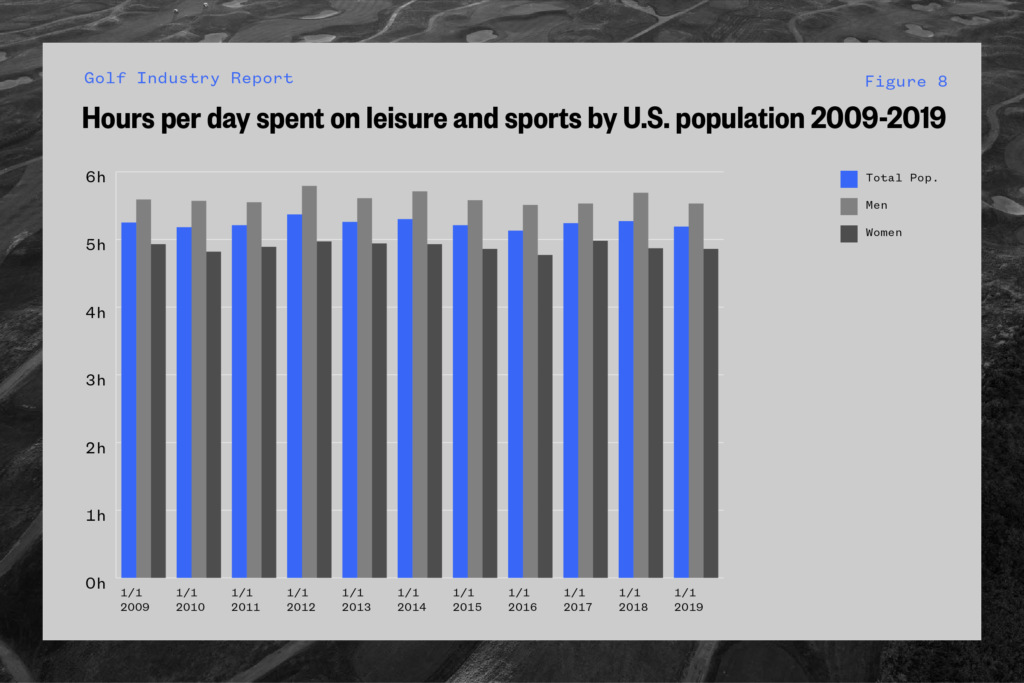 When looking at the data aggregated by McKinsey & Company, 27% of consumers are planning to splurge on fitness, sports, and outdoor categories. Of the 27% of respondents, 36% (the highest %) stated that they would be ready to spend once government restrictions were lifted and the disease "stops spreading." This is indicative of individuals not only having pent-up savings but also that there is a substantial portion of this available capital earmarked for sports and outdoor activities, another positive signal for the industry.
Work from home:
Another key factor to keep in mind is the shift from work to home, which could have an impact on the amount of time individuals have available to spend on outdoor activities. According to research done by the Pew Research Center at the end of 2020, 54% of individuals indicated that they would be willing to or be interested in working from home. At the time of the initial survey, 71% of respondents were in the process of working remotely and had no plans of when they would be returning to work. Furthermore, when asked questions pertaining to "ability to get work done at home," over 60% of respondents indicated that it was easy to make the transition to working from home.
Individuals are also putting capital behind the trend. The search volume on Google and Amazon for home office supplies has also been at a relative high over the past 12 months, with relevancy scores above 50 throughout the entire period for google trends scores.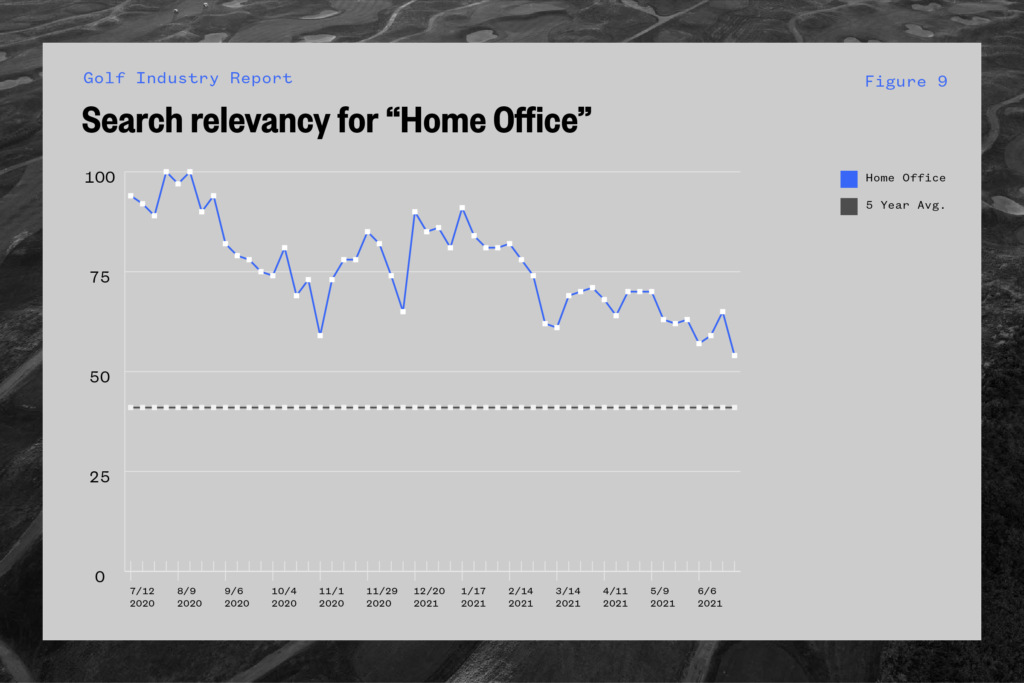 Google Trends Data
| | |
| --- | --- |
| Product | 90 Day Growth Rate |
| Ergonomic Home Office Chair | 2573% |
| L Shaped Home Office Desk | 2208% |
| Desk Home Computer System | 612% |
Jungle Scout Data
This is once again indicative of a secular change in behavior for particularly the middle working class (individuals with jobs that allow them the flexibility to work from home and the financial stability to create an at-home infrastructure for work). With this change in mind, it can be inferred that the total available time to be spent on leisure activities will increase. The time cut out from commuting can be a huge boon to potential participation in leisure activities. The 5.19 hours estimated above could be a low estimate on the amount of available time going forward. Increasing the amount available time to consumers, trends in consumption, personal disposable income, and savings lay an economic backdrop that could accelerate participation in the sport and continue to drive growth from the 2017 figures.
Google Trends:
Some notable upticks in google trends search volume are also promising for potential industry growth – particularly for the nascent opportunities discussed in this report.
Search volume for miniature Golf is at its 12 months high and has increased nearly 50% from volumes this time last year.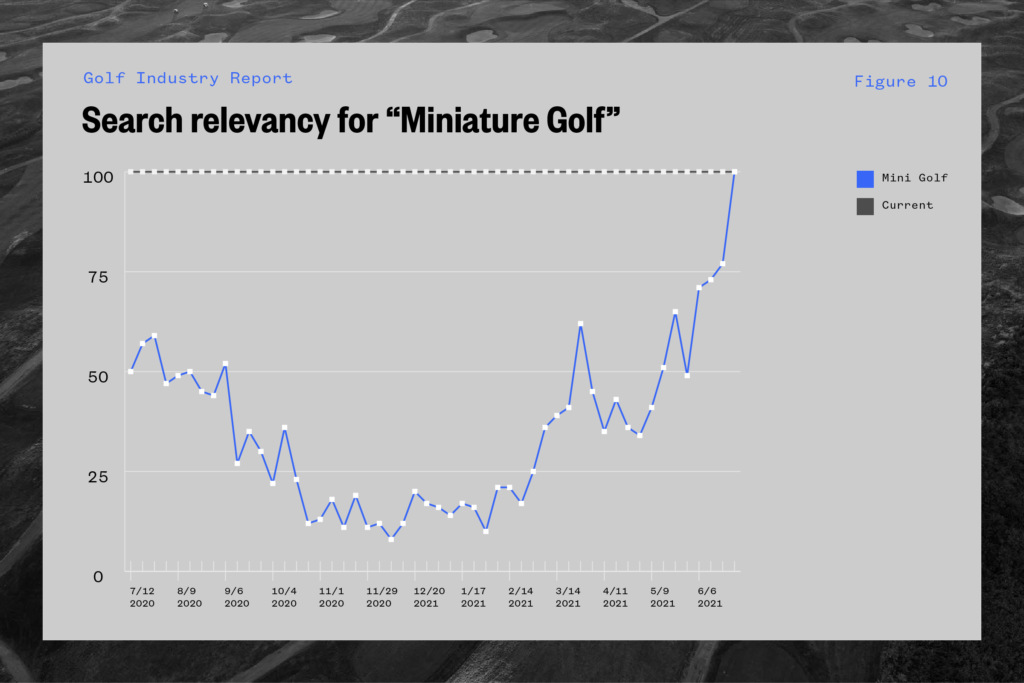 While search volume for "driving range" displays a more seasonally cyclical pattern, the summer cyclical highs are at their highest levels since 2007.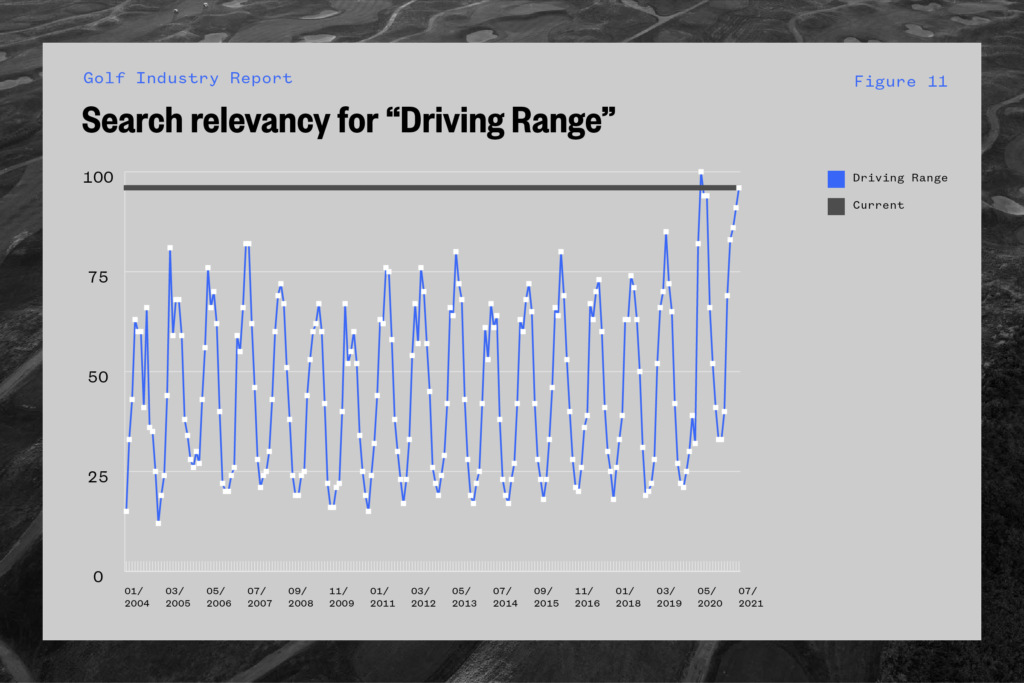 "Golf Restaurant" as well as "Golf Activities" are at or above their 5-year averages for search volume and beating cyclical trends.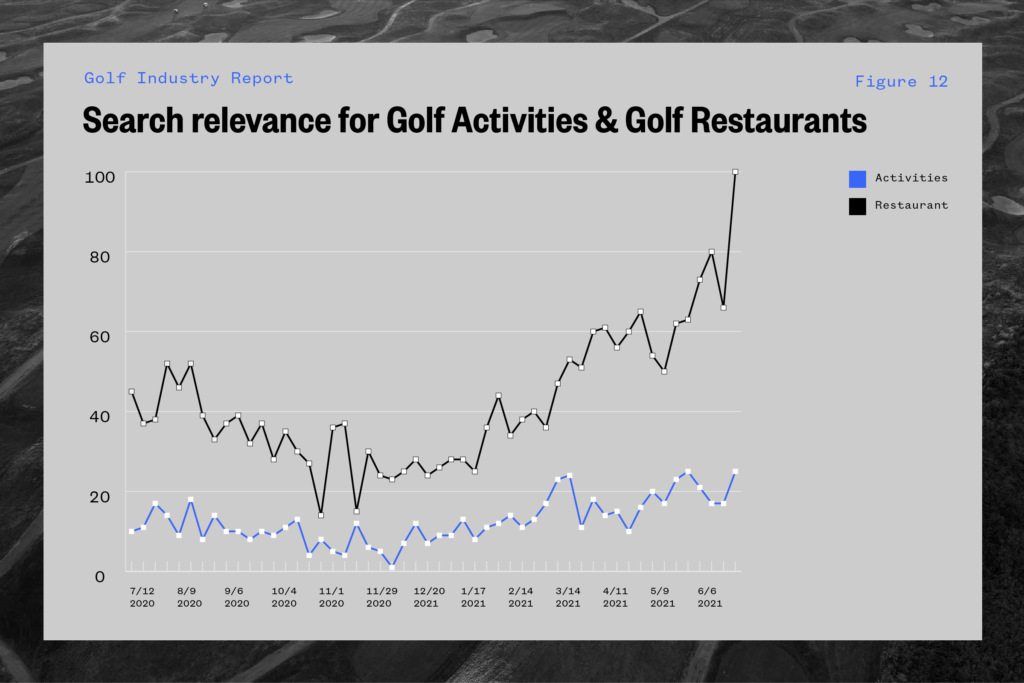 Overall, the trends data is indicative that, although many of these ancillary golf activities are seasonal in nature, there has been a demand uptick.
Lastly, from an anecdotal standpoint, we have seen the ancillary golf market gain popularity in the form of traditional network television. The ABC comedy/live sports show "Holy Moly" is a reality sports TV show that pits contestants against one another in a miniature golf setting. One of the show's producers is none other than Steph Curry. Another signal is that there is demand for a product-centered around the microeconomies related to golf.
Selected Case Study
The following brief case study is intended to provide the reader with the business strategy of a company that has gained tremendous traction in the space.
Top Golf:
"We wanted to create a compelling and addictive game that would make even a child who chips a ball into a front target more excited than a seasoned golfer hitting a hole-in-one in a back target." – Steve Jolliffe
Who Are they?
Initially founded in 1996 as an alternative to the traditional driving range experience, TopGolf was intended to make an expensive and consuming sport more fun and approachable. The initial product was a microchip system that enabled users to track the flight of their ball without giving up the actual integrity of the golf ball itself. Additionally, the initial concept included a driving range, a set of targets, and TV sets to display scores relative to performance. The game created was intended to be a substitute Golf – not a complimentary product.
The initial facilities included additional attractions (namely miniature Golf) to supplement its main product offering. The initial pricing mechanism was also different from traditional driving ranges. Individuals would sign up for slots as opposed to buckets of balls and utilized variable pricing models based on the time slots.
The largest issue upon launch was consumers' inability to understand the product; because the game was inherently a new concept, consumers (particularly golf aficionados) were wholly uninterested. This posed huge issues as the company initially looked to partner with golf sponsors such as Titleist. The initial rollout was not exactly a disaster but did not garner the attention or reaction anticipated.
How they got to Product Market Fit
The largest initial push towards mass adoption was consumer education. While the initial subset of participants struggled to grasp the concept – a strong internal marketing campaign by the company in 2000 led to increased adoption by consumers. Furthermore, the company partnered with the International Marketing Group ("IMG") to market the franchise globally. After an initial boost in engagement, the company's growth slowed.
It wasn't until an investment by Richard Grogan (Bain & Co.) and Erik Anderson (Goldman Sachs & Co.) that the company was able to optimize its revenue streams and reorganize the corporate structure.
Below are the key events that occurred through 2018
2005-2011: Phase 1
Obtain U.S. license with facilities averaging 76 bays, two floors, 2 miniature golf courses, patio, 3 large TV's
Association with Callaway Golf through a 20% equity purchase of the (~$50 million)
Locations in Alexandria, Chicago, and Dallas were poorly received by consumers until intensive customer education took place
Anderson/Grogan come up with one of their key branding initiatives, namely making the TopGolf name ubiquitous with Golf

There was no patent on "golf" or ownership by the PGA
2011-2015: Phase 2
Alan Texas facility opened with the largest infrastructure – 94 bays, 3 floors, 225 TVs, 230 employees
The company executed a new executive strategy to prioritize option value over execution value (meaning optimization for the ability to innovate and add products)
Took on a strategy of aggressive expansion and new product offerings:
Introduction of the question framework:

Can the model be repeated in various locations?

If yes to the previous two, then why aren't we building faster?

Organizational restructuring of executives and investors
Average $15 million in CAPEX per site (were able to lower the overall cost of capital)
Utilized REIT (real estate investment trust) to purchase land and then allow Topgolf to participate in a sale-leaseback where Topgolf would enter a 20-year lease with the company
Focused on increased mobile usage by including free Android and Apple iOs apps including menu access, scoreboards, Topgolf VIP (ability to skip the lines)
In 2015 the company bought WGT (World Golf Tour), an online multiplayer game that helped Topgolf become the world's largest digital golf player
Utilizes Callaway to partner with the Golf Channel and strategic alliances with PGA and LPGA
Version 2.0 venues (larger with more tech infrastructure)
Marketing strategy shifted from "golf substitute" to "premier entertainment experience in a given city."
2015-Present: U.S. Dominance and IPO
Corporate restructuring in 2016 led to the creation of the parent company Topgolf Entertainment Group being born with subsidiaries Topgolf, Topgolf International, and Topgolf Media to align growth initiatives
Introduction of Topgolf EZ (mid-sized markets) and Top Golf anchor in Las Vegas
Toptracer introduced (ball tracking)
Introduction of original branded content on their various platforms
Introduction of Topgolf music entertainment TV series
Association with Westbrook Media (Jada & Will Smith) to produce more branded content
Through strategic M&A the company was acquired by Callaway Golf for $3.05b
Special Sauce?
Topgolf was able to identify a market dislocation in the sense that the legacy golf industry did not provide ancillary experiences in the form of entertainment. In addition to being able to capture the actual value of "golf" by becoming ubiquitous with the sport, the company was able to optimize its revenue streams through inventory management and "time slot optimization" for maximum participation. Furthermore, one of the strongest strategic plays by the company was taking advantage of the transition to mobile. The company's suite of apps along with a push to digitally interface with its clients in the early 2010s, was a catalyst for tremendous growth. Since golf was on a steady decline from 2007-2017 from a participation standpoint, legacy players such as the Callaway desperately sought out new and inventive companies within the space.
Monetization?

One of the Topgolf's keys to success was the shift towards omnichannel commerce and experiences. When Anderson opted to maximize for "option value" as Topgolf grew, the company was able to increase profit margins on their driving ranges by 30% and double their food and beverage margins. Furthermore, the company has been able to monetize some of its technological innovations within the space. Toptracer, the firm's proprietary ball-tracking technology, is a key factor in the company's ability to monetize. The technology is utilized by the tour and their streaming partners and is now being utilized in the viewing experience. This year, Toptracer partnered with the PGA championship to allow fans to engage in a 9 shot challenge. The challenge involved participants hitting their best approach shots at 9 different virtual golf holes at St. George's and was sponsored by HSBC. The patented technology has and will allow Topgolf to secure various partnerships and other revenue-generating opportunities.
Looking Ahead:
Given the Topgolf model, there have been two main developments to come out of the company's innovation aside from tech-enabled driving range copycats. First is the boom in experiential minigolf. While minigolf has been categorized as a complimentary golf experience/service to families historically, we are beginning to see an uptick in the number of tech-enabled and higher service level offerings. Puttshack and Popstroke (referenced in previous sections) are examples of higher-tiered and tech-enabled offerings. We anticipate seeing rapid growth in these types of ventures, particularly with an uptick in offsite corporate gatherings due to work from home and individuals looking to take advantage of newly acquired time. Additionally, there are opportunities for other nascent sports to implement a similar model.
Recently, Toca Football Inc., the world's only technology-enabled soccer experience and entertainment company, is now venturing into the entertainment world as they introduce Toca Social. The new initiative by the company will utilize a similar monetization structure to Topgolf in their food and beverage experience plus heavy tech-enabled soccer "gameplay" features. Toca is one of the first companies to lean into the "Topgolf for X" business model.
Key components of the "Topgolf for X" experience going forward:
Niche or underrepresented sports: lacrosse (shooting), darts, pool, archery, tennis (serves)
Activity space limitations: Real-estate costs associated with projects require intensive capital. The lower the total square footage, the higher the option value for ancillary activities
Distribution channels: Lacrosse is interesting through the PLL vehicle while various organizations exist in other sports and hobbyist activities as well (PDC, British Darts, PDPA, etc.)
Topgolf set a precedent for many of the low friction sports experience companies to come. The playbook has been established, and iterations thereon are imminent. The potential for these high participatory micro-economies could be a boon not only to the event's business but to the sports they represent as well.
Conclusion
The opportunity within the "sub-sport micro-economy" is large and potentially lucrative. As cottage industries pop up around these niche experiences, brands can capitalize from a sponsorship, lead generation, customer relationship, and brand awareness standpoint. Looking at the golf market specifically, the experiential market outside of Topgolf is entirely fragmented, with family-owned "brick and mortar" businesses owning most of the revenues in the space.
Given the current economic environment, consumer trends, the popularity of golf substitutes, and the psychographics of the populace, the moment is here to get your foot into the golf economy.