This feature is presented to you by the University of Nebraska — Lincoln Master of Arts in Business with a Specialization in Intercollegiate Athletics Administration.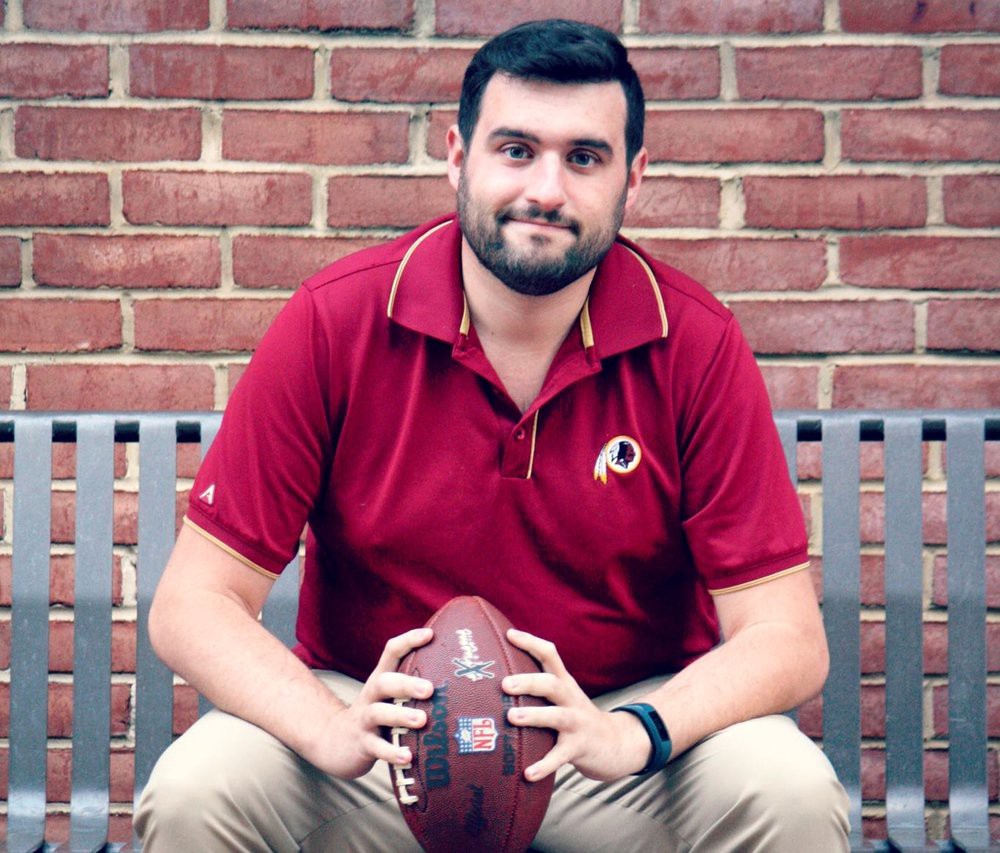 For a millennial born and raised in Buffalo, New York, the NFL playoffs are more of a dream than a reality. Geoff Blosat, Digital Media Analyst for the Washington Redskins, was just seven years old when the Bills last played a postseason game. Luckily for Blosat, his playoff misfortune turned around last season, his first as a member of the Redskins.
"[The postseason] was the highest of highs. It was as amazing as I imagined."
Blosat's ascent into the sports industry began at the Rochester Institute of Technology (RIT), where he completed a bachelor's degree in International Business and Marketing. Throughout college, Blosat focused primarily on the digital sector, taking courses on search engine marketing, marketing analytics and social media among others.
Blosat also spent time working as a statistician for the esteemed men's hockey team while at RIT. During games, he would log important stats and pass the information onto the local television commentators, providing valuable in-game insights.
Upon graduation, Blosat joined a small marketing firm in Buffalo as a Social Media Marketing Advisor.
Want more great content like this? Be sure to subscribe to our newsletter!
However, after only seven months on the job, Blosat was fired from this role, leaving him unemployed.
"It wasn't on them; it was on me. I wasn't necessarily focused or passionate. I didn't really do the best job of managing clients and the people I worked with," said Blosat.
He spent the next two-and-a-half months searching for a new job while also focusing on rebranding himself, driving forward, and advancing his career.
He used his blog as a channel to produce content on the subjects he was passionate about; primarily sports with the occasional posting on marketing and social media.
That spring, Blosat attended the Sloan Sports Analytics conference in Boston for the second time. This time, one talk in particular grabbed his attention. An NFL department director presented on the processes behind the analytics for their digital marketing channels. Blosat was intrigued.
Following the presentation, Blosat approached the speaker and elaborated on his enjoyment of the topic. After a brief exchange, Blosat explained his job hunt to the executive and asked for a business card, to connect.
"I told her: 'I'm currently unemployed and learning about how to work in the sports industry. Would you mind if we exchanged business cards?' You don't want to sound too aggressive after you meet someone for the first time, after they just gave a nice talk and a bunch of people are approaching them. You don't want to come off as too desperate."
That night, Blosat sent a follow-up email, thanking her for her time and recapping a few crucial takeaways from her talk.
"At the end, I attached my resume and asked: 'If you wouldn't mind providing a couple of minutes of feedback, I would love to see if I'm on the right track to really developing myself as a professional.'"
Shortly after the conference, Blosat was hired onto his second role as a Digital Marketing Specialist of SEO at Mainstreethost. Only a few months into the new position, Blosat received an email out of the blue. It was the same NFL director from the conference.
She explained that the Redskins were hiring for a digital analyst position, inquiring if Blosat would be interested in interviewing. Chomping at the bit, Blosat gladly accepted the warm introduction and began interviewing for the position. Within a matter of weeks, he moved to D.C. to join the team.
"In college, they train you in the professional development courses to network in order to give yourself opportunities. It doesn't work every time, but if you stay diligent to it, the right opportunity will come."
"You just have to stay persistent. Don't ever doubt yourself or give up on the big idea. If it doesn't work out for the new job, at least you made a nice, solid connection that you can stay in touch with."
Over the span of the last 18 months with the Redskins, Blosat has seen his role expand significantly from simple data analysis to a cross functional role, working with various teams in the organization.
On any given day, Blosat interfaces with the Redskins' social media, partnership marketing, content, news and digital teams, providing insights into performance. He presents trends and forecasts to managers, directors, and executives to consistently measure progress.
"On a typical day, I might assess content marketing in the morning, deliver mobile application information before noon and close the day by assessing best performing sponsored content on a specific platform. It's a very diverse job in its niche role of digital."
Compared to their NFL peers, the Redskins were among the first movers in taking the analysis of their digital platforms more seriously. With such a large impact in such a short period of time, Blosat predicts that more and more NFL teams will follow suit in the near future.
"With the way digital is constantly evolving, becoming more and more important in today's business culture, I fully expect that over the next two or three years, most teams will have adopted someone in a role similar to mine. Whether it be in conjunction with their news and content team with delivering web analytics updates or with partnership marketing and corporate sales to deliver digital insights into performance, I expect teams to adopt someone in that capacity."
Blosat explains why having correct, accurate data is crucial to testing business hypotheses:
"When you pursue new programs and assess the value of certain actions you take, it's so important to have that data to back it up. Whether it be starting a new content series or getting a partner behind a sponsor series or assessing what kind of posts on social media work best, it's so important to have the information to back it up and to deliver it in a clear, concise manner."
Thanks to his hard work, tenacity and resilience, Blosat has transformed his career in a remarkably short period of time. For any young professional or college student facing similar hardships, he offered the following advice:
"I didn't just get lucky [with the Redskins], I put myself into the position, through networking and foundations, to where I could get lucky. Do the work beforehand, check all of the boxes and make sure you have all of the necessary qualifications. Make sure you do what you can so that, when you get a chance to network with that one person who has that one job you're looking for, you are ready to leave a lasting impression."