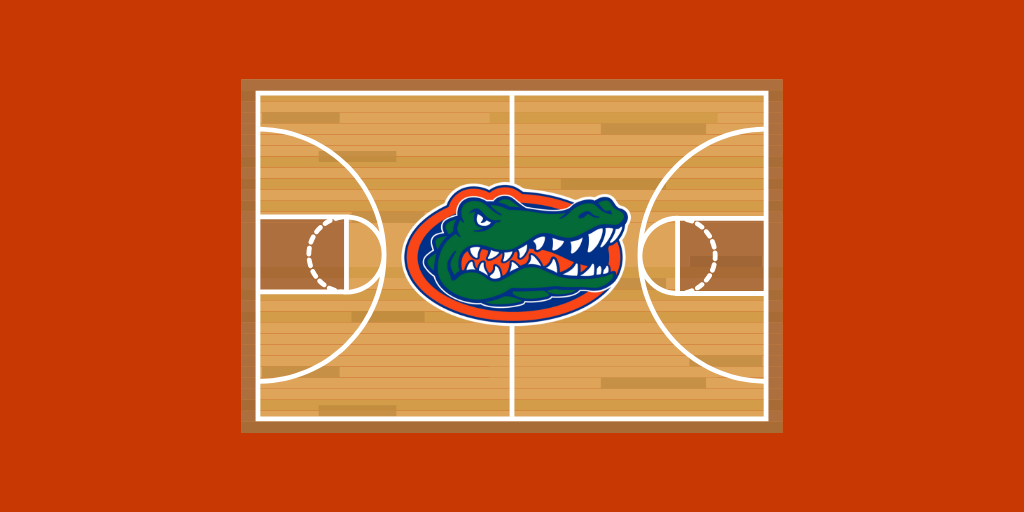 (*Old Hat is a proud partner of Front Office Sports)
There's only one Red Panda, and for every iconic on-court performance, there is probably 10 organizations who could use the same thing to get fans out to a game.
Although the University of Florida has experienced a run of success across its basketball, gymnastics, and volleyball programs that would make most schools envious, like many programs, finding ways to drive the ever-elusive millennial or Gen Z fan to a game can prove difficult at times.
Beyond a typical t-shirt or free Chick-fil-A — because, let's be honest, outside of pizza nothing gets people to show up like Chick-fil-A — the athletic department and its marketing department have found success through the creation of engaging on-court projection.
Alicia Longworth, assistant athletic director for marketing and promotions for the University of Florida Athletics Department, credits the new technology for delivering a 360-degree solution that allows the department to score wins in marketing, attendance, and even recruiting.
"The longer that I've been in this business, when it comes to recruiting or anything that we are doing, it really all is just marketing. We're trying to engage fans, we're trying to engage potential student-athletes, and we are trying to engage donors. It is all connected and to have a solution like this that touches everybody has been really good for our programs across the board."
Best intros in the country! 🔥#NCAAVB
(via @GatorsVB) pic.twitter.com/f4yQEkDPiL

— NCAA Women's Volleyball (@NCAAVolleyball) September 1, 2018
Not only was the solution versatile, Longworth and the staff at Florida teamed with Old Hat to deliver graphic solutions for different sports.
From volleyball to basketball and even gymnastics, each of the programs have their own unique look, adding a new element to the game or match experience at the Stephen C. O'Connell Center.
"It's different per sport because the brand of Florida Volleyball is different than the brand of Florida Gymnastics and the brand of Florida Basketball," said Longworth. "We like to keep them all Gator-themed but thanks to the versatility of the solution as well as with the help from Old Hat, all of our programs that play at the (O'Connell) center are able to create their own experience for fans."
Longworth also credits Old Hat with helping them keep the designs fresh.
"It's honestly different ideas that we presented Old Hat with that they have been able to run with and provide us with suggestions. Like any good partnership, it's a very collaborative effort."
READ MORE: How Augmented Reality Is Propelling Iowa's Sports Coverage
As someone who has spent over a decade inside college athletics, Longworth has seen what it takes to compete at the highest levels with other programs. Doing that involves taking a risk at some points, and being one of the first movers in terms of on-court projection has paid dividends for the athletics department.
"Competing at the highest level and competing within the league that we are in is a challenge for us day in and day out to stay ahead of that curve, especially with solutions that can engage more than just a student-athlete or our students on campus. Our question to our administration when we got the projection was, 'Do we want to be like everyone else five to six years from now, or do we want to be on the front end of the trend?'"
[mc4wp_form id="8260″]
The answer has given college sports a new trend to replicate — complete with cutting edge technology, new marketing solutions, and untapped engagement opportunities.
(*Old Hat is a proud partner of Front Office Sports)