When Aaron Rodgers has something to say these days about whether he'll stay with the Green Bay Packers, he doesn't do it with conventional sports media.
Instead, he dishes on the air with FanDuel "keystone" personality Pat McAfee, who boasts roughly 4 million followers across his social media platforms.
The move by the reigning NFL MVP to break news about his career with McAfee and the nation's biggest online sports book is not an aberration. Sports betting companies like FanDuel and DraftKings are becoming more like sports media companies, hiring famous personalities and generating their own editorial content.
Does FanDuel want to transform itself from a company that advertises on sports media to a sports media player itself?
"I think we already are," Mike Raffensperger, FanDuel's chief marketing, said. Raffensperger then noted the company's wide array of relationships with sports media personalities which range from McAfee and NBA Twitter personality Rob "World Wide Wob" Perez to Charles Barkley and Kenny Smith of TNT.
To supplement that, FanDuel just partnered with the NFL, formerly the fiercest opponent of sports gambling. Not to mention its large media partnerships with Turner Sports/Bleacher Report on the NBA, Bill Simmons' "The Ringer," Minute Media, and regional sports networks such as MSG and NESN.
"We have a massive partnership with Turner," Raffensperger said. "We're the exclusive partner of theirs on NBA programming. I think it's material. It's a material difference how we're integrating within 'Inside the NBA'. And creating the content that gives the broadcast booth another angle to talk about and keep viewers engaged."
With sports betting now legalized across 25 states and Washington, D.C., FanDuel wants to acquire not only more companies, but "marquee" content creators and up-and-coming influencers with devoted audiences who cut through in the digital space.
"We are looking to evaluate ways to improve our portfolio through pulling people into the fold. We're actively looking into the marketplace now," Raffensperger said. "It is absolutely part of the strategy if we want to continue to grow the No. 1 sports book in the country."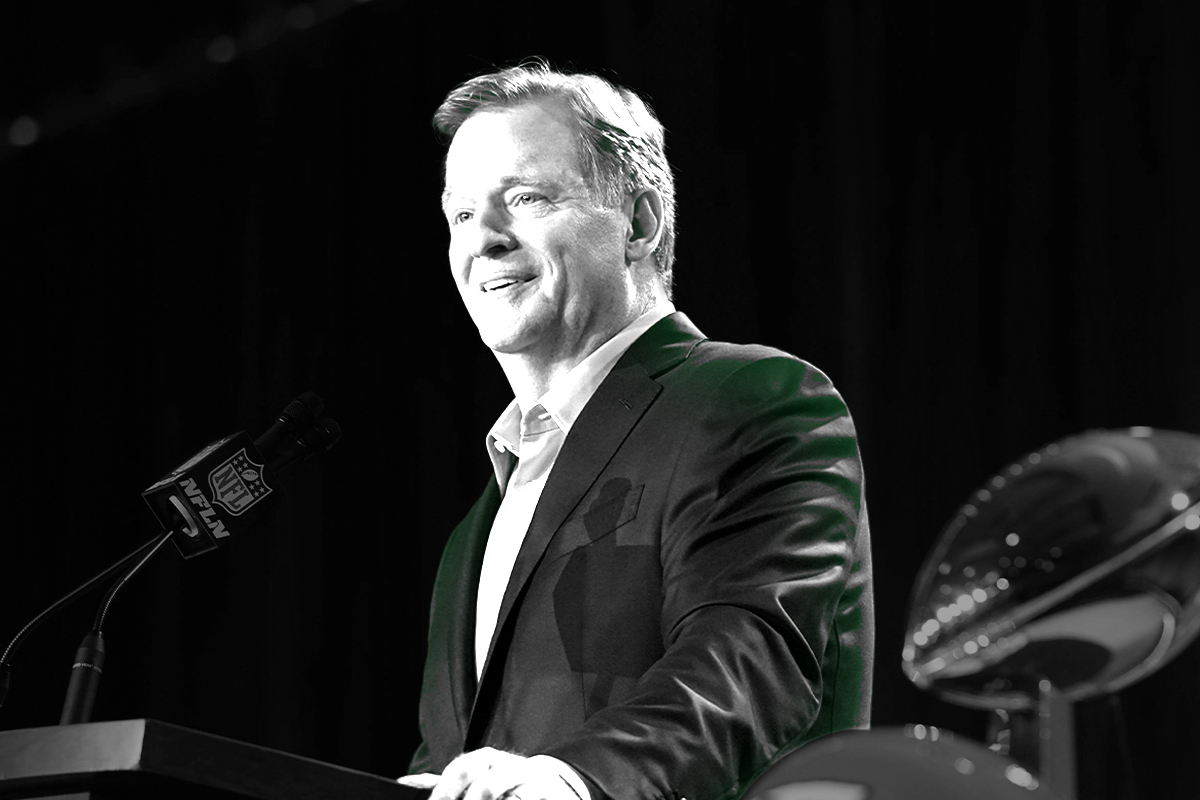 NFL All-In On Sports Betting
The NFL announced multiyear deals with Caesars, DraftKings and FanDuel, partnerships worth around $1 billion total.
Raffensperger declined to comment on reports FanDuel, owned by Flutter Entertainment, is considering an initial public offering in the U.S.
FanDuel is not alone.
The stigma that once surrounded sports betting is gone. Deal-making is surging as sports betting and sports media converge in a newly gambling-friendly sports industry:
DraftKings just signed a $50 million deal with Meadowlark Media to distribute Dan Le Batard's radio show and the Le Batard & Friends network across an array of audio, digital and social channels. Le Batard's shows will "prominently feature" DraftKing's odds, betting trends and general sports book and daily fantasy information. The gambling/content alliance with Meadowlark follows DraftKings' acquisition of VSiN (Vegas Stats & Information Network), the channel founded by the family of broadcasting Hall of Famer Brent Musburger. Together, Caesars Entertainment, DraftKings and FanDuel announced official sports book partnerships with the NFL.
Bally's Corp. announced that it was rebranding 19 regional sports networks owned by Sinclair Broadcast Group as "Bally's Sports." Under the 10-year, $85 million deal, Bally's will "explore opportunities" to expand its content to other Sinclair properties such as Tennis Channel and Stadium.
The Action Network was one of the first out of the gate, luring Chad Millman and Darren Rovell from ESPN. The four-year old startup was recently the subject of a fierce bidding war, with Better Collective in Denmark buying Action Network for an estimated $240 million.
Barstool Sports previously morphed from sports media to sports gambling company by selling a 36% stake to Penn National Gaming for $163 million last year. Penn is now rolling out Barstool Sportsbook mobile apps in states where online sports betting is legalized.
PointsBet recently hired longtime Chicago sportswriter Teddy Greenstein as a senior editor.
The invasion of sports betting is also impacting the talent wars. Due to the COVID-19 pandemic, legacy companies like ESPN, NBC and Sports Illustrated laid off hundreds of employees in front of and behind the camera.
That means there's little loyalty on either side of the negotiating table. It won't be long before sports betting companies hire league insiders with millions of followers, predicted one top agent.
Imagine an Adam Schefter, Adrian Wojnarowski or Jay Glazer reporting their scoops for FanDuel or DraftKings — instead of ESPN or Fox?
"If I'm ESPN I'm more worried about FanDuel and DraftKings stealing my talent than CBS," warned one agent. "The networks don't care about talent — they're putting their money in rights deals. The moment's ripe for sports betting companies to come in and rip the top talent away."
Traditional sports media companies, for their part, are trying to play the sports betting game. Networks like ESPN, Fox, and CBS have formed advertising partnerships with sports books, launched their own sports betting studio shows and experimented with alternate gambling-driven game broadcasts.
However, it's easier for start-ups to change on the fly than legacy networks that have operated the same way for decades.
"There's clearly a trend where operators realize the value of content," said Millman, chief content officer of The Action Network. "But at the end of the day, it's a lot easier to go from operator to media company than it is to go from media company to an operator."
With talent ranging from "Inside the NBA"s Barkley and Smith to "Cousin Sal" Iacono of The Ringer, FanDuel has built a content roster "bar none," Raffensperger said. The goal: become the "American sports book of record" by offering content ranging from lifestyle to X's and O's game analysis.
"We need to be a sports book for all kinds of fans. Everyone from pretty casual players who are interested in sports betting, but maybe they don't know a ton about odds. We want lifestyle programming and partners that help us reach and speak to those people who bet with their passion and their emotions. It's a great form of entertainment," he said. "Then there are the people who really, really love the numbers. They love the analytics — and the deep data we can provide."
The sports media recession sparked by the COVID-19 pandemic has only accelerated the collision between sports media and betting.
A few years ago, you couldn't watch sports programming without seeing constant commercials for FanDuel or DraftKing. Now sports betting companies are realizing it's smarter and cheaper in some cases to buy their own content rather than shelling out tens of millions on paid advertising.
With the VSiN deal, DraftKings is "effectively" in the sports media business, noted Eric Jackson, president of EMJ Capital in Toronto. DrafKings is thinking way beyond just sponsoring Le Batard's radio show.
"[DraftKings] is thinking of interesting content that Meadowlark can produce for them. I think it makes a lot of sense," said Jackson, who's a Meadowlark investor.