In the News
In March 2021, Activision Blizzard ("Activision") let go of about 50 employees in its esports division due to a decrease in in-person events, citing the debilitating impacts of the pandemic on live events. At the time, Activision had invested heavily in on-stage esports shows with crowds, including those of the Overwatch League, for which Activision was selling a premium for the right to own a team. During the pandemic, those events were moved online.
More recently, it was published that Activision was still owed payment by various Overwatch franchises after allowing payments to be deferred for nearly two years.
Franchises in the Overwatch and Call of Duty leagues collectively owe the gaming giant between $390 million and $420 million, according to The Jacob Wolf Report.
Call of Duty League teams owe an average of $22.5M.
The cost of admission into the league is reportedly $25M, but teams only made initial $2.5M payments in 2020, with the remainder deferred.
The 20 Overwatch League franchises owe around $6M to $7.5M each. The franchise price for the league is around $16M, with teams having already chipped in $7.5M to $10M.
From a corporate development standpoint, the Overwatch League has been a critical project for Activision since the game's inception. In contrast to other esports organizations, the League was designed with a traditional sport's ownership system in mind.
While some esports leagues operate with a hands-off approach that doesn't include a franchise model, Overwatch instead allows groups to buy into the league framework. For this reason, Overwatch franchises privately owned teams associated with specific cities — like the formerly Kraft family-owned Boston Uprising or the Houston Outlaws, who are owned by the Beasley Media Group.
While the cancellation of in-person events briefly stunted esports' growth, 2022 has seen the industry regain its footing. According to a report by Insider Intelligence, the esports market is anticipated to grow to 29.6 million monthly esports viewers in the U.S. this year — representing 46% of the total gaming video-content viewers — up 11.5% from 2021.
Esports Market Overview
The esports market is booming. This emerging attraction already has a larger audience than American football and rugby combined, according to Forbes. Furthermore, the burgeoning sport is predicted to generate more revenue than both the UEFA Champions League and Formula 1 in 2022.
As competitive video games continue to integrate into popular culture, global investors, brands, and media outlets are all paying attention. The esports market is now worth over $1 billion as an industry with 475 million active followers.
*Esports viewership*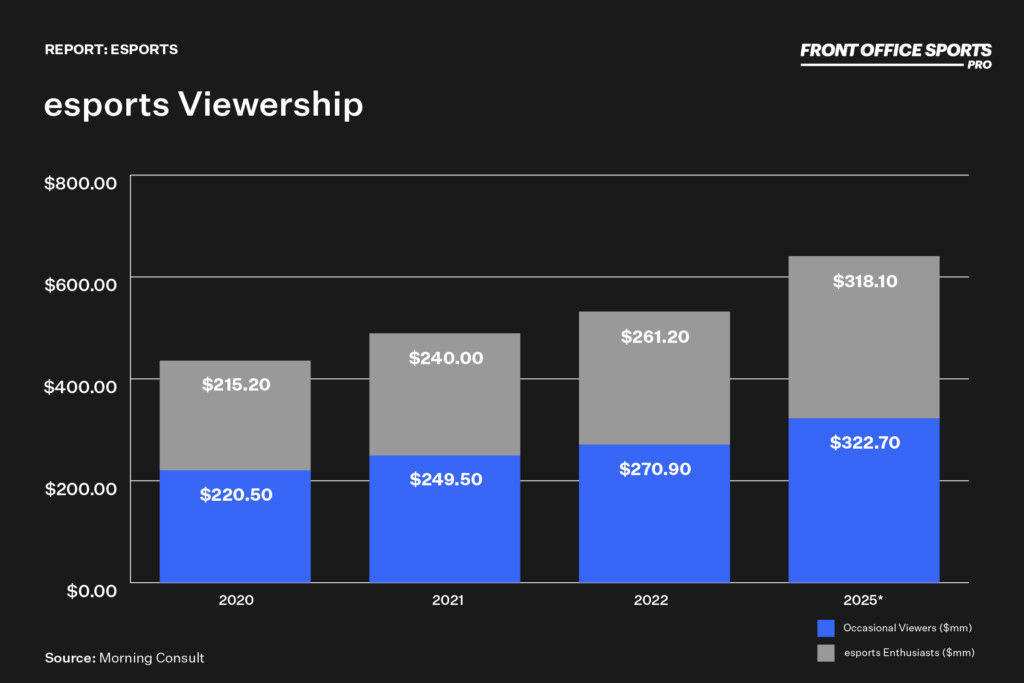 The sport has also become increasingly popular with star athletes and celebrities. From Michael Jordan and Stephen Curry to Ronaldo, Drake, and Will Smith, the industry is seeing an influx of cultural icons.
Music has been one of the main entry points. Top acts have recently been integrated into esports tournaments, streaming platforms, and gaming titles, and with the entry of organizations like Roc Nation Sports, we're seeing direct ties between hip-hop and esports. In 2018, the agency signed gaming superstar Mosaad Al-Dossary after his win at the 2018 FIFA eWorld Cup and is now looking to increase its esports footprint.
The continued pop-culturization of the industry has helped power the explosions in esports investment and revenue.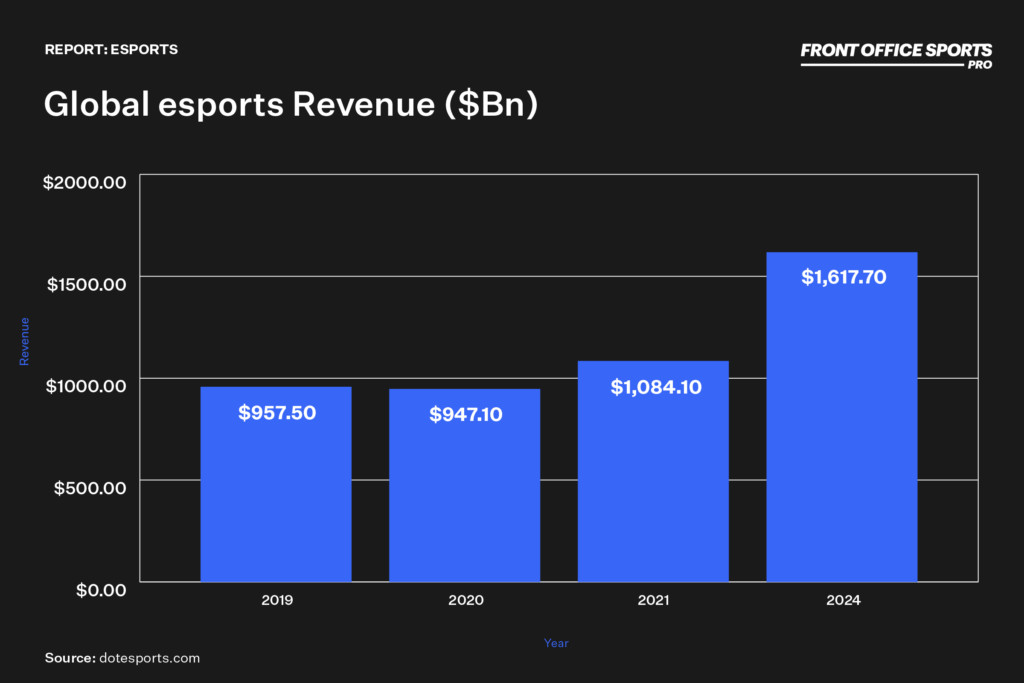 2021 Esports Investments: $17.1 billion
2022 Esports Investments (to date): $7.7 billion
2021 Esports Revenue: $1.08 billion
2022 Esports Revenue (projected): $1.38 billion
Esports has hit this stratosphere in large part because of the social component of live streaming and gaming. Video gaming-specific streaming platforms like Twitch and YouTube Gaming give fans a direct connection to the players and teams, while more mainstream socials have allowed those connections to flourish. Certain esports organizations, like FaZe Clan, are also moving aggressively into areas like merchandise, lending their brands more notoriety than if they'd stuck to esports alone.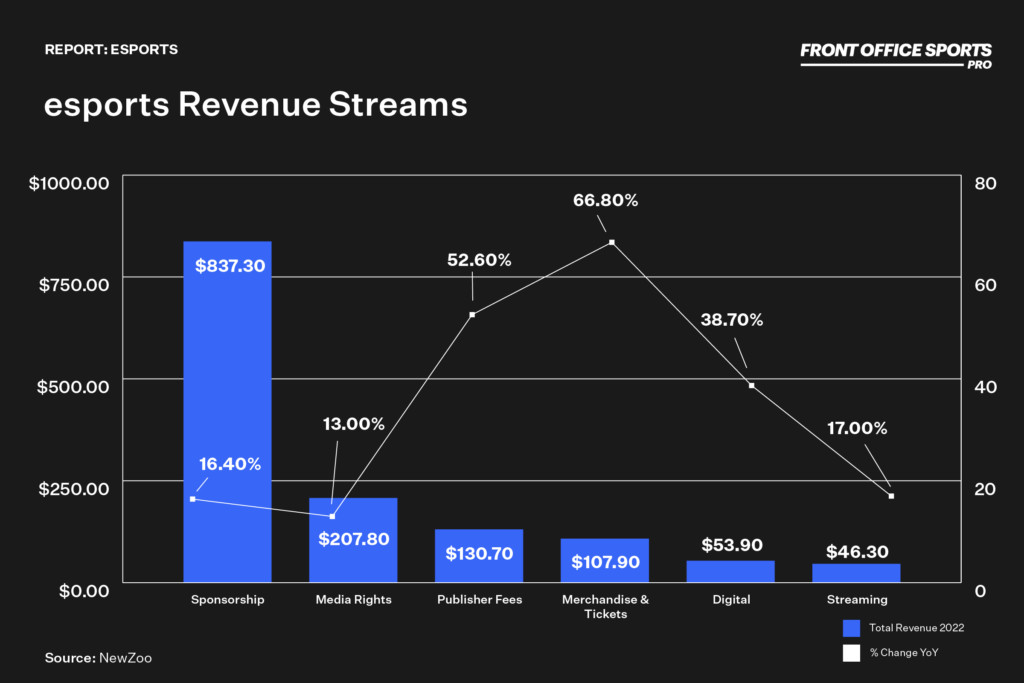 Traditionally, esports have been dominated by multiplayer online battle arenas ("MOBAs"), real-time strategy ("RTS"), and first-person shooter ("FPS") games. As the industry has evolved, however, the line between traditional sports and esports is becoming blurred.
Sports franchises are starting to embrace esports options. F1 and global soccer have been two of the fastest adopters, with the Premier League rolling out its ePremier League in 2019 and F1 Esports its inaugural competition in 2017.
The International Olympic Committee even staged a slate of five esports ahead of the 2021 Tokyo olympics. The Olympic Virtual Series featured competitions in auto racing, baseball, cycling, rowing, and sailing.
Outside of major events, viewership on consumer platforms for gaming and esports have also seen an uptick, particularly in 2022. Live-video streaming company Twitch has seen an uptick in viewership — including concurrent viewership (CCV) and total hours streamed — from Q4 2021 to Q1 2022.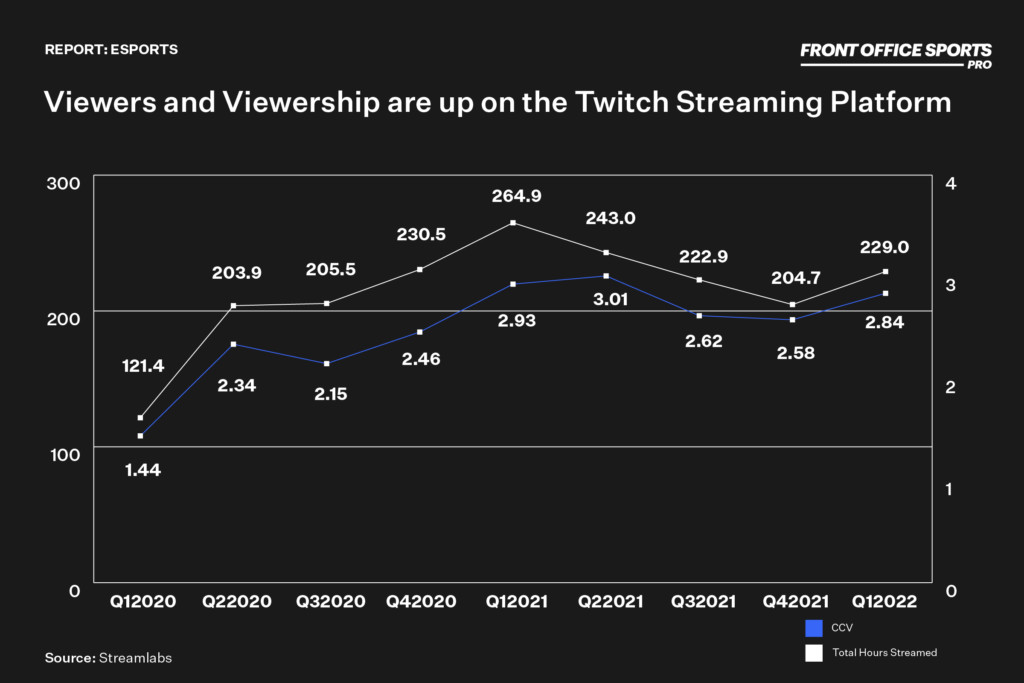 While Twitch is the most popular viewing platform, fans typically use multiple platforms including YouTube, Facebook, and even broadcast TV. While viewership has not yet reached the anomalous highs of the pandemic, it's abundantly clear that viewership is back on the rise.
Franchise Valuations
To illustrate the value that has been created in the industry, Forbes recently released their list of the most valuable esports franchises in the world. According to the report, the top 10 are now worth an average of $353 million, up 46% from 2020. In addition to the increased valuations, most franchises are also rapidly diversifying their businesses as they face down the industry's challenges.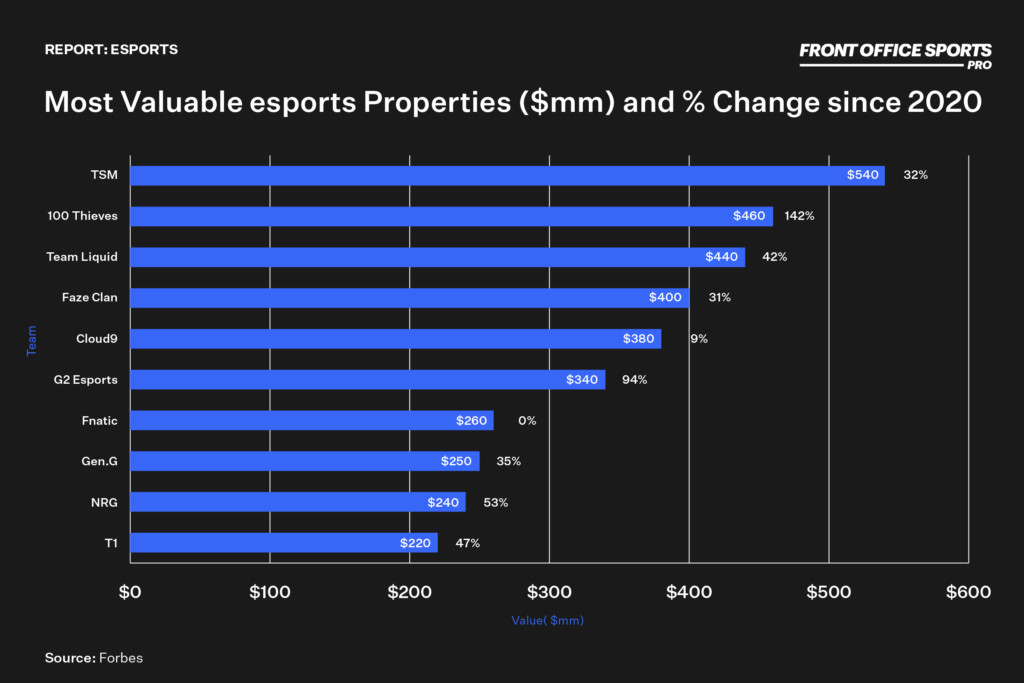 The numbers are beginning to approach those of MLS and some MLB franchises — particularly on the top end. Worth noting, however, is the current valuation of popular franchise FaZe Clan relative to some of the cited valuation figures around the time of the company's SPAC announcement.
In October of 2021, it was announced that the esports franchise would look to the public via SPAC, with a pre-money valuation (valuation prior to the announced investment) of $650 million and a post-money valuation of $1 billion. Things have changed since the October announcement, as certain fundamental issues have been raised around FaZe Clan's business operations. In an amended SEC filing last month, FaZe Clan revised its forecasts downward, with many skeptics pointing to the company's $36.9 million net loss for 2021.
While valuations are up, teams face a number of other challenges from all directions. Media rights revenue hasn't caught up with those viewership numbers, largely from a lack of competition from streamers — Twitch and YouTube are still the only main platforms of scale interested in esports content.
Looking ahead, crypto and blockchain companies could play a large role in helping esports franchises monetize. Franchises see a huge opportunity to monetize their fan bases through emerging technologies such as NFTs. Existing partnerships between the likes FTX and Crypto.com, which sponsor TSM and Fnatic, respectively, are already in place.
However, esports are still in early innings when it comes to crypto partnerships — with future deals likely helping drive revenue growth. One other path to monetization is utilizing NFTs to sell in-game digital items known as "skins." These digital assets would allow teams to collect a fee if the item is resold, the same way Dapper Labs collects a percentage of any trade of its NBA Top Shot NFTs on the secondary market.
Opportunities
edia deals and sponsorships represent 76% of total revenues, and several deals at the end of 2021 accelerated some of the previous growth expectations in the partnership realm. For example, in August 2021 alone we saw the following new sponsors move into the space:
• Amazon (European Masters)
• NASCAR (Allied Esports)
• Discord (Tribe Gaming)
• TUMI (Evil Geniuses)
• Doritos (Bacon Time)
• Mastercard (League of Legends European Championship)
While the media rights and partnerships sectors are flourishing, there are other segments that represent vectors for growth.
Mobile First
Mobile gaming far outstrips traditional PC and console gaming when it comes to revenues. In 2021, mobile gaming generated $90.7 billion (52% of total revenues), with console and PC gaming generating a respective $49.2 billion and $35.9 billion. While console gaming is still largely a niche market, the vast majority of consumers use a mobile device running Android or iOS every day. Lower barriers to entry in esports mean adopting a mobile-first model for many competitive fields.
Then there's the total esports market penetration in gaming: The industry as a whole represents less than 1% of the entire gaming market. Therefore, the esports has significant potential market share to gain in the years ahead.
European Markets
The Asia-Pacific ("APAC") market is the largest in the esports industry, accounting for 57% of global esports viewership in 2019, per that Insider Intelligence article, with 1.5 billion gamers. By contrast, the European market is far less saturated and home to many gamers who have yet to tap into esports. In total, Europe represents only about $138 million of global esports revenues of the total estimated $1.4 billion global revenue in 2022.
Companies targeting the European esports market have the potential for sustainable long-term growth, given the current state of development and lack of total penetration in the industry within the European market.