Executive Summary:
In May of this year Marc Lore, Minnesota Timberwolves owner and co-founder of Vision/Capital/People, stated on CNBC that he and his partner Alex Rodriguez were looking to invest in commerce mega-trends through their new investment vehicle. One such mega-trend he identified? Social and conversational commerce.
I think we've only touched the surface of conversational commerce. By 2040, the retail search engine will be what the CD is today. Just imagine kids 20 years from now—they're going to be shocked to hear that we had to use a search engine when buying something. The fact that we actually had to type in what we wanted, look through thousands of options, filter by price, colors, style, and then read through reviews.

In the future, buying something will be like having your own personal Jarvis. It'll know your preferences and likes/dislikes as well as your best friend does. In the future, you'll just say, "I need a toaster," and one within your price point, aligned with your kitchen style, and the colors in your home will arrive that same day or even within the hour.

-Marc Lore, Vision/Capital/People
While not synonymous, conversational and social commerce do belong within the bucket of evolving trends in e-commerce. Definitionally, social commerce refers to social and online media that supports social interaction, and user contributions to assist online buying and selling of products and services. Conversational commerce, on the other hand, is e-commerce done via various means of conversation and using technology such as: speech recognition, speaker recognition, natural language processing and artificial intelligence.
The concepts of social and conversational commerce are not new – but there has been an uptick in the overall utilization of these sales channels by technology companies and e-commerce companies alike. From Nike launching a social commerce app through its in-house incubator to conversational commerce mega player Drift receiving investment from Vista Equity Partners while being valued at $1 billion, the space – as a whole – is heating up.
In the News:
Conversational Commerce: On September 1, Vista Equity Partners announced a majority stake in Drift – the developer of a conversational marketing and sales platform designed to turn website traffic into qualified sales meetings. According to co-founder and CEO David Cancel, the investment from Vista valued the company at close to $1 billion. Since its inception in 2015, the company has pioneered the conversational marketing space as it worked to turn chatbots into highly efficient and effective sales people.
In an effort to increase conversion and provide for a more customer centric experience, Drift is trying to make the B2B buying/selling experience similar to that of a B2C one. At least 80% of B2B buyers are not only looking for, but expect, a buying experience similar to that of a B2C customer, according to the CEO.
Social Commerce: Social Commerce has also garnered some attention recently. Social commerce platform MIllions.co raised a $10 million series A earlier this month as the company looks to provide a new commerce platform for professional and semi-professional athletes. The company provides three main channels for their users to monetize including custom merchandise; ask-me-anything personalized videos; and a pay-per-view streaming offering that lets fans pay to tune into a livestream of their favorite sportsperson. The channels listed also include agency services (i.e. video editing or apparel design services) for creators.
Similar to platforms such as Facebook, TikTok, and Snapchat, athletes on Millions.co can engage with their fans. The differentiator, however, is the core functionality of the platform being monetization as opposed to engagement. According to the founders, the company aims to become the Etsy of sports – meaning that they will become the go to monetization platform for non top tier athletes.
Both of these stories bring to light the fact that individuals are, more than ever, turning to mobile to engage in their purchasing habits. Whether through social media, messaging apps, DTC virtual stores, or new digital shopping experiences through AR/VR, e-commerce is evolving – and quickly.
The Numbers:
Social Commerce
According to emarketer, the platforms that already had engaged audiences pounced on the opportunity to monetize.
Like many trends in the digital space, the shift to social and conversational commerce was accelerated by the pandemic. The shift pushed sales dramatically from off-line to online and caused several companies to actively change their business models. In June, Head of Instagram Adam Mosseri stated that the company was moving away from being a photo sharing app and, instead, focusing on four key verticals; creators, video, messaging and shopping.
"Thanks to the pandemic-driven e-commerce boom as well as increased social media consumption, we saw all of the major social platforms roll out new offerings, fine tune their existing offerings,"

-Jasmine Enberg, Insider Intelligence
According to a study by emarketer, 2021 will see U.S. social commerce sales increase by 35.8% to $36.62 billion. What is interesting, however, is the fact that the US still lags behind China when it comes to social commerce by a significant margin. Whether by gross market value ("GMV") or by percentage of e-commerce sales, the gap in social commerce utilization is astounding and indicative of just how early the U.S. is the global shift towards these new channels.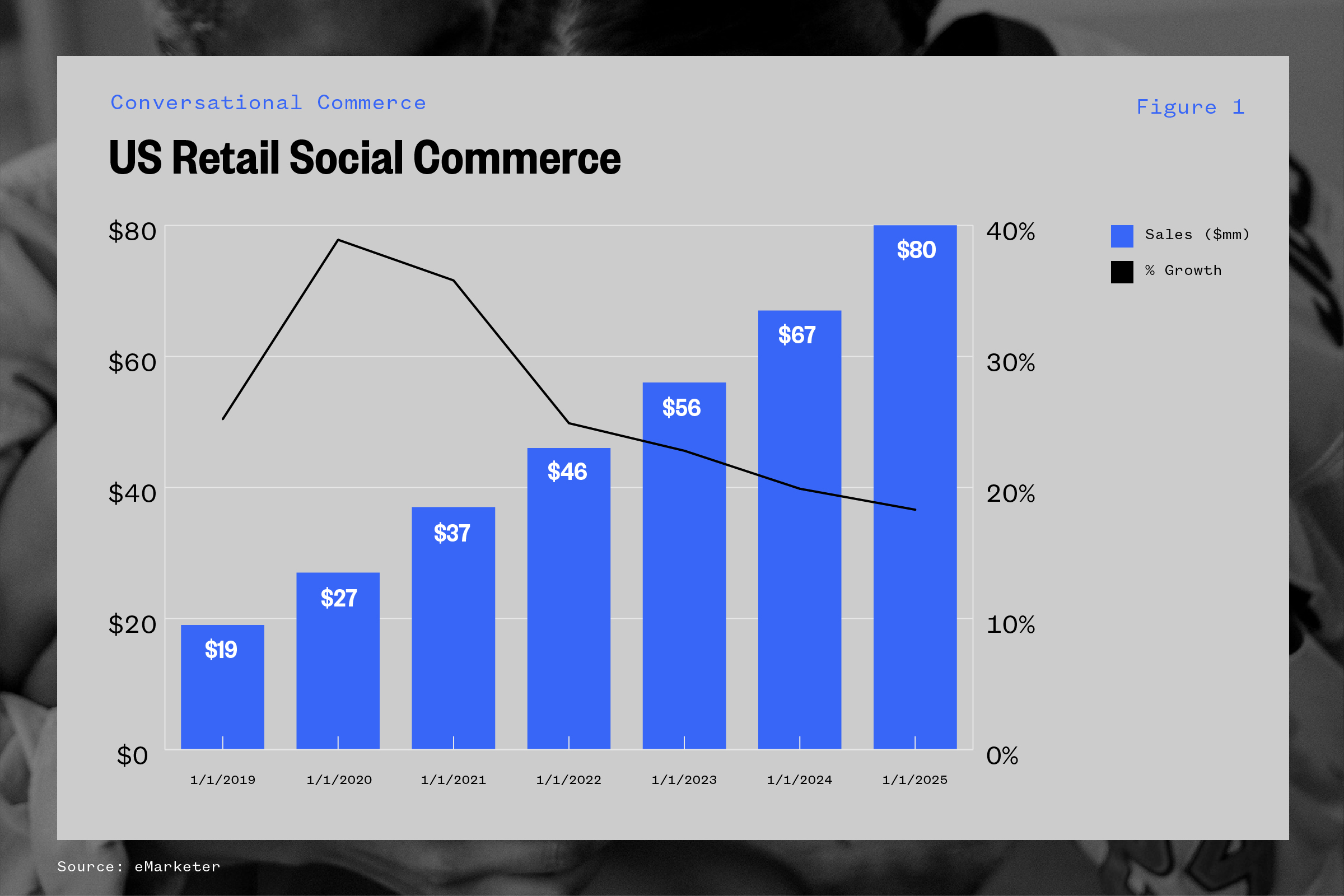 The projected increase in the size of the overall US social commerce market to $70+ billion by 2025 will be driven, in large part, by existing social channels. Instagram, Facebook, TikTok, Pinterest, and Snapchat represent channels that are already able to capture consumer dollars.
Individuals are already conditioned to "doom scroll" the various social media applications. Where the shift comes is converting from scrolling to purchasing. From a behavioral standpoint, individuals have already made the shift from brick and mortar, to e-commerce, to social commerce.
Consumers who say they shop "often" on social media channels increased 164% compared to before pre-pandemic levels, and 72% agree that they are more influenced to shop via social media now compared to a year ago, according to a survey of North American reviewers from product review company Bazaarvoice.
The main reason for the adoption of the new channel can be boiled down to distribution and decreases in customer acquisition costs ("CAC"). Traditional SEO (search engine optimization) and PPC (pay-per-click) strategies have become increasingly expensive over time so many firms are leveraging existing social apps or building out their own social channels to help reduce the cost burden. Below are summaries of the ways in which various social media channels are currently leveraging their reach:
Instagram: The social photo sharing application is the most mature in its shopping platform, with all surfaces shoppable via the Checkout function and external links. The company recently introduced a new feature @Shop which is a page on the account (currently 855K followers) which curates emerging brands from all across the world. The site is curated by Leigh Belz Rey – former executive director of branded content at GQ and Vogue – and features up and coming brands. Furthermore, Belz Rey also runs the "Editors Picks" section of the one year old shop now tab on the site which reaches 8 million users of the application. Of note here is the fact that integration for stores already exists. With a large number of sellers on Instagram utilizing Shopify stores which offer integrations into the Instagram shop feature of the application. The infrastructure already exists for brands to thrive here.
Facebook: Video streaming and "live shopping" has been the focus for Facebook when it comes to social commerce. The live stream shopping industry is currently valued at $150 billion in China while the US is expected to reach $11 billion dollars by year end according to Vogue Business. Brands with "Facebook Shop" functionality host the recurring live-stream shopping series called "Live Shopping Fridays", where fashion and beauty brands stream for 90 minutes and viewers can ask questions and view and purchase products without leaving the feed. According to eMarketer research, 56 million (roughly 32% of Facebook users in the US) are expected to use Facebook to shop this year. Brands using the functionality include:
Sephora
Abercrombie & Fitch
Clinique
Dolcevita
Zox
The company is building out a modern QVC with higher touch customer integrations and one of the largest potential customer bases on the internet. According to Forrester research, Facebook was the top response among the social networks in which people watched shoppable video, at 63%.
Snapchat: Augmented reality ("AR") and virtual reality ("VR") have been the main areas of focus here. The company is leaning in this form of experiential virtual shopping where individuals can see what products would look like on them in a virtual environment. In a briefing from Snap's head of global product marketing and AR, Carolina Arguelles said that the ultimate goal is for Snapchat to be a brand's virtual storefront — regardless of their tech stack. Part of this is Snapchat's new Dynamic Shopping Lenses, which enable brands to display all of their AR try-on experiences on one page on their Snapchat profiles and to integrate their product catalogues in real time. According to the company's Global AR Research Report, interacting products that have AR experiences built in lead to a 94% higher conversion rate due to increased brand connection.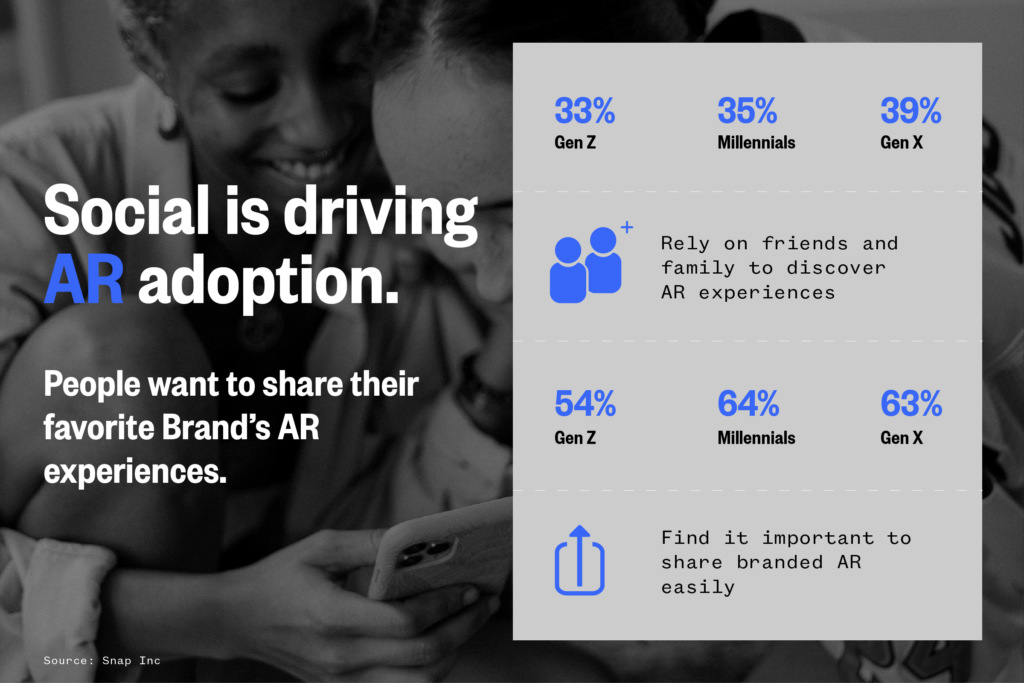 TikTok: This is the platform that has the least built out social commerce platform. As it currently stands, the company is used mostly to leverage user generated content ("UGC") as brands find influencers and micro influencers on the platform. TikTok's share of social commerce search volume increased from 3% to 20% post pandemic according to a study by Bazaarvoice. While the application does not have a physical swipe function or "lead to product" functionality, they have been experimenting with in-app shopping in Europe. The company included a page @justHype which has a shopping feature akin to Instagram. Furthermore, TikTok has partnered with Shopify and Teespring to allow its creators to sell directly to consumers. Finally, similar to Facebook, the company has worked with larger retailers (in this case Walmart) to run streaming videos for fashion and beauty products.
Conversational Commerce
From a conversational commerce standpoint, the trends all seem to benefit from many similar factors. A continued shift to mobile and the concept of "chat" becoming globally accepted with companies such as Slack and Discord has pushed for conversational AI to be a point of emphasis. When considering conversational commerce, it is important to note the driving factors in adoption and current usage include; chatbots, smart devices, internet chat, and social.
Chatbots:
15.2% of internet users use messaging and live chat services to research brands according to a GWI survey.
According to Drift, 46% of internet users who use chatbots for shopping expect a response from their chatbot in less than 5 seconds. The data comes from a study conducted by HBR.
Smart Devices:
13.5% of internet users own a smart home device.
According to voicebot.ai the total purchase volume from smart home devices will increase from $22 billion in 2020 to $164 billion in 2025.
Internet Chat:
95.2% of internet users use chat or messaging platforms according to the survey of global internet users (ages 16-64), indicating that digitally native individuals live on chat platforms.
Two billion people use WhatsApp. The platform with the highest number of users is Facebook (2.853 billion), followed by YouTube (2.291 billion). However, WhatsApp takes the third spot.
From a current usage perspective, consumers are already heavily invested in the platforms and technologies required for increased adoption of conversational commerce. The addressable market that can be reached by messaging platforms alone is massive. This coupled with the growing adoption of smart home devices domestically is indicative of an environment where commerce will not only continue to shift online – but also away from traditional customer retail relationships.
Nike Case Study:
From an application standpoint, Nike provides a strong case study for implementation of social commerce through its own channel as opposed to leveraging existing social media platforms to benefit from the trend.
Earlier this year, the company launched the private beta of an app it dubbed "Nothing but Gold" which is intended to be an in house shopping application for sport, style, and self-care targeted at younger women. The project was born out of Valiant Labs – Nikes business incubator – in an effort to build a new form of e-commerce for Nike.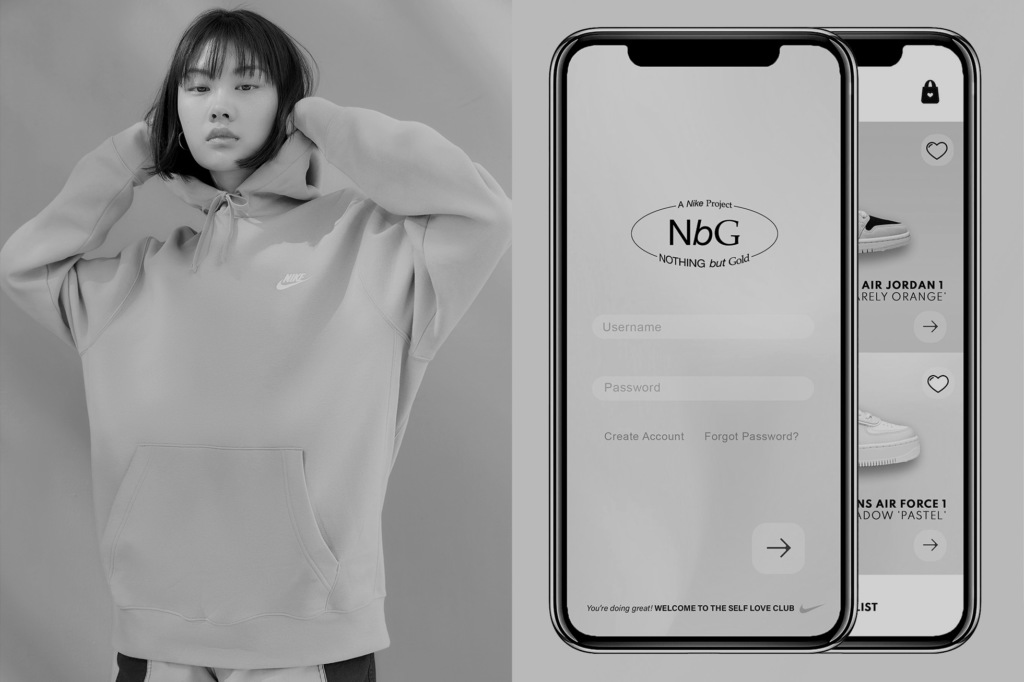 The project is clearly making an attempt to build a Nike community among the group, with the site calling for young women to "tell us why you're nothing but gold on Instagram for a chance to build the future with us."
While the company initially leveraged Instagram to promote its super stealth mode product, it plans to move the application in house as they own the customer relationship. According to Women's Wear Daily, the experience will operate as a form of social commerce with Nike leveraging a high touch user relationship to gain insight into how best to curate and customize their products on the platform.
Owning the end to end customer experience from a social experience will be something new for Nike. While the company has utilized social commerce through Instagram and its 157 million users on the platform, it has yet to "own the scroll" from a social media perspective. With the introduction of Nothing but Gold, Nike has the opportunity to:
Improve customer experience;
Reduce the time to gain insights on product innovation; and
Bolster brand integrity and customer loyalty
While the product is still in stealth beta, the market demonstrated some immediate traction as the "pre-hype" Instagram page for the brand gained nearly 9,000 followers upon launch. Having been tasked with building the next generation of gen-z women's shopping – direct to consumer through social platforms seems to be the best first step forward.