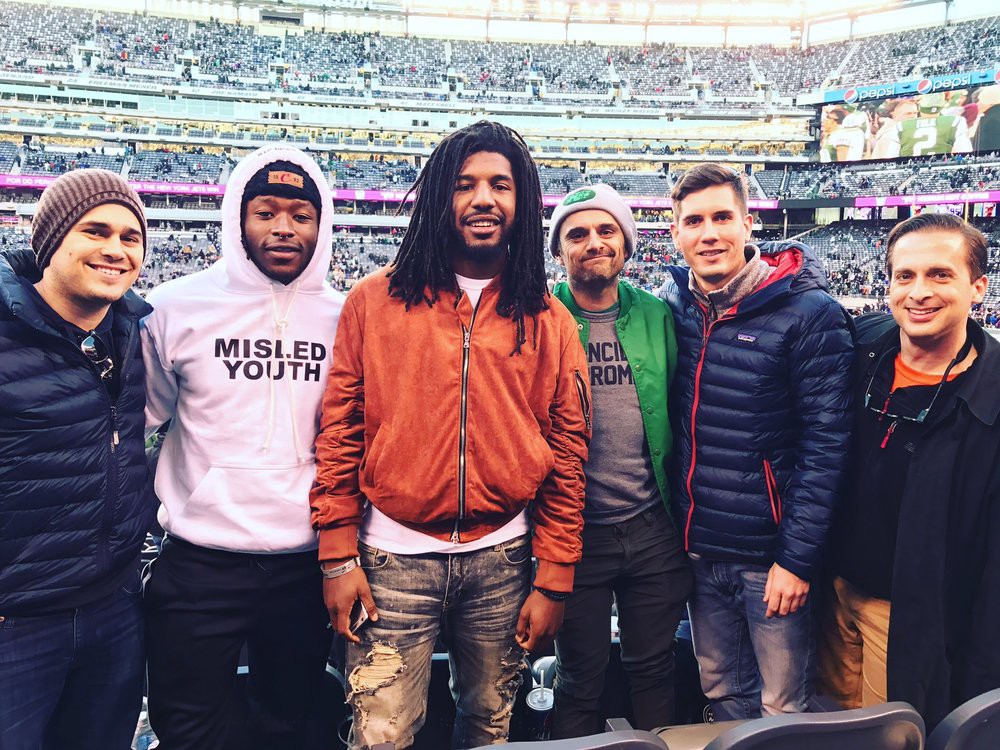 Positional rankings via SI
"We are thrilled with the men who comprise the inaugural VaynerSports draft class, and we believe that each of them will realize both an increase in their draft stock and a significant growth in their personal brands by the time that the 2017 NFL Draft opens," said Williams. "Our clients are currently hard at work preparing their bodies and minds for a successful professional career, and in the meantime we are busy handling everything else for them — enabling them to focus 100% on their preparation."
At the core of VaynerSports is the marketing prowess of Gary and AJ, an expertise and network that opens doors to both traditional, large brands and startups. With these connections and aptitude, the agency has a unique capability to assist their clients in monetizing their platforms more frequently and at a larger magnitude than competitors.
The agency also has the presence of mind to cater to their client's interests. Whether the athlete wants to focus on raising awareness for a cause, embark on a philanthropic venture or just supplement their on-field income, VaynerSports is prepared and equipped to support all of their interests.
Perhaps the best example of the firm's ability to deliver on this value proposition early on is the partnership between Airbnb and VaynerSports client Matt Paradis. Paradis, a center for the Denver Broncos, was the first NFL player to do a deal with the hospitality startup earlier this season. Leveraging their relationships and marketing understanding of the technology world, VaynerSports was able to facilitate the collaboration.
"Fundamentally, I have a 20-year career in seeing things a couple minutes before everyone else, whether it was e-commerce in '96 or the way I marketed in early 2000, or investing in Facebook, Twitter, Tumblr and Uber before others and I think I'm going to bring that energy to the athletes both in the marketing of themselves and opportunities off the field," Gary commented.
While VaynerSports has certainly experienced success in the early going, the team believes that they are just scratching the surface. AJ highlighted the optimism going forward:
"I'm excited that we can start letting our actions speak louder than our words. We're ready to show we can get more value for our guys on and off the field, treat them well, have great communication and support. After we prove that, I think that we'll start building the reputation in sports that will allow us to improve our reach and have the potential to work with more athletes."
Despite being headquartered in New York City, a modest region for college prospects, VaynerSports has been able to maintain a strong national recruiting presence. The entire team has spent a majority of the football season on the road, including day trips to places like Seattle, Portland and Los Angeles, among others. Additionally, Gary has multi-tasked on various VaynerMedia business trips and speaking engagements, setting up meetings with area prospects when efficient.
The next few months leading up to the NFL Draft will be telling for the young agency.
Currently, the team is preparing to attend the Senior Bowl and NFL Combine — the biggest job interviews to date for their clients — and ensuring its athletes are prepared for all the twists and turns along the way. At VaynerSports, this pressure is greeted with optimism:
"I think year one in any business is challenging. Thankfully, Mook and I had several years of experience in the sports agency industry to draw upon, and were able to combine that with Gary and AJ's business success," explained McLaughlin. "The biggest thing for us was being able to effectively communicate the value we could bring to these athletes embarking on their professional careers. We believe we're off to a great start, and looking forward to delivering for our clients."
Only time will tell if VaynerSports can truly revolutionize the antiquated sports agency industry, but all early indications are undeniably positive.
"I think we're just getting started," said AJ. "It's going to be a fun ride."
Front Office Sports is proud to have spoken with VaynerSports. We would like to thank them for their time and insight and we wish them the best on all their future endeavors. You can follow VaynerSports on Twitter or find them at VaynerSports.com.