Joe Caione is one of the wizards behind the Cavs social media curtain.
Instantly you're thinking, how can I design a world-class organization? It isn't about what is happening in upper management, but what is happening behind the scenes where some of your favorite photos on social media are being designed.
I caught up with Cleveland Cavaliers Web and Digital Designer Joe Caione to truly find out what goes into graphic creations for milestone games along with what Cavs fans hope are long playoff runs every season.
Many people dream of working for an organization in professional sports, but many don't think about working for a franchise in the realm of how you get most of the team news, which is through graphics on websites and social media platforms.
An Ohio State grad, Caione worked for the Cleveland Browns before joining the Cavaliers in 2012.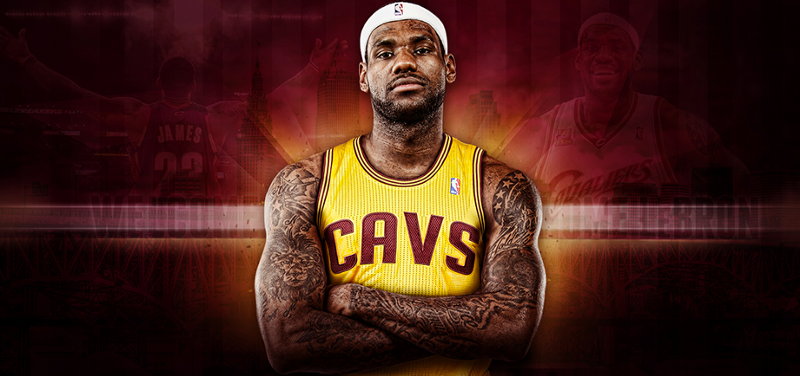 The Design Process
With a only a few hours to turn most designs around during the season, Caione has to work swiftly and efficiently, all while trying to remain fresh and creative.
"One game, Kevin Love came out firing from three. I think he had 34 points in the first quarter alone. So right away, I know we probably want to highlight this with a graphic on social media after the game. So I start pulling photos from the game and start cutting him out and editing. At this point, I really don't know how I want the graphic to look, but I let the photos I find dictate that. As for look and feel and the background design, I will either pull pieces of past artwork or create something new on the spot. It really just depends on the photos I find and how I feel about the direction of the artwork."
Luckily for Caione, not all of his designs have to be done on the spot. For example, if they are expecting a milestone on a certain day he will have a few days to get the piece ready to publish across their platforms.
While there are many designs that Caione has put together on a nightly basis with the Cavs, one in particular has stood out over the years.
"It has to be the graphic commemorating our Championship. It represented Cleveland breaking through its 52 year title drought. All those hard times and close calls the city had, are now trumped and it has changed the entire feeling of the city. This graphic represents all that," he said.
The Jersey Swap
Usually taking place during the off-season and free agency, fans of the teams love seeing their newly acquired talent rocking the hometown gear, even if it is just on social media.
The process, while done quickly, is not just as simple as cut and paste.
"I usually try and find a standard basketball pose in the players' original jersey, and then I'll go on our photo database and look through and try and figure out a player that has a similar body type with a similar pose…Then I take pieces of the jersey on our player and fit them to the new player and blend it all together," said Caione.
If you have liked this, click the???? below or next to the article so other people will see this here on Medium.
Industry Trends
It is not just graphics though; social media has truly changed the game for the way these designers operate.
Caione brought up the fact that social media trends can dictate the way content is sent out, whether it's with Instagram's slideshow or even Facebook 360, there is always a new way to showcase your creative work.
"Facebook 360 was a new feature around the time we had our ring night. So I thought it would be a great tool to use to highlight the story and details of our ring. It was a cool experience for the fans to use a new piece of technology and see every shining detail of something so special.
Design and Elevating a Team's Brand
Design work often gets overlooked, but truly outside of the game itself, it is what we all appreciate the most. If we think about it in terms of impact, design elevates and amplifies a team's brand.
"I think it's important because you are dealing with a brand that touches so many people. And sports teams mean so much more to people than say a regular company does. I think great design can get your fan base excited and even create some new fans," said Caione. "If you are creating stunning content, people will save that. They will make it their phone background, or post it on their social profiles. Every time they look at those things, there is your brand front and center. It's huge."
While the Cavaliers continue to have success on the court, Joe Caione will be there helping fans across the world celebrate with captivating graphics and social stories.
Although he is not LeBron James, you'd be hard pressed to find someone who makes a bigger impact for the Cavs' brand than Caione himself.
Want to see more of his work or connect with him? Check out his work here at https://www.behance.net/JoeyC and give him a follow on Twitter at @_JoeyC_.
---
Front Office Sports is a leading multi-platform publication and industry resource that covers the intersection of business and sports.
Want to learn more, or have a story featured about you or your organization? Contact us today.