By Owen Sanborn, @owensanborn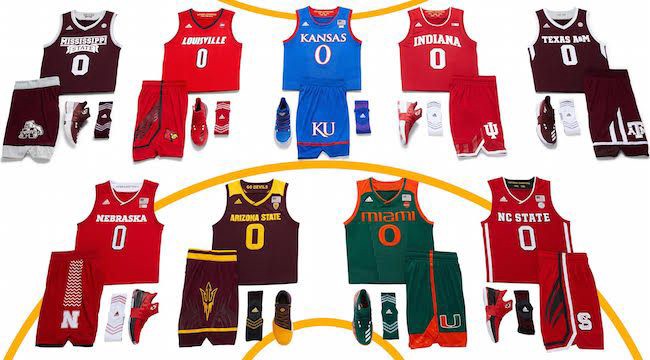 Earlier this week, Adidas dropped their collection of "Create Yours" uniforms for a handful of their sponsored schools including Mississippi State, Louisville, Kansas, Texas A&M, Indiana, Nebraska, Arizona State, Miami, and NC State.
Create your moment.

Introducing the new Create Yours men's collection for the postseason. pic.twitter.com/r1CN5Vd0l2

— adidas Basketball (@adidasHoops) March 6, 2017
The most noteworthy of the bunch are Kansas, Louisville, and Miami because of their likelihood to do damage in this year's NCAA tournament, but the overall appeal of the collection is a nice win for an Adidas brand that continues to be on the rise.
Want more great content like this? Be sure to subscribe to our newsletter!
Outside of ASU (rocking James Harden's shoe) and Kansas (wearing a "Crazy Explosive" inspired by Andrew Wiggins), each program will be hooping in Damian Lillard's latest signature shoe with a school-specific colorway. The addition of these colorways could be a coup for the already popular Lillard brand as the shoes target college basketball fans as opposed to NBA fans. (Although I am strictly an NBA fan and am struck in all the right ways by some of these colorways.)
👀 #Dame3 colorways for tourney season! #ALLRISE #teamadidas /// https://t.co/JSm2UalIEH

— Damian Lillard (@Dame_Lillard) March 6, 2017
The announcement of the new line played well on social media, generating more buzz for a brand that has been in the news plenty because of their "win an island" campaign for the 40-yard dash.
I'm telling you, little by little Adidas is creepin on up…don't sleep. Mia and Louisville wearing these guys for the ACC tourny #sportsbiz pic.twitter.com/XVSpMnF8C6

— Brandon Brown (@BrandingBrown) March 8, 2017
As long as Adidas continues on their ambitious path (while releasing sleek products), people will flock to their brand because they are "on the come up." Nike/Jordan Brand still has a stranglehold of the market, but nabbing even a sliver of the market share piece by piece is a win for Adidas.
For now, they must sit back and root for a title game featuring Louisville and Kansas.