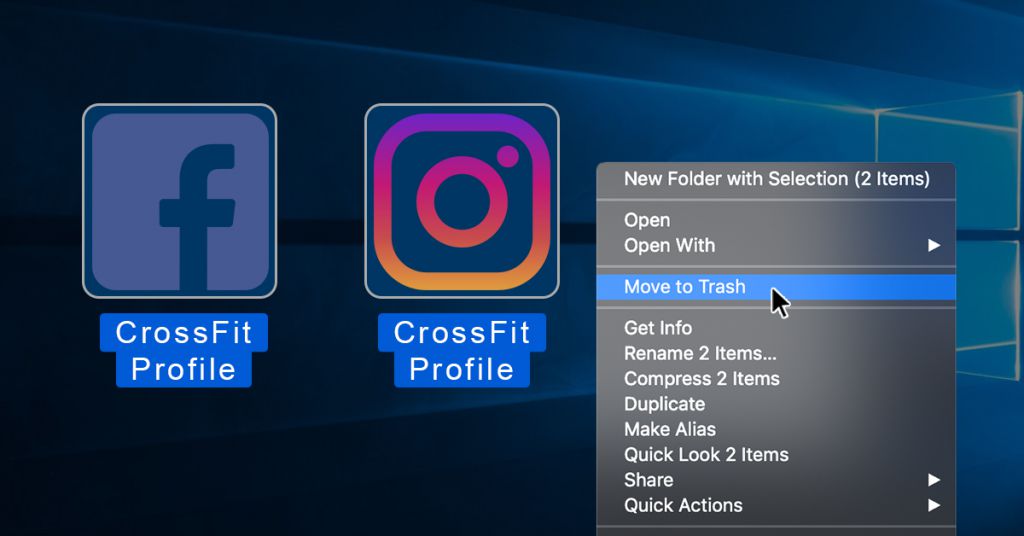 In a sprawling, occasionally hyperbolic, and definitely adversarial public statement, CrossFit announced on Thursday that it has deleted its main Facebook and Instagram accounts. Citing data and privacy concerns and spurred by the brief suspension of one private Facebook diet group, the fitness and trademarked workout company has cut ties with this cabal of "utopian socialists," as CrossFit described the individuals who run Facebook, a company estimated to be worth $512 billion.
Evidence of the social media exodus was apparently first unearthed by Armen Hammer, a fitness podcaster who posted a screenshot of the now-deleted CrossFit account on Instagram on Monday. He posted a screenshot of the now-deleted CrossFit account on Instagram on Monday, scrawling "Um…what?" over the image and adding the text: "So this is interesting. What's up @crossfit? You guys okay over there?"
Two days later, a CrossFit affiliate in the United Kingdom confirmed that the deletion was neither the result of a temporary suspension nor a minor glitch. By Thursday, CrossFit was ready to offer a full explanation of its reasoning.
The missive posted on CrossFit's website begins by positing the company as the final bulwark against the " tsunami of chronic disease" other, non-CrossFit health and wellness companies, have unleashed upon an unwitting world, specifically the "unholy alliance of academia, government, and multinational food, beverage, and pharmaceutical companies." While the site continues to publish reported articles and video features on their website, their ex-Facebook and Instagram pages, CrossFit claims, served as a vital hub for their unceasing efforts to promote truth, justice, and a grueling exercise regime. They were a place to combat "overreaching governments, malicious competitors, and corrupt academic organizations," CrossFit wrote.
But alas, the good fight will no longer be fought—at least on social media. The inciting incident was the temporary suspension without explanation of a low-carb diet private group Facebook page, Banting 7 Day Meal Plans. Located in South Africa, the group boasts over 1.6 million members. Reached by phone, a CrossFit spokesperson said they had no formal relationship with Banting 7 Day Meal Plans, but were notified of the suspension by the "group owner." (A Banting 7 Day Meal Plans moderator did not respond to a request for comment prior to publication.)
Further, "Several members of CrossFit's leadership have personal connections with the low carb community, such as Professor Tim Noakes," the spokesperson said via email. Noakes, a South African low-carb diet guru, has been featured prominently on CrossFit's website. In 2014, Noakes suggested to a mother on Twitter that her baby could be put on a low-carb, high-fat diet. A year later, he was brought before the Health Professions Council of South Africa (HPCSA), alleging Noakes had behaved unethically. (One CrossFit blog covering the ordeal was titled: "Nutritional Fascism and the 'Twitter Trial.'") The HPCSA ultimately ruled in favor of Noakes, who did not immediately respond to an emailed request for comment.
Though Banting 7 Day Meal Plans account has since been reinstated, Facebook had finally gone too far, according to a spokesperson. "This highlights the incredibly precarious nature of [Facebook's moderation policies and guidelines]," the spokesperson said. "You can build a community and get it removed and you don't get an explanation."
If you can work your way through the sweaty, muscular prose in their statement, the issues with Facebook raised by CrossFit are valid. (Facebook declined to comment.) In addition to the aforementioned question of how the site is moderated and guidelines are enforced, CrossFit outlined eight points of contention with Facebook's ongoing practices. They included, but were not limited to: aggregating and then selling user data without permission, both to corporate and governmental entities; participating in civilian surveillance programs; the lack of security and inability to protect intellectual property; the spreading of misinformation; and the massive and frequent breaches of Facebook's security protocols, all of which have been extensively reported in the last few years.
But CrossFit also wrote: "Facebook's news feeds are censored and crafted to reflect the political leanings of Facebook's utopian socialists while remaining vulnerable to misinformation campaigns designed to stir up violence and prejudice."
Do they really believe, regardless of whatever societal ills have been unleashed by the social network—including the possible aiding and abetting of genocide—that Facebook's leaders would in any way consider themselves socialists, utopian or otherwise?
The spokesperson admitted with a chuckle that that wasn't intended to be read as a literal description of Mark Zuckerberg's or any other Facebook executive's political leanings. Instead, the phrase was meant to convey their overall "worldview." The larger message, the spokesperson said, was that Facebook and other social media sites represent an ongoing "social experiment" which has exacerbated and amplified bad actors on both sides of the political spectrum. Nor was this an attempt to tie CrossFit to any particular political ideology, other than opposing censorship.
[mc4wp_form id="8260″]
Using extreme language is not new for CrossFit. Founder Greg Glassman previously described his globe-spanning fitness empire as "a religion run by a biker gang." When Congress proposed legislation requiring trainers to obtain certification or face possible criminal charges, Glassman swore he'd meet force with force. "I'm going to get my own asshole lobbyists," Glassman bragged to Maxim Magazine in 2015. "I'm going to fuck some people up."
Similarly, CrossFit's social media team has on occasion taken an equally adversarial pose. As Inc. reported in 2013, whenever they encounter an online entity CrossFit deems an enemy, from random bloggers to parody accounts, they declare total war. Or as Inc. wrote: "the goal is simple: obliterate them."
The spokesperson added: "As you can see in our statement, we're kind of a contrarian group."
CrossFit may have abandoned posting for now—and they still maintain a presence on both Twitter and YouTube, both of which have their own issues with censorship and suborning extremism—but it is willing to reconsider should Facebook alter how it functions.
Of course, with CrossFit partially exiting the digital stage, a few copycat accounts have cropped up, looking to dupe unwitting individuals and snag a follower or two. (On Thursday, Facebook announced that it had deleted more than 3 billion fraudulent accounts during a six-month period, from October 2018 to March 2019.) Still, CrossFit insisted they weren't attempting to compel Facebook to enact any reforms.
"From our perspective, we have broad specific concerns about how Facebook manages data and serves as an authority over groups that develop on its property," the spokesperson said. Given the lack of faith in Facebook's ability to take a stand against powerful, entrenched interests, both public and private, "We don't want to support Facebook with our audience and our platform."
READ MORE: Inside the World of Pirated Streams, And What It Takes to Stop Them
And for the individuals running the 15,000 CrossFit outposts spanning 162 countries, this shouldn't be considered a top-down mandate. Each affiliate is free to choose how and where they chose to market themselves, both online and off.
One affiliate, though, seems inclined to back the parent company. Hari Singh, the owner of CrossFit NYC, which opened in 2006 and ranks as the eighth oldest CrossFit affiliate in existence, said their page would remain active, at least for the moment.
"We'll decide if Facebook has any value to us moving forward," Singh said by phone. "I'm not sure that it does."
*Editor's Note: An original version of this story had Armen Hammer listed as the actor and star of the movie "The Social Network." The correct Armen Hammer is a fitness podcaster. We have made the correction and apologize for the confusion.