Weeks before he'd be suiting up for his first NFL game — on "Monday Night Football," no less — Dallas Cowboys backup quarterback Ben DiNucci was involved in an effort to help others.
For his first marketing deal, DiNucci — a seventh-round pick in the 2020 NFL Draft — partnered with his alma mater James Madison University's Women in Sport and Recreation Management student organization and retailer ISlide for a limited-edition pair of slides. A portion of the proceeds will go toward a new endowed scholarship for underrepresented students studying sport and recreation management in the Hart School.
The initial funds for the scholarship were raised through the recent event called the "We Hart Racial Equality Virtual 5K," created by the student organization, which raised around $30,000.
DiNucci worked with fellow Hart School alums Ted Yeschin, vice president of talent marketing at Wasserman, and ISlide President and CEO Justin Kittredge to come up with a meaningful deal.
The slides represent two key cities in DiNucci's career — Harrisonburg, Va. and Dallas. The team enlisted the help of two young community members in making the partnership come to life.
"I was kind of skeptical at first, not going to lie. Just as we were kind of in the pre-stages of this, just ran a few things by Ted, like, 'Hey, how many people do you actually think are in the market for these?' Just things of that nature," DiNucci said in an interview on Oct. 6. "And as we kind of got going, we felt like there was a specific group of people that would be interested. And then we could kind of sell the story and hopefully people would get behind the cause."
The Harrisonburg slide was created by Roddy Jones, a recent Hart School graduate with a passion for design who also co-founded the clothing brand Human Intl. The Dallas slide was created by Czaria Cole, a 17-year-old honor roll student who's a member of the Boys and Girls Club in Dallas, a community partner of the Cowboys.
ISlide will make up to 1,000 pairs of the slides, which went on sale to runners who participated in the virtual 5K on Sept. 25, then became available to the general public three days later.
"When Ted first brought this to me, it was just an absolute no-brainer to combine both of our alma maters, trying to always find ways to give back, and at the same time do it in a very cool and creative way," Kittredge said. "When you kind of look at each of the different platforms of how this thing came together, it was pretty special how there are so many intricacies that happened between Dallas and JMU and how the design came to fruition."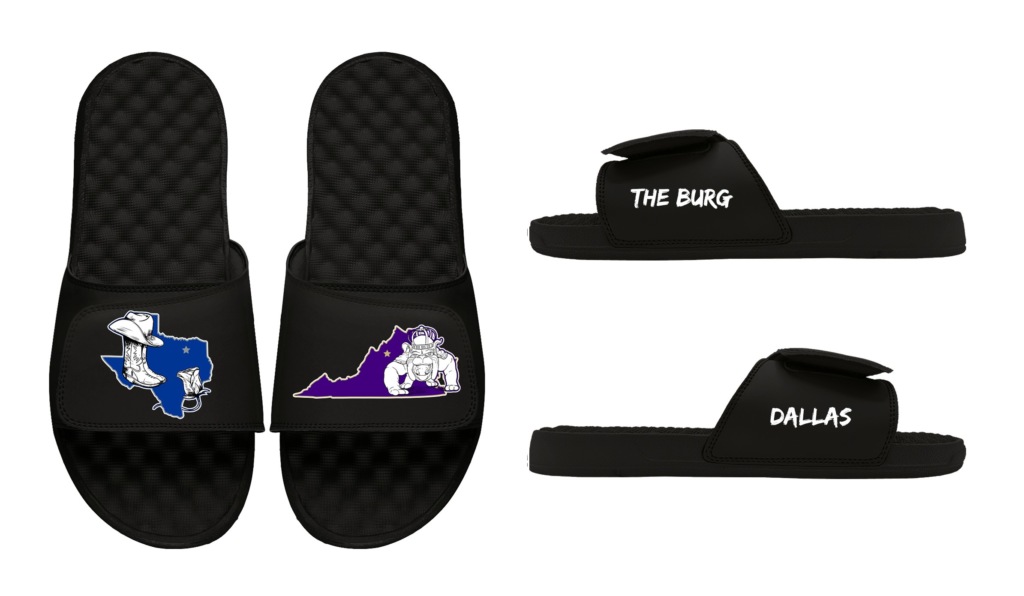 While the product might outwardly seem a little too niche to be widely successful, Yeschin sees a replicable strategy that could take ISlide and athlete partnerships to the next level. The company has already done custom slides for a slew of top athletes and has licensing deals with a number of the professional leagues and players associations in the U.S.
"From a macro standpoint, we can scale this concept across several Wasserman clients and sports. College fans are passionate and will support their stars, especially when the give-back component is meaningful," Yeschin said. "Our Wasserman athletes don't have to be at the All-Star level or Hall-of-Famers in their respective sports to move product. In addition to the expected consumer support from the local market where a professional athlete plays, there also exists a strong purchasing power in college students and alumni that will propel this project and others. Justin and I are already brainstorming about our next project."
"I think if you look at any professional athlete, they have a fan base. I mean, it could be the best or the worst player on the team," Kittredge said. "It doesn't really matter. They all have a fan base."
For DiNucci, the project is just the first glimmer of the difference he can make with his newfound public stature. After spending the first five weeks of the season in the third quarterback spot, DiNucci will appear as Dallas' backup following Dak Prescott's devastating ankle injury on Oct. 11.
"I think that's kind of what it's all about. People see us as football players on Sunday, but there's so much more to every one of us. We're people, just like everybody else. And being able to use my platform and use social media in some different ways to create positive change and a positive impact, being able to do that and see how I have the platform to do that," DiNucci said.
"It's going to be awesome to be creative with some things and just help out as much as I can, whether that's in the community, through fundraisers, through putting a portion of the sales to a scholarship at JMU and all that stuff is near and dear to my heart," he added. "So this is an awesome opportunity for me."
ISlide's motto is "stand in what you stand for," so DiNucci's deal is the "perfect storm," Kittredge said.
In a year where professional athletes largely haven't been able to connect with fans in-person, they have turned to their footwear on the field or court as one outlet to showcase what matters to them. Kittredge sees that as a natural extension of personal branding.
"I don't see it going away. I think people are always trying to express themselves and each person is their own brand. And I think more and more today, people are realizing that they are their own brand and that brand isn't just on their social media, it's on everything that they say and they do, and they wear," he said. "And so the more personalized and the more close to market that somebody can be with expressing themselves, the more relevant they're going to be with talking to their fans."
With youth, high school and college sports on pause for a significant portion of the spring, ISlide lost out on its team sales. "When the pandemic hit, at that point, we were just hoping to break even from this year versus last," Kittredge said.
But the direct-to-consumer e-commerce market stayed hot: Kittredge said in its second quarter, the company had two of its best three months ever and is "on pace to have over 40% growth" this year.
"For us, we want to be able to help anybody create their own brand. We even want to help non-professionals create their own brand for whoever they are," Kittredge added "So for somebody like Ben, it was an absolute no brainer that if he had the background that he had, he had the passion to want to give back. And for us to just be able to be a small part in it was very fulfilling."