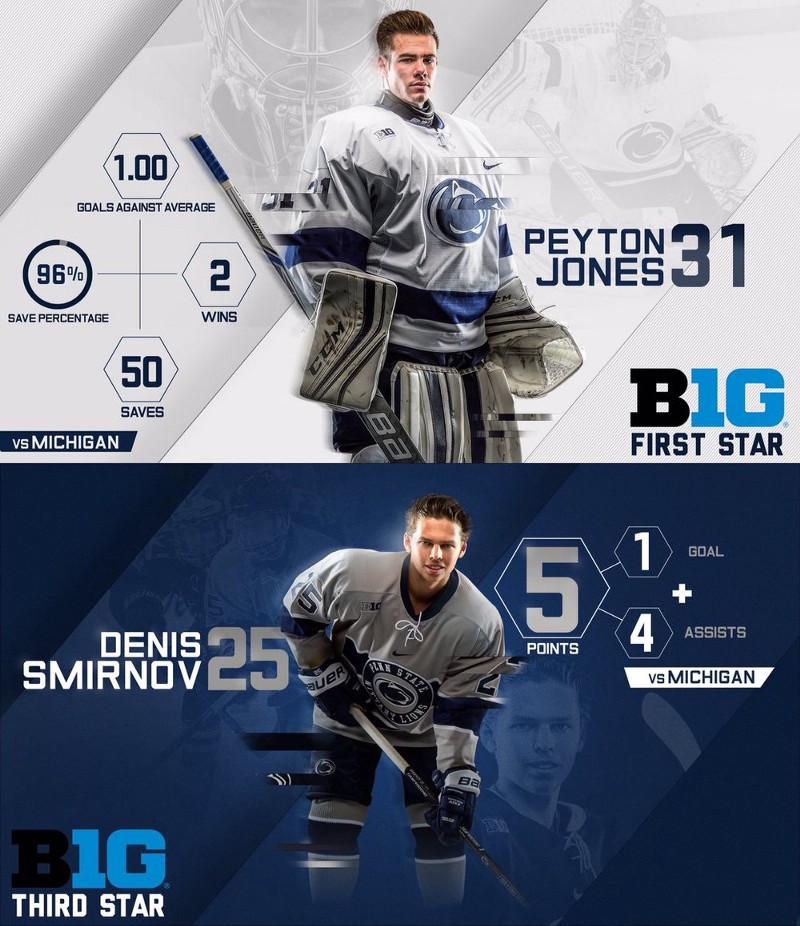 College hockey continues to grow in notoriety and popularity across the country, with each new season bringing increased talent, competition, and following. With that, athletic departments are increasing their school's footprint on social, in efforts to continue growing the sport at the NCAA level. Check out which programs are bringing their A-games for everyone's favorite part — the goal celebration!
Boston College
When it comes to social media and graphic design, the BC's team knows how to get the job done. The goal graphic has that 'wow' factor, with creative motion and design that shifts the point of visual in a fun, eye-catching way. This is just one example of tremendous graphic work coming from the Eagles, with content being strong across most of their sports.
Vermont
The Catamounts have been a pleasant surprise in Hockey East this season, and their social team has followed suit. I love how dynamic the graphic is in incorporating the perfect amount of design and motion, while maintaining a consistent look. The arena in the background is a nice touch.
Penn State
Penn State has taken college hockey by storm, quickly rising to one of the nation's premier programs. Their goal graphic is simple and subtle, but the program is anything but. It's nice to see the social team incorporating a fun aspect to their graphic, with the players showing their personality in a quick hit clip. Keeping it light-hearted has proven to do well on social,
Northeastern
Northeastern, the reigning Hockey East champs, also have a smooth, sharp looking graphic in a complimentary design. The player transitions well with the name and marketing slogan, and I like how the 'GOAL' flashes to catch a follower's eye. This is a perfect example of how effective graphics can be, without overdoing it.
Omaha
Omaha does its goal graphics right. This has all of the best elements needed for a successful scoring GIF in college hockey: sharp design, dynamic movement, and an almost announcer like presentation of the scorer's information. This gives followers everything they need to know and an in-game quality announcement.
Dartmouth
This video is clever from Dartmouth's social team, with the highlight of the goal featured within the jersey body of the player. This adds a cool layer of video to content that has varying degrees of motion. It's a unique take on presentation, and it works, so I give credit to the team for trying something unconventional.
Wisconsin
The Badgers show us how those green-screen promo shoots at the beginning of the season can be put to work. Even simple movements can bring a graphic to life, and the other relatively static information is a good contrast with the player movement. Subtle but satisfying.
Army
Army hockey may not be the prototypical college hockey program, but they definitely deserve our salute for their dedication and commitment to not only the sport, but our country. West Point's social team gets credit for owning the gold and black color scheme, while adding that motion aspect that just adds a little bit of 'pop'.
Michigan State
The Spartans provide us another example of having fun with their social presence, with their player video animations unorthodox and funny. This may seem silly, but connecting with fans to show a player's personality builds a stronger understanding and sentiment than normal. How can you not love a guy pretending to row his boat?
Providence
In our final example, the Friars provide us a refined graphic that, again, shows how sometimes simplicity is key. Its design is similar to transitions you often see on television, and has a futuristic vibe to it. Plus, owning the black and white motif is key in sustaining the brand.
Bonus: College Hockey Inc.
College hockey is growing across the nation, with programs pushing to increase the sport's popularity and awareness. College Hockey Inc. does a fantastic job promoting the sport and serving as a resource for fans everywhere. Their video content is exceptional; I highly recommend watching the video linked above to better understand the passion and atmosphere that has built in college hockey. Let's hope to see continued growth in the years to come!