Head coaches in the Football Bowl Subdivision are making more money than ever, but the pandemic has started to affect that.
USA TODAY Sports' annual review of coaches' compensation found that the average total pay of FBS head coaches in 2020-21 is $2.7 million, a 1.1% jump since last season. But the pandemic is putting a dent in salaries with many coaches experiencing pay cuts.
Alabama's Nick Saban, who will make $9.3 million this season, is the highest-paid college football head coach in the country — a position he's been in seven of the last nine years.
Even though the pandemic has not inflicted any pay cuts on his salary, it has presented him with another challenge. On Oct. 14, Alabama announced Saban tested positive for the coronavirus and had to cede control to assistant coaches.
He had been coaching during practice using remote technology, but he will be able to coach the Crimson Tide's Oct. 17 matchup against Georgia after a third straight negative test.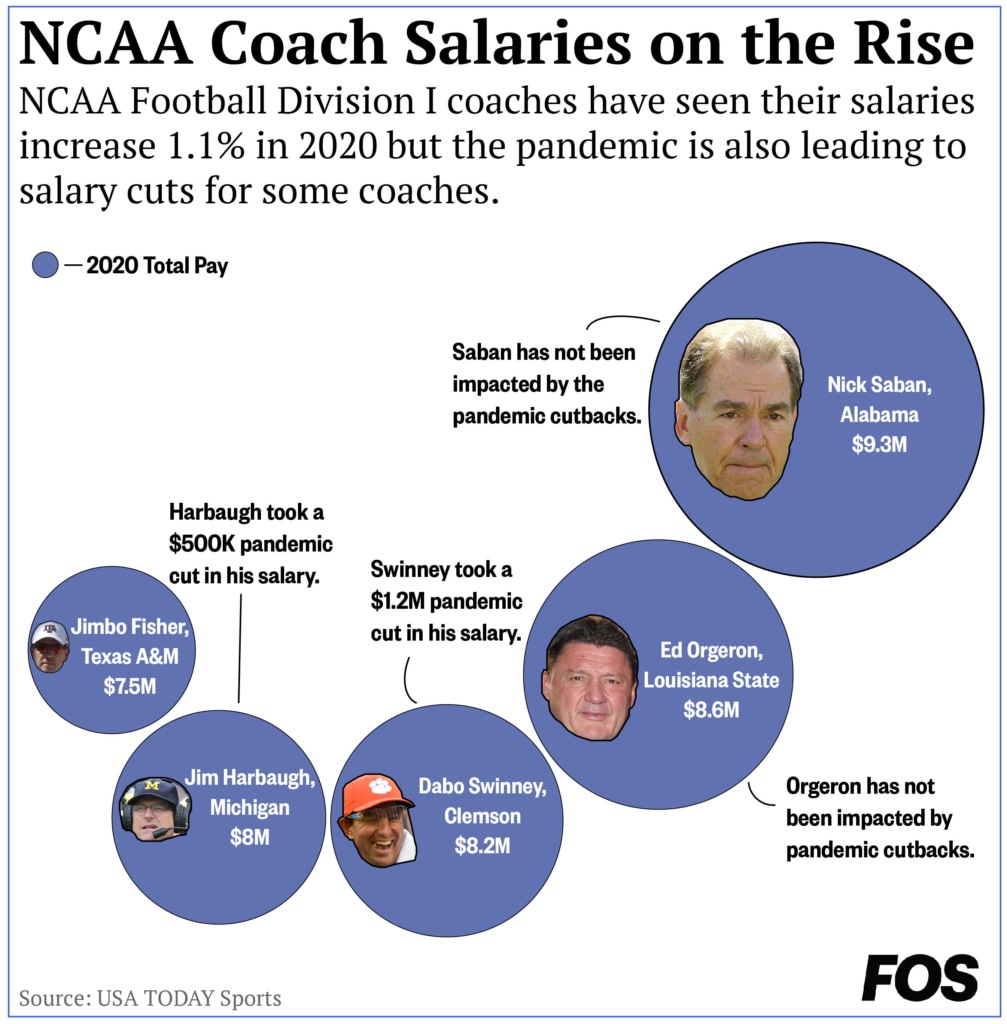 Other head coaches have also been affected, albeit in a different way. Clemson's Dabo Swinney — who's the third-highest-paid head coach in FBS — took a $1.25 million voluntary pay cut due to the pandemic. Swinney is forfeiting his retention bonus along with a $250,000 raise in his contract which would go into effect next year. The extra cash could help Clemson for its 2021 budget.
Jim Harbaugh of Michigan also accepted a 10% pay cut through the end of the current fiscal year. Michigan's athletic department is projecting a $26 million deficit next year and with Harbaugh's top-five salary, the pay cut should help the department power through the next year.
Every public school head coach in the Big 12 and Big Ten has also accepted a voluntary pay cut due to the pandemic, whereas in the SEC only four head coaches out of the 13 public schools have accepted voluntary pay reductions.
In the Group of Five, only one public school head coach took a voluntary pay cut and in the NCAA Mid-American Conference or MAC only head coach has not.