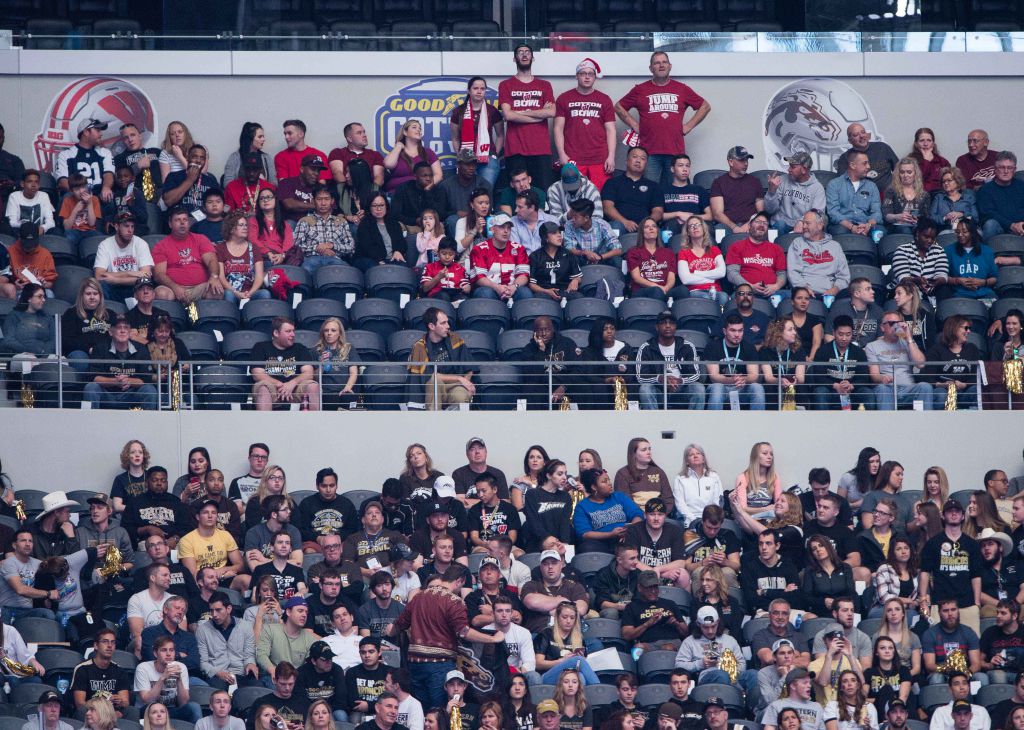 With baseball – both MiLB and MLB – adopting new ways to drive fan engagement at the ballpark, college football is aiming to solve this same problem.
One season removed from the sport's worst attendance record since 1996, college football is divided on how to address this issue. At Big Ten media day on July 19, Northwestern football coach Pat Fitzgerald argued that cellphones are making spectators disinterested with the in-game experience. Even if they do attend, Fitzgerald claims their cellphones are in their hands, snapping pictures instead of watching the game through their eyes.
Fitzgerald is right to pay attention to attendance concerns. Entering the 2019 season, Division I-FBS attendance has dipped seven times in eight years. For the 129 FBS programs, their average attendance in 2018 was 41,856, its lowest since 1996. Of the FBS' top-30 programs in terms of attendance in 2017, 20 of them saw either no change or a drop in 2018.
Yet, college athletic directors aren't in agreement with Fitzgerald's indictment on cellphones. For Mark Ingram, director of athletics at The University of Alabama at Birmingham, he understands Fitzgerald's frustrations with technology. However, as easy as it is to criticize cellphones and their place in college football, Ingram believes it's just as easy to argue their importance.
"You theoretically have thousands… maybe millions of people that are watching your game on their smartphones internationally who otherwise would not have any way to see the game," said Ingram. "There were probably more people getting to watch each [team] play because of smartphones and other devices [more] than ever before."
Between 2014 and 2017, UAB had no football team. When the Blazers were reinstated for the 2017 season, Ingram was tasked with bringing them back to life.
With UAB opening its 2017 campaign against Alabama A&M, Ingram wanted the off-the-field experience to match what was taking place on-the-field. To emphasize the Blazers' return to Legion Field, Ingram and staff utilized social media heavily to direct fans to the stadium.
With the Twitter account @BlazerGameday, they would post important updates regarding traffic alerts and pre-game news. With Birmingham, Ala., often cited as the best college-football market in America, locals frequent Blazers' football games.
By providing additional signature about stadium parking and having a helicopter provide traffic reports on social media, Ingram highlights these as reasons to appreciate cellphones. When a school-record 45,212 people watched UAB defeat Alabama A&M on Sep. 2, 2017, they left happy about not only the result, but also their commute.
"We were doing things to try to link ourselves more directly to our customers and to our fans and to make the experience better," said Ingram. "One of the things we've tried to avoid is something called 'driveway anxiety.' When people leave their house, they know exactly the route they're going to take. They know where they're going to park, they know which gate to use – eliminating that anxiety, it helps get people to the game."
Outside of the smaller confines of UAB and Conference USA, some of college football's biggest foes offer differing takes regarding cellphones in the sport. Dan Radakovich, director of athletics for Clemson University – the defending national champions – wants fans to know that at Memorial Stadium, cellphone use is not only appreciated, but hopefully more readily available.
According to Radakovich, Clemson has increased cell coverage to account for the roughly 84,400 fans frequenting the stadium for a home game. With better cell and WiFi reception, Radakovich hopes that fans will visit Clemson's football website, which provides live-game updates and suggestions to make their experience more worthwhile.
For Radakovich, cellphones and fan feedback – which he says comes from thousands during the season – can only help make Clemson better aware of their deficiencies. As the Tigers ready for their season debut versus Georgia Tech on August 29, Radakovich already believes that this season will be memorable for fans.
According to him, Clemson has sold a record 58,990 of its annual 59,000 season tickets. Coupled with selling out all 10,000 student tickets as well as two home games, Radakovich's staff is busy working to provide the best experience for people interested in attending future contests.
"[At Clemson] we're working to make phones complementary to the game action [and] making improvements around the stadium that make a phone easier to use," said Radakovich. "We are constantly thinking about the fan experience, beginning when someone thinks about purchasing a ticket, all the way through their trip home. That is something that we talk about daily here to make sure that we make [the experience] the best it can be."
READ MORE: Baseball Teams Aim To Bring Fans In, While Keeping Phones Out
While Radakovich's approach to cellphones is more receptive, his in-state rival expresses caution over the technology.
According to Charles Bloom, executive associate athletics director at the University of South Carolina, cellphone use at Williams-Brice Stadium is still a work-in-progress.
Fans are easily able to call and upload pictures and videos to social media, but Bloom concedes that more can be done to improve the stadium's WiFi connection. But for him, Gamecocks football and its handling of cellphones isn't going to impact attendance; scheduling is a bigger factor.
Coming off an uneven 7-6 performance in 2018, South Carolina's 2019 schedule is daunting – but should do well at the box-office. On Sep. 14, the Gamecocks play host to Alabama, where tickets on StubHub cost as much as $1,500. Two weeks later, Kentucky comes to town, which has a five-game winning streak over South Carolina dating back to 2014.
Throw in bouts with Florida and rival Clemson on Oct. 19 and Nov. 30, respectively, and Bloom said that this outstanding slate of home games will help South Carolina surpass its ticket sales numbers from 2018. According to him, South Carolina sold roughly 47,300 season tickets last season; already at 47,000 heading into the Aug. 31 season-opener at UNC, excitement is swirling around Columbia for what is to come in 2019.
"Even in our home games that we've lost [in past years], we've been competitive," said Bloom. "I think the product – our fans know that if they come to the game, they'll see a quality game. They feel maybe that they're somewhat helping the team through – getting loud in the stadium and being a part of the festivities."
College football programs aren't the only ones paying attention to attendance's downward trend. In San Francisco, the home of the Pac 12, officials have been mulling over this problem for years. This past season, the conference posted an average attendance of 46,442, its lowest since 1982. Its 12 member schools had a 3,013 average attendance per game decline – the largest of any conference since 2014.
For Danette Leighton, chief marketing officer of the Pac-12, her team has turned to technology for a solution. According to her, the Pac-12 created a historical data analytics program that tracks and summarizes fan behavior in various aspects such as purchasing behavior, ticket sales and social media activity.
With all Pac-12 schools expected to have this software by late August, Leighton sees it as incredibly helpful for the conference to communicate with its members. Whether working with USC or Washington State, every school has its own unique predicaments. According to Leighton, the fan experience is supposed to be customizable, which is what makes the Pac-12's work so valuable when analyzing this.
"I think at the end of the day, fans of all types of entertainment, not just football – expect more of a tailored, customized approach," said Leighton. "Everything is much more in a way that they want to see it, when they want to see it, how they want to see it."
"It's up to us to look for opportunities to evolve and adapt our experiences for the fans – so they can be more immersed, they can be behind the red ropes, and we can apply some learning from understanding of behaviors to make that a better experience for them to want to come and attend football games," she said.
Now into August, the countdown for college football has really begun. For UAB and Clemson, their season openers are on August 29, with South Carolina coming two days after. When these teams do take the field, friends and family will come together to bond over what they're about to witness.
READ MORE: Season Ticket Sales Change But They Remain Backbone Of Attendance
That, says Bloom, is what makes college football as memorable as it is – even if problems lie ahead.
"We spend a lot of time and effort to try to get fans to come to the games," said Bloom. You come to a game, it's memories that'll last a lifetime. You always remember your first game, coming to games with your friends and family."
"If you're an alum, it's an opportunity to come back to your alma mater and go to a game and walk the campus and be a part of a campus community. We still need to continue to push all that, but – there's definitely challenges ahead," Bloom said.