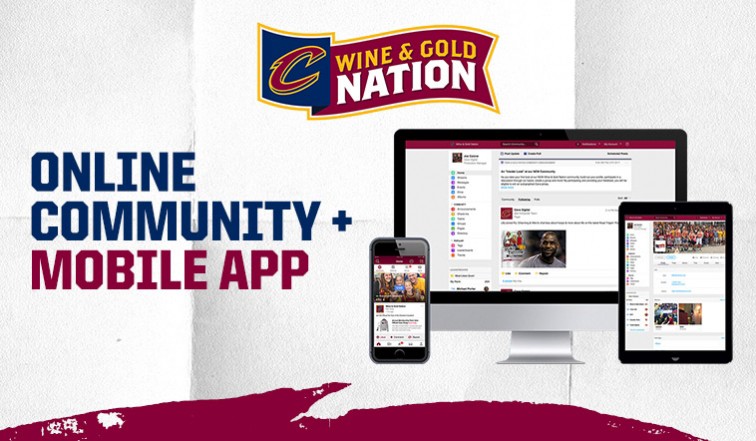 The Cleveland Cavaliers have announced the launching of a new community platform, Wine & Gold Nation (WGN), becoming the first professional sports team to essentially launch its own social network. Developed with the Youngstown, Ohio-based software company Drund, the goal of the platform is to give Cavaliers fans a space to engage with other similarly passionate fans and the team.
"We have been looking for the next-generation platform to take our digital fan engagement to a whole new level."
— Mike Conley, VP of Digital and Web Services, Cleveland Cavaliers
Access to the network is reliant upon becoming a member of WGN, and the Cavaliers are banking on a fan's desire to have their discussion about the Cavs be more a filtered experience than the likes of Twitter or traditional message boards. The message of "a safe environment suited for all ages" is littered throughout the announcement, leveraging some of negativity and vitriol that users experience on other social networks.
Want more great content like this? Be sure to subscribe to our newsletter!
Per the Cavaliers' website, here are some of the features that differentiate the platform from other online sports communities that are already in place:
Event management to organize events with customizable features like reminder notifications, RSVP management and more
Community broadcasts to send instant messaging to the entire community or specific public/private groups
Discuss the latest topics around the Cavaliers and stay connected with other fans
File sharing with the community or a group (10 GB available to each registered member)
Ability to connect to Facebook and Twitter and post concurrently to both platforms while also posting directly to a designated Wine & Gold Nation community/group
Private messaging to a single or group of members from any device
Create both public and private groups within a community
Instant push and email notifications around predefined member preferences
On its surface, most of those features seem redundant and/or similar to the typical message board or social network. Fans can get most of that same experience from Twitter, just without the branding of a safe environment.
Interestingly, there is are two membership options: paid and unpaid. From my understanding, a unpaid membership unlocks all of the features outlined above, while a paid membership ($35 per year) offers an exclusive experience for tailored to the age group you fall within:
Cavalittles (newborn — age 5)
Kids Club (ages 6–12)
Cavalry (ages 13–17)
Wine & Gold Nation (ages 18+)
(Special shout to the person who summoned the name "Cavalry" for the age 13–17 group. Easily the best.)
Given that the minimum age required to register for an account is 13, I am anxious to see what kind of reception the paid membership is given by users. I am not entirely sure what kind of social media experience could be tailored towards the interests of a newborn, but the Cavaliers are wise to leverage the team's recent success (and subsequent brand loyalty/identification) by monetizing the network via a paid membership. Receiving a quick snapshot of the average age of their fan base could help with the success of other departments in the organization, while also being a gateway to learning additional information about their followers.
My guess is that the success of this venture will be dependent on its ability to enhance the social experience for a fan. Exclusive video featuring player and team personnel is a must, including assorted Q&A sessions with star players and other "a day in the life" type of features. There has to be a distinct reason for a fan to have the desire to log in to the network daily.
Creating exclusivity could be a tough bargain to strike due to LeBron James' own digital platform, Uninterrupted, looking to provide similar content. With that said, perhaps the Cavaliers believe that promoting a safe space to discuss your passion for the team will be enough to push engagement to new heights.
"We have been looking for the next-generation platform to take our digital fan engagement to a whole new level. The Drund platform not only achieved that for us but delivered a new subset of social tools to our fans that will allow them to stay engaged regardless of device or time," said Mike Conley, Cavaliers vice president of digital and web services told cavs.com.
Fans can join WGN by going to https://nation.cavs.com and can download the app for free either in the Google Play Store or the Apple App Store.