In The News:
August 1st was a big day in the financial technology ("FinTech") world. Payments company Square announced that it would be merging forces with Australian based buy now pay later ("BNPL") company Afterpay for $29 billion – one of the largest fintech related transactions in recent memory.
The transaction marks what feels like a seminal moment in the fintech space. Square – with its $127.7 billion market cap at the time of writing – has built out two strong business lines. First, its merchant payment network which enables merchants to process their payments quickly and simply with a suite of software products related to invoicing and online payments. The company has also, via the Cash App, built a high-growth consumer payment service. These two business lines, however, have yet to meaningfully converge.
This is all about to change however, with the now integrated experience between Afterpay and Square. While square has dominated the merchant sector of the market, Afterpay provided a new innovation within the fintech space. The company was born out of a simple thesis that has ultimately proven to be incredibly precinct. Millennials hate credit.
Data suggests that millenials and Gen Z strongly prefer debit cards to credit cards. The solution provided by Afterpay captures some of the ethos of utilizing credit (i.e. purchasing without putting up any upfront capital) but without some of the drawbacks including interest, revolving debt, and one time fees. Mechanistically individuals are able to make purchases in installments with no interest payments – something that millennials and Gen Z have quickly adopted.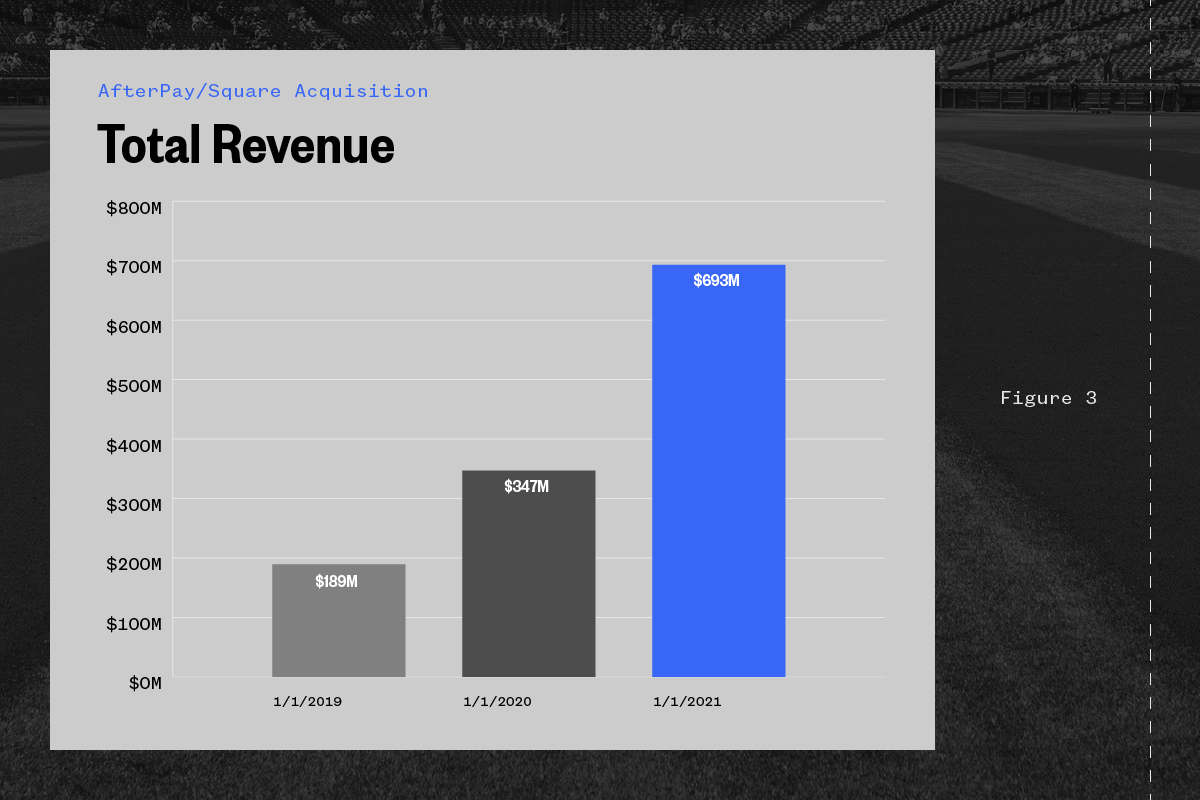 As of June of 2021, Afterpay has 16.2 million active consumers and 98K active merchants. Furthermore, the company has seen staggering growth numbers in terms of revenues (92% CAGR for 2019-2021) and gross merchant volume ("GMV") which was up 105% from FY 2019.
The combination of the two payments companies is indicative of a coming change in the way that individuals make purchases. With the combined merchant and consumer ecosystems, the ability to scale these technologies across the payment landscape is enormous. Payment collection and purchasing habits are ripe for disruption.
Executive Summary:
Buy Now Pay Later ("BNPL") applications are – exactly what their name implies. The applications allow a user to make weekly, bi-weekly or monthly payments installments on a purchase at variable levels of interest. Popular BNPL apps include Bill Me Later/PayPal Credit, Afterpay, Affirm, Klarna, and FuturePay.
BNPL is a financing mechanism that allows individuals, essentially, to more easily receive loans for consumer purchases. The widespread availability of this financing mechanism lowers the barrier to entry for consumers while simultaneously increasing the purchaser base for retailers. On July 13th, 2021, it was announced that Apple's Apple Card in conjunction with its banking partner Goldman Sachs would roll out a form of BNPL. The upcoming service, known internally as "Apple Pay Later", will use Goldman Sachs Group Inc. as the lender for the loans needed for the installment offerings. The buy now, pay later system could help drive Apple Pay adoption and convince more users to use their iPhone to pay for items instead of standard credit cards.
Current incumbents such as Affirm, Klarna, and Afterpay have extensive reach within the retail space as they have developed relationships with merchants to make the payment option available at checkout and similar to credit cards, they charge the retailer or merchant a fee as opposed to the customer.
The end of 2020 brought about a higher utilization of the BNPL payment mechanism. According to a Cardify.ai study the 44% of respondents indicated that the ability to use BNPL was very deterministic in how much they would spend over the holidays. Additionally, 6,500 of respondents indicated that the ability to use BNPL would likely increase the amount they normally are willing to spend. Further, 48% said buy now, pay later will allow them to spend at least 10% to 20% more than they would using a credit card.
BNPL has tracked, in large part, with the eCommerce industry. In 2020 U.S. ecommerce grew 32% from $598 billion in 2019 to $790 billion. Growth has been sustained as well, with data from MarketplacePulse indicating a 15% annual growth rate since 2010. Buy now, pay later has been largely driven by consumer appeal and adoption. There are three main drivers for the strong consumer shift.
GenZ participation: According to emarketer, a staggering 75% of BNPL users in the United States are millennials and gen z. More than 45 million people ages 14 and older in the US will use buy now, pay later (BNPL) services this year, according to the emarketer inaugural user forecast for these financing options. The 45 million figure represents an 81.2% increase over 2020. Since 2018, BNPL payments have become increasingly popular. During this period Gen Z digital buyers have utilized these alternative payment services in larger numbers than millennials. By the end of 2022, it is estimated that 44.1% of Gen Z digital buyers ages 14 and older will have used BNPL services at least once that year, compared with only 37.2% of millennial digital buyers.

Increases otherwise lost revenues: For retailers, cart abandonment has always been an issue. According to data from salecycle, 88% of carts were left abandoned in 2020 with sports and outdoor slightly below the average at 84%. Existing BNPL service providers are able to report increased checkout conversion rates. Klarna reports a 30% increase in checkout conversion rates. Additionally, these purchases are also retaining better than regular way purchases. Company Afterpay reports an 8 to 18% decrease in returns for retailers.
Increased overall basket size: According to data from Afterpay, the average basket size when using BNPL was 50%-200% higher on a unit basis than regular orders. At the same time, Klarna reports a 58% increase in average order, while Affirm reports an 87% increase. This is a strong case for any and all retailers to provide customers with the option to defer payments through one of these incumbent BNPL platforms.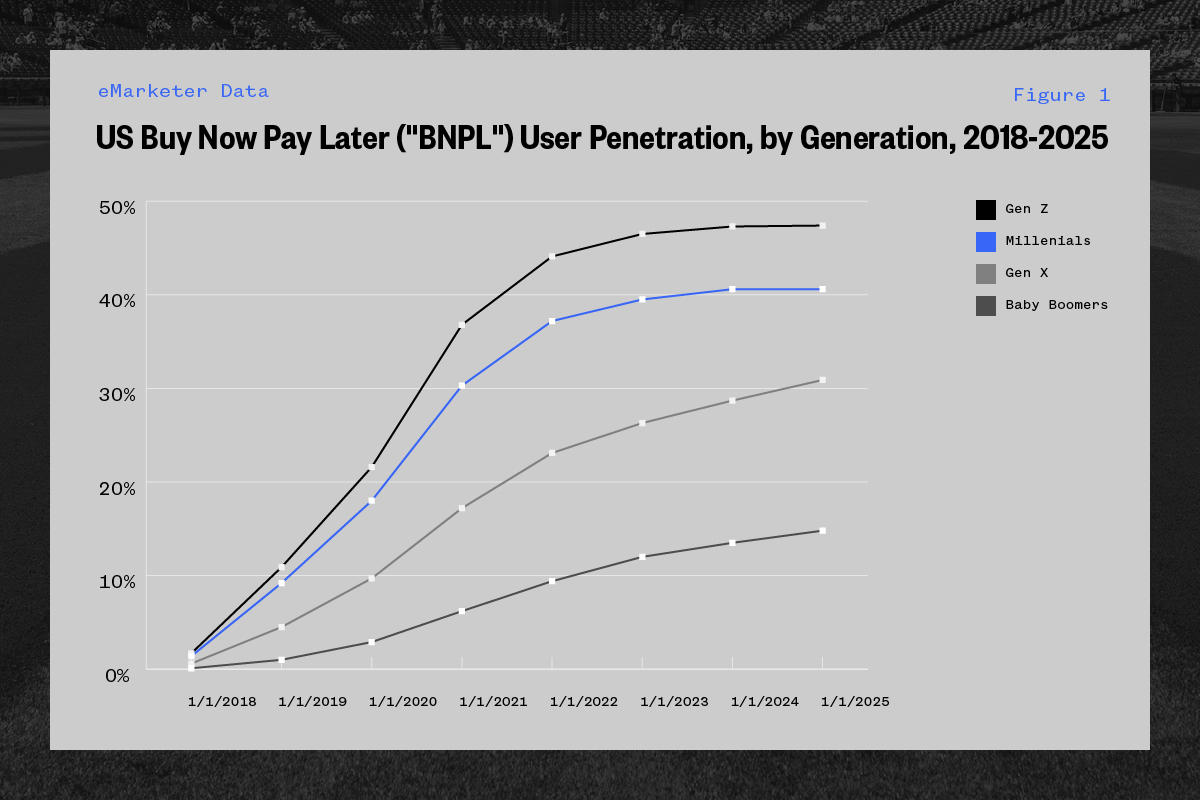 The case for BNPL inclusion in any context is strong. From a growth perspective, a report from IBIS World indicates that the industry will grow at a 9.8% annual rate over the next five years. Additionally, Business Insider stated that the pandemic's impact on BNPL will lead the industry to generate $680 billion in transaction volume worldwide in 2025. That translates to a compound annual growth rate (CAGR) of 13.23% from the $285 billion the industry was estimated to record in 2018. There has even been commentary from some industry professionals about the future impact. Simpl Co-Founder and CEO Nityanand Sharma, stated that eCommerce will soon move away from credit cards to BNPL.
"When you think about a more connected consumer class, a consumer class who's expecting a high degree of transparency and great user experience, it just doesn't work, which is where the opportunity for Pay Later is coming out"

With larger Fintech players such as Paypal, Apple, and American Express throwing their hats in the ring, the proliferation of BNPL will only continue. Travelers can use the company's loans to stagger the payments for a vacation booked online with selected participating sellers and resellers.
Another example of the industry innovation is Malaysia Airlines. The company partnered with Fly Now Pay Later. Malaysia Airlines' travelers choosing the Fly Now Pay Later payment option at checkout can choose a payment installment that works for them with an interest rate of 29.9 percent, the airline's website said. This is slightly different than most of the retail models which usually (but not always) do not include interest rate payments on their financings
Travel Industry:
With the impact of the COVID-19 pandemic, the travel industry was required to find creative ways to incentivize travellers once restrictions were eased. An example of the innovation in the space was Fly Now Pay Later – a London based startup that allows travellers to utilize BNPL.
The industry as a whole has embraced the strategy of BNPL. Creighton University professor of Financial Psychology Brad Klontz touted the move as a "Brilliant strategy for airlines to increase revenue and a service many people would appreciate". who equates deferred payments to the famous Popeye cartoon's Wimpy quote "I'll gladly pay you Tuesday for a hamburger today".
Another example can be found in Mexico. The ultra low-cost airline Volaris is partnering with company Uplift to offer the deferred payment options for fares between $300 to $10,000 to individuals already holding a credit card. The airline offers flights in the U.S., Mexico, and Central America and touts several innovative payment options including PayPal or paying in person at participating 7-Eleven, Walmart or other partners after making a booking through the airline. Of note, Uplift never charges a late fee or prepayment penalty and it allows a specific trips to be kept separate from all other expenses on a card to allow for easier budgeting
American Express with its extensive travel services business is also looking to include BNPL services for travelers. Unlike other companies, however, American Express is not partnering with any partners. Instead, it chose to integrate "Plan It," its proprietary buy-now pay-later feature into American Express U.S. consumer cards and managed directly from the American Express mobile app.
Sports:
BNPL has also been utilized by secondary ticket providers within the sports ecosystem. Larger platforms including Square and Paypal have offered capabilities to rollover financing for ticket purchases to various venues in order to assist in increasing ticket revenues.
A company that has taken advantage of the recent consumer tailwinds is tickpick. The company is a developer and provider of online ticket-sales platform intended for concerta, sports, theater, and other events. The company's business model provides a no-fee online marketplace to buy (through bid-auction) tickets for the above listed activities.
The company recently included a new initiative known as "Quad-pay". The BNPL initiative allows customers to finance their purchases in four interest free payments over a six week period. The option to purchase is available across mobile and web and is enabled by the company's partnership with Quadpay. Quadpay, an independent fintech company, recently received $200 million in funding from Goldman Sachs private capital group. A sign that the big banks are also bullish on the financing mechanism.
Sezzle & Youth Sports:
Sezzle, one of the leaders in the BNPL space, is a financing institution that offers technology-driven payment platforms. Similar to Quadpay, Sezzle allows purchasers to finance purchases over four interest free payments in a six week period. According to the company, Sezzle's payment platform increases the purchasing power for millions of Active Consumers by offering interest-free installment plans at over 34,000 online stores and select in-store locations.
Among similar buy now, pay later platforms, Sezzle is gaining traction as the most user-friendly, trusted and performance-driven pay later solution for retailers. In March of this year, the company announced a partnership with Gridiron Football – the fastest growing youth football league in the United States. The company's expansion into sports registration and equipment with Gridiron Football is a natural step. As it focuses on bringing flexible payments to consumers across all verticals – particularly sports.
As Sezzle ventures into the sports market – other financial software companies will begin to expand outside of the purview of purely DTC commerce and into more events driven businesses.
Conclusion:
The reintroduction (or even rebanding) of BNPL financing into the mainstream provides an opportunity for non-traditional retailers to utilize a financing mechanism that can; increase purchase volume, increase purchase size, and broaden the overall customer base for their given product or service.
The opportunity to implement these payment structures and ultimately reap the benefits of increased ticketing or merchandise sales could have an outsized impact on performance results from a "return on investment" standpoint. Given the recent success in the travel industry and its similar characteristics to the sports industry – there appear to be crossover opportunities in increasing the total available customer base for experiences. We believe that BNPL financing structures can and should be implemented in these industries as the current evidence indicates enhanced ROIs and improved retention metrics.