When Brandiose takes on a new project, they commit to making something that goes beyond the standard ball cap or script lettering.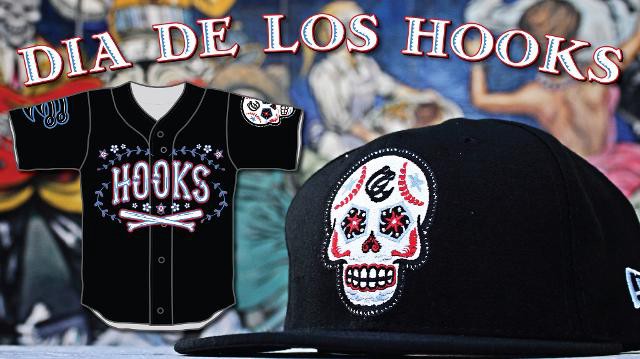 When a professional sports team is looking to inject some life and creativity into their identity, the industry has but one phone call.
Jason Klein and Casey White at Brandiose are on the other line, waiting to make the team's creative dreams a reality.
So when the Corpus Christi Hooks asked about a "Día de los Muertos" promotion for an upcoming weekend, Klein and White were all over it.
Brandiose produced jersey designs, as well as a template for team logos and a redesigned cap that perfectly encapsulated the nature of the Mexican holiday. Corpus Christi has a vibrant Hispanic community, and the released mockups have already received positive buzz.
"Our club has been so fortunate to be embraced by our community, and we want to continue to connect with the Hispanic culture and history of what makes Corpus Christi uniquely great," says Andy Steavens, Vice President of Sales and Marketing for the Hooks.
---
But it's not as if the two sit down at a computer and Google "Día de los Muertos" designs to find inspiration. Rather, they hop on a plane and fly to the client's location for some old-fashioned market research. They want to develop an understanding for the community, since the design is something entirely unique for the culture within the area. When it came to Corpus Christi, the guys had plenty of ideas.
"Being San Diego guys, we know the holiday well," says Klein. "It was something we had been thinking about for a couple of years, not just for Corpus, but in general. So when they came along [with the idea], it was just a no brainer."
When Brandiose takes on a new project, they commit to making something that goes beyond the standard ball cap or script lettering.
https://frontofficesports.com/say-cheese-west-michigan-whitecaps-put-selfies-on-jerseys-47a08fa0fa69
Klein estimates that in addition to working with hundreds of clients over the years, they've also helped engineer dozens of re-imaginations for current logos.
When the Cincinnati Reds wanted to update their Mr. Redlegs logo, Brandiose stepped in and created the contemporary mascot that now dons the Reds' batting practice caps.
The funky minor league team designs that feel extraordinarily appropriate? The Jacksonville Jumbo Shrimp, the New Orleans Baby Cakes, and the Hartford Yard Goats are all courtesy of Brandiose, working hand in hand with local communities to help develop a team identity that fits.
"The first step is immersive research, where we fly out from [headquarters] in San Diego and spend several days in that town. We talk with fans, season ticket holders, and community leaders, really trying to uncover what that town's story is really about," said Klein.
---
When it comes to designing a new team logo and name, it's all about deciding what story to tell, says Klein. Brandiose will hold team name contests, come up with sketch concepts and color palettes, and eventually narrow down to a unique logo that's both inventive and relevant to the city itself.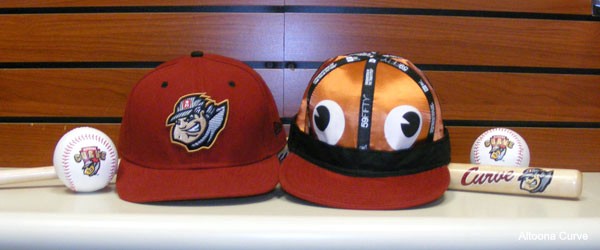 They also feature a flair for the weird; helping create professional baseball's first glow in the dark cap for the Casper Ghosts, and an on-field rally cap for the Altoona Curve. When it comes to reaction, Klein says people usually toe the line between "I can't believe they just did that," to, "I gotta get one of those caps!"
"Brandiose has an excellent track record in design, specifically with Minor League Baseball," says Steavens. "We've collaborated on several projects in past and they have a brilliant way telling our story through their work."
One of those projects between Brandiose and the Hooks was their "FauxBack" promo, when Klein and White helped reimagine what the Hooks' unis would look like had they been playing in 1976. The look was so well received, Corpus Christi has brought the FauxBack jerseys into the fold, wearing them every Friday night and offering merchandise for fans.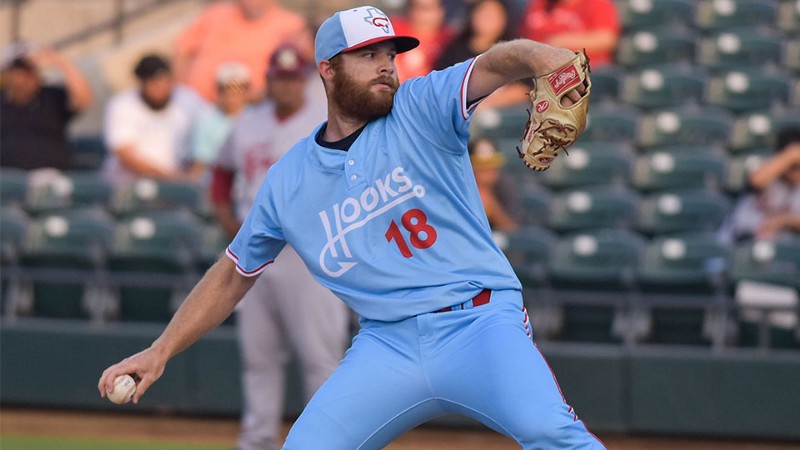 "That's like asking which kid is my favorite," Klein says with a laugh when I asked him if he has a favorite project. "But they're all special in their own way. They each tell a story about a unique hometown in America, and we love them all."
When a team contacts Brandiose for a redesign, they know they're not going to get a buttoned-up, mainstream concept. Klein says they have a saying around the studio back in San Diego: "If people aren't talking about your brand, it's dead."
With their "Day of the Dead" designs for Corpus Christi, Brandiose continues to prove they're very much alive.
---
Front Office Sports is a leading multi-platform publication and industry resource that covers the intersection of business and sports.
Want to learn more, or have a story featured about you or your organization? Contact us today.