By Kelsey Smith, @14Smith15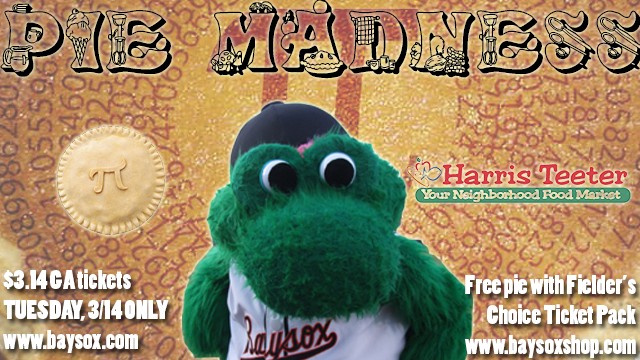 Every year we hear about March Madness, which takes over the world of sports, but have you heard about Pie Madness? This takes over the city of Bowie, Maryland as the Bowie Baysox have a series of promotions and ticket reductions in honor of Pi Day.
Chris Rogers, Promotions Manager of the Bowie Baysox, leads the charge for Pie Madness. The club has run this event for more than a decade, but Rogers revamped the event in 2012 to make it the extraordinary promotion that it is today. It was awarded the Minor League Baseball promotion of the month in April 2012.
Rogers came up with the idea when the Baysox's old school promotions became stagnant and in danger of being removed from the calendar.
"I wanted to somehow incorporate dessert and it sort of spun out of control from there," he said.
One aspect of this promotion is that on March 14, all general admission tickets were sold for only $3.14 for Baysox games from April 17–20 and April 28, which is their annual Pi(e) night.
Want more great content like this? Be sure to subscribe to our newsletter!
Pi(e) night consists of pie eating contests and a staff pie tag game. Also, the school contest winners will be recognized pre-game. The middle-school students who will be recognized will be the ones from area schools that can recite the most digits in Pi. They will all get free tickets to this game along with their teachers.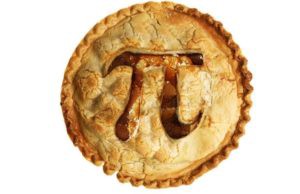 Perhaps the most creative part of this entire promotion is the Fielder's choice ticket package. This includes eight box seat tickets that can be used for any game in any variety.
The Baysox will personally deliver your apple, key lime or blueberry pie as long as the buyer lives within a 25-mile radius of the stadium, according to the Baysox's website. Also included in the deal is an XL t-shirt or a Baysox tote bag.
How do the Baysox get all these pies to hand out to people? Rogers says that they are partnered with a local Harris Teeter supermarket that opened near the stadium. They used to partner with a shop called 'Best Pie,' but they recently went out of business.
"This promotion has become a stalwart of each season's promotional schedule, so it may not always get the attention it deserves as we pump out new and improved promotions every season," Rogers explained.
If you go on the Baysox's promotional schedule, you'll see that they have a lot of creative nights from Bark in the Park day, the Maryland Flag Floppy Hat giveaway, Legends of Wrestling night, 90's Nickelodeon night and much more.
You can also see how Pi(e) night could get overshadowed with all of the great ideas that Bowie's promotions manager pumps out. I think the fact that they stretch out their pie-themed event helps make it one of their staple promotions of the season.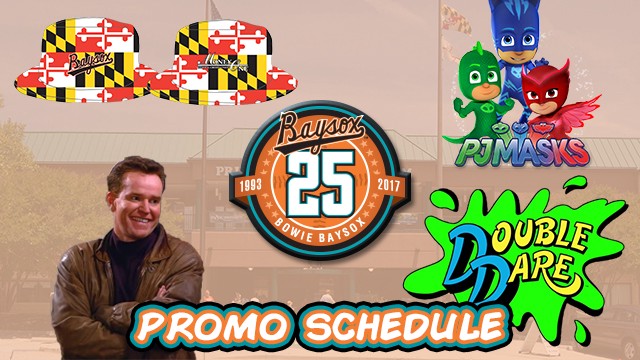 The graphic for the Baysox's 2017 promotions schedule. Photo via milb.com.
Rogers loves this promotion because "it's the only one that gives our fans the opportunity to have food delivered to them with their season ticket packages. It's become our star March promotion every season and helps us give our fans a unique experience while also establishing a good relationship with the community through the school contest."
Minor League Baseball teams are known for partnering with schools in order to get kids out to the ballpark. The Baysox do it right by offering pies, because if anything can entice kids to recite the decimals in pi, it's dessert.