LOUISVILLE — The late, great John Asher, former vice president of communications at Churchill Downs and unofficial chief historian, was fond of saying, "Nothing is bigger than the Kentucky Derby."
Racing Hall of Fame trainer Bob Baffert has certainly put that maxim to the test over the past eight years.
Baffert came into the 2015 Kentucky Derby already having won America's most famous horse race three times — but what his horses did over the next eight editions of the race redefined success.
In 2015, American Pharoah became the first to win the Triple Crown since Affirmed in 1978. Justify followed suit in 2018 with the rare distinction of being the first horse since Apollo in 1882 to win the Derby without having raced as a 2-year-old. In 2020, Baffert tied Ben Jones for the all-time lead with six Derby wins, when Authentic won during COVID, defeating heavily favored Tiz the Law.
Medina Spirit's 2021 victory delivered Baffert's seventh win at Churchill Downs, catapulting him to the pinnacle of the sport and into the record books. A week later, Baffert's team learned of a positive post-race test for the steroid betamethasone. By June, Baffert had been banned for two years, and by February 2022, the title had been stripped.
Baffert still occupies a lot of real estate at the top of lists: the most Preakness Stakes wins (7), the most Triple Crown wins (16), and the second-most Breeders' Cup titles (17).
In addition to 3,294 wins, he's earned $342 million, which ranks third all-time behind Todd Pletcher and Steve Asmussen, and he is a four-time Eclipse Award-winning trainer and a member of Thoroughbred racing's National Hall of Fame.
While his absence isn't as conspicuous as it was last year, the larger-than-life figure remains a storyline at the 149th running on Saturday.
As the legal battles rage on, Baffert is one year away from a return to Churchill Downs — and that sesquicentennial edition of America's longest continuously held sporting event could vault the legendary trainer to the top of the list.
Paid Time Off
Baffert's supporters make no bones about wanting to see their trainer back on top.
"The driving thing for Bob is that he loves horses first, and then the sport of horse racing and the people he trains for," said his superstar attorney, Clark Brewster (you may know him from the Stormy Daniels-Donald Trump imbroglio). "It's a shame he's not there this year, but he's lost nothing when it comes to his passion for horse racing. I'll be happy for him when he's back."
In some ways, Baffert already is "back." He served a 90-day suspension via the Kentucky Horse Racing Commission that all North American racing jurisdictions honored in 2021, but the two-year ban is a "house rule" that only applies to Churchill-owned tracks: Churchill, Ellis, and Turfway in Kentucky, Colonial Downs in Virginia, and Fair Grounds in Louisiana.
Baffert has still been training horses at his base in Southern California, winning top races even without competing at Churchill Downs tracks. He is 28-for-103 this year, and his horses have earned $4.2 million.
One of his biggest recent wins came when Faiza won the Santa Anita Oaks in April. typically a prep race for the Kentucky Oaks on Derby weekend at Churchill Downs. But since Faiza can't compete due to her trainer, she'll head to the home of the Preakness, Pimlico Race Course, for a race called the Black-Eyed Susan. Santa Anita and Pimlico are both owned by 1/ST Racing, a racetrack conglomerate similar to Churchill Downs Inc.
Several horses Baffert trained last year and earlier this year did go to other trainers in the hopes of competing in the Kentucky Derby, but only Reincarnate made this year's starting gate.
As muted as his presence has been this week at Churchill Downs, Baffert has made a statement of sorts at this year's 2-year-old auctions, bidding at least $1 million on several of the crop of horses eligible for next year's Kentucky Derby.
Follow The Money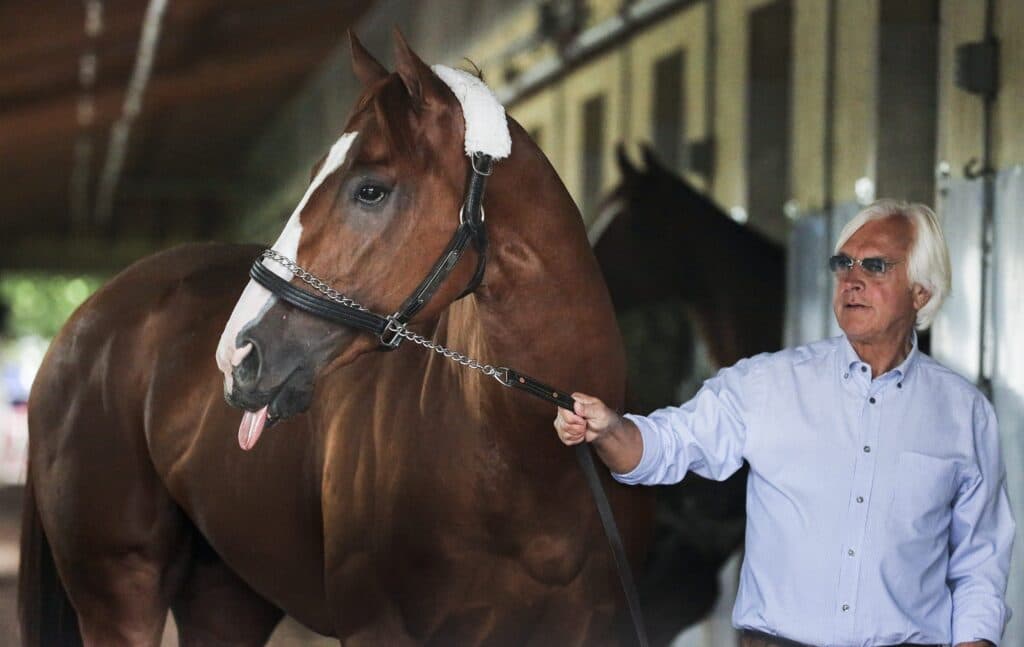 The absence of Baffert has provided an interesting backdrop in the days leading up to Kentucky Derby 149, given Churchill Downs faced questions regarding the deaths of four thoroughbreds within a week.
Kentucky Derby qualifier Wild On Ice died following a workout. Trainer D. Wayne Lukas, himself a four-time winner of the Derby, had a horse break down in a race on May 2. Trainer Saffie Joseph had two horses die on the track after a race.
When asked to confirm that its ban of Baffert would end at the conclusion of the current spring meeting, Churchill Downs Inc. simply referred back to its initial announcement.
"Reckless practices and substance violations that jeopardize the safety of our equine and human athletes or compromise the integrity of our sport are not acceptable, and as a company we must take measures to demonstrate that they will not be tolerated," Churchill Chief Executive Bill Carstanjen said. "Mr. Baffert's record of testing failures threatens public confidence in Thoroughbred racing and the Kentucky Derby."
One of the keys to that statement is that "substance violations" and "testing failures" are plural. Baffert's horse Gamine tested positive after a third-place finish in the 2020 Kentucky Oaks.
Baffert didn't respond for this story, but bloodstock agent Donato Lanni said, "We try to stay quiet and let the horses do the talking."
Lanni has been with Baffert for nearly a generation, helping well-pocketed owners buy the best horses of their generation so Baffert can win top races like the Kentucky Derby.
"The Kentucky Derby is a race anyone involved in racing wants to win," Lanni said. "It's nice to be there and it's still the Derby, but it doesn't feel the same without Bob there. I'm looking forward to seeing him there next year. Whether you like him or not, the Derby isn't the same without him."
Lanni said those $1 million-plus auction bids have nothing to do with specifically targeting Derby 150 as Baffert's return.
"We buy horses to win the very best races, and the Derby is certainly one of those," Lanni said. "What these sales tell us is that his clients are supporting him. These are the owners who support the game, and they're the ones backing him."
Ed DeRosa, a 20-plus-year veteran who began his career with the Thoroughbred Times, is a Cleveland native who discovered his love for betting the ponies while attending Thistledown with his grandfather. His pick for this year's Kentucky Derby is Tapit Trice.