On Tuesday, roughly 30,000 fans from around the world will make the pilgrimage to the intersection of Brooklyn's Surf and Stillwell Avenues for Coney Island's annual Nathan's Famous Fourth of July International Hot Dog Eating Contest.
Millions more will watch the TV coverage as reigning champions Joey Chestnut and Miki Sudo speed-scarf dozens of hot dogs for the coveted "Mustard Belt." Besides them, this year's competition will feature male and female eaters from Canada, England, South Korea, Japan, Brazil, and Australia.
The annual all-you-can eat gorge-fest is funny, kitschy, and gross all at once. In sweltering New York summer heat, fans wear hot dog costumes and carry signs reading: "Don't Throw Up." It's classic Americana — and a media spectacle synonymous with Independence Day that ESPN will be broadcasting for a 20th straight edition.
Nathan's will grill 2,925 hot dogs for the event: 1,325 for male and female competitors; plus another 1,600 for VIPs and entertainers. Thirty-two competitors will vie for a total purse of $40,000, with $10,000 going to each winner.
The flagship location expects to sell 10,000 hot dogs, and as is custom, donate 100,000 dogs to the Food Bank for New York City charity.
The passions surrounding this national obsession delight world-class eaters like Sudo, who won her eighth women's championship last year by downing 42 hot dogs and buns in 10 minutes.
"The Fourth of July and hot dogs and competition go hand-in-hand. People tell me they've been watching since they were kids, and now they're watching with their kids," the world's No. 1-ranked female eater told Front Office Sports.
"It's relatable. It's as fun and as lighthearted and casual as you like it to be — and as serious and intense and competitive as we like it to be."
Like it or not, competitive eating is now a worldwide sport. The competition is organized by Major League Eating (MLE) and its governing body, the International Federation of Competitive Eating. Just ask MLE president Rich Shea.
"This is our biggest day. If you look at the Major League Eating calendar, the sun rises and sets on Coney Island. This is our Masters — and the Mustard Yellow Belt is our green jacket," said Shea.
The Coney Island 'Crucible'
The modern Nathan's Hot Dog Eating Contest dates back to gritty early-1970s New York. The sleepy affair was staged on different dates, including Memorial Day and Labor Day.
The watershed moment came in 2001, when rookie Japanese eater Takeru Kobayashi ate 50 hot dogs — nearly doubling the old record. Competitive eating took off, and 10 years later, Nathan's added a separate women's championship.
The event doesn't take itself too seriously, which is part of its charm.
Rich Shea's brother George, whom the Brooklyn Paper dubbed "The P.T. Barnum of Bile" and the "Bob Barker of Barf" has served as the event's fast-talking emcee for decades. With his straw boater hat and outlandish, carnival-barker competitor introductions, he's a big part of the attraction.
He touts Tuesday's competition as the "crucible through which greatness will be forged." He likens the venue at Surf and Stillwell to the storied "parquet floor of Boston Garden."
He has introduced Chestnut by declaring, "Through the curtain of the aurora, a comet blazes to herald his arrival."
MLE holds 70 events per year, but Nathan's is the league's Super Bowl, World Series, Olympics, World Cup, and Masters Tournament rolled into one, according to Rich Shea.
While his brother, George, struts around the stage with a bullhorn, Rich will call the action on TV with ESPN anchor John Anderson and reporter Renee James.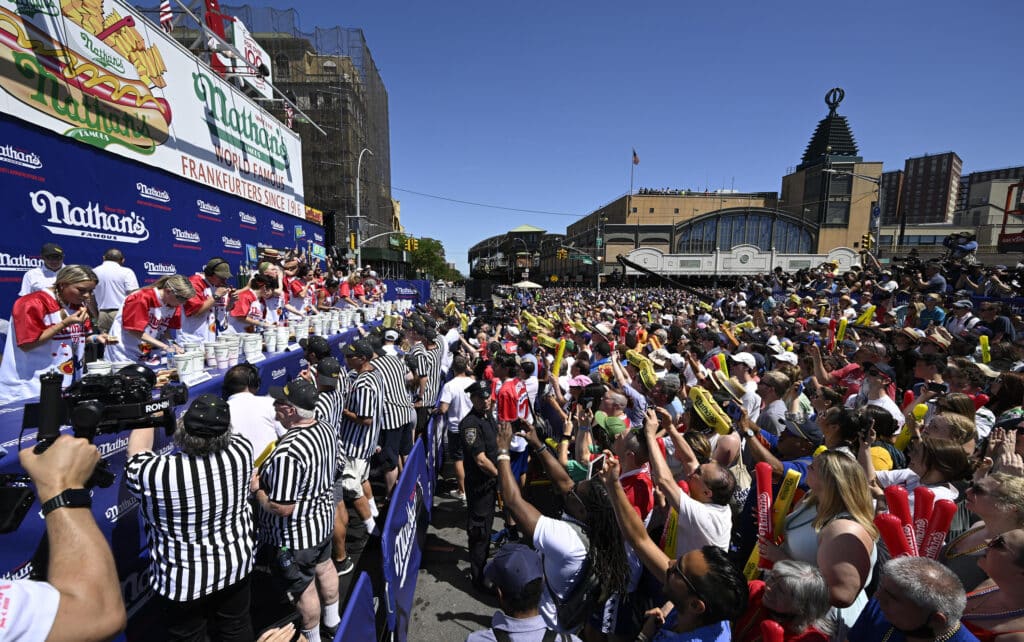 How It Works
Contestants get 10 minutes to scarf down as many weiners and buns as they can. The dogs are served five to a plate — and all must be finished before moving on to the next plate.
Dunk cups filled with water lubricate the dogs and buns to make them slide down easier. Half-chewed dogs in a contestant's mouth at the end of regulation still count, as long as they're swallowed.
Eaters must hold their food down for the duration of the event. If they puke — euphemistically described as a "reversal of fortune" — they're disqualified.
All contestants must be 18 years old — and MLE makes it clear these are pros on stage. Don't try this at home, kids.
Like any sport, you can bet on the two winners, the over/unders, and an assortment of props. For reference as of writing, Chestnut and Sudo are each massive -5,000 favorites, while the totals are set at 73.5 and 43.5, respectively. (Their world records are 76 and 48.5, respectively.)
And like any sport, what constitutes entertainment for fans is a much more serious matter for the likes of Chestnut, Sudo, her husband Nick Wehry, James Webb, Michelle Lesco, and Geoffrey Esper. Nathan's winners for both genders only pocket $10,000, but Mustard Belt champs can cash in with endorsements and personal appearances year-round.
The 39-year-old Chestnut has an estimated net worth of $2.5 million. The self-proclaimed "world's greatest eater" has launched his own line of condiments for hot dogs, sausage, and sandwiches. Flavors include "Boardwalk Coney Sauce" and "Firecracker Mustard."
This year's contest will be broadcast live on ESPN2 and the ESPN3 digital platform, then re-aired throughout the day across various TV/digital platforms.
The women's event kicks off at 11 a.m. ET, followed by the men's at 12:30 p.m. ET (both Chestnut and Sudo will have their own isolation cameras via ESPN3). ESPN has exclusive broadcast rights for the duration of the event, from 10:45 a.m. to 1:05 p.m.
The network says that since it started airing the event in 2004, contestants have consumed 11,571.5 hot dogs — 1,152 by Chestnut alone.
ESPN, which controls media rights through 2029, drew its biggest Nathan's audience ever in 2014 with 2.77 million viewers, but Chestnut's long reign has arguably sapped some of the drama. He's won every men's event but one since 2007 — and last year's coverage averaged 1.03 million viewers, down 24% from 1.37 million in 2021.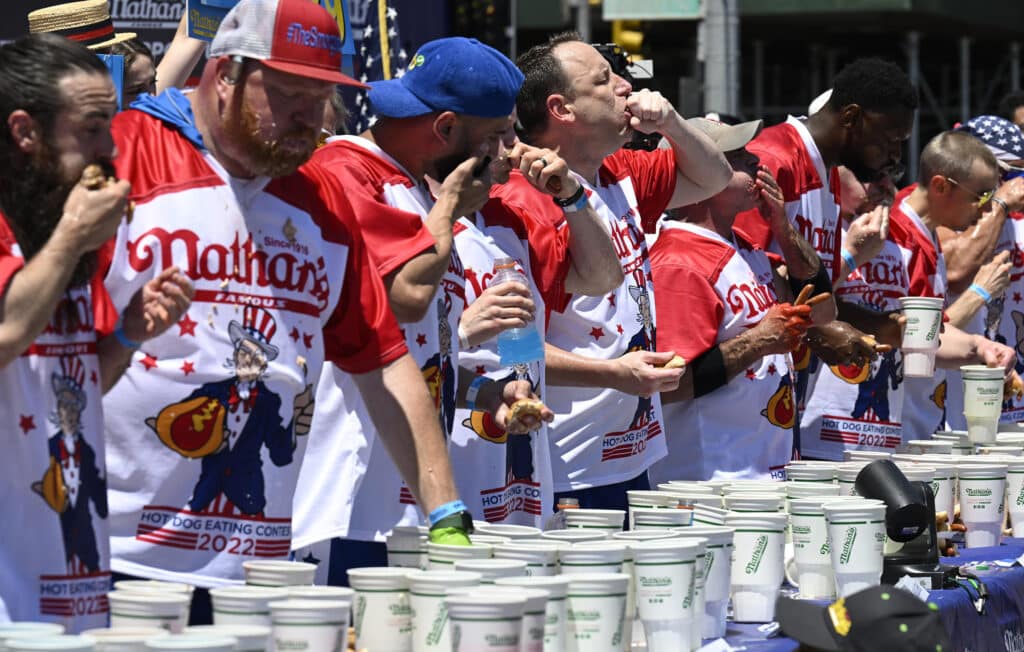 Dog Eat Dog
Top competitive eaters train for months, following their own unique regimens and liquid diets to prepare their bodies for swallowing the equivalent of three Thanksgiving meals.
Chestnut told Insider he begins preparing for Nathan's in January with dieting, practice rounds, and body cleanses. He employs jaw exercises and even sets up speakers and flashing lights to mimic the raucous atmosphere on the boardwalk.
The diminutive Kobayashi pioneered the "Solomon Method" of snapping hot dogs in half, then shoving both pieces into his mouth. He also employed the "Kobayashi Shake," a trademark wiggle to force food down his esophagus.
Most eaters compete standing up so their stomachs aren't compressed. Then they "pogo" up and down to avoid blockages and keep the food flowing downward.
As with other pro athletes, some game the system.
Some employ "Happy Feet" to push up their totals, according to GQ magazine. Rather than eating all of the food, they surreptitiously drop some on the floor, then stomp on it to cover their tracks. Others "Chipmunk," stuffing their cheeks with food they can swallow after the whistle blows.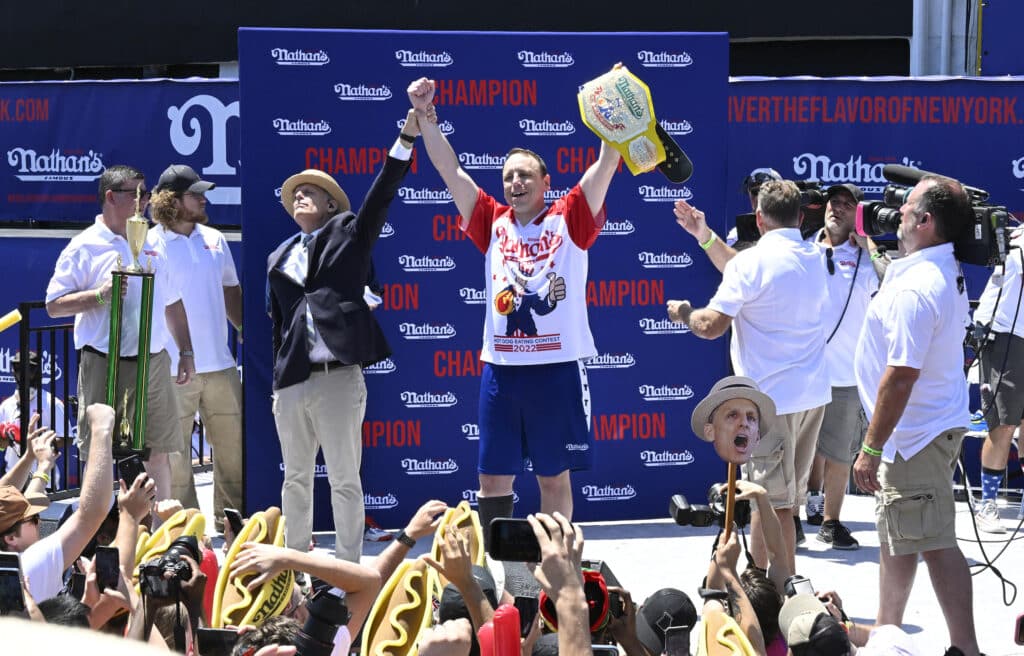 Not Without Drama
Other than Chestnut winning, you never know what will happen at Nathan's. It's not all fun and games, and has its fair share of critics.
Kobayashi will again be absent from Tuesday's competition, denying fans the rematch they've wanted for years. (Their personal rivalry was chronicled in ESPN's 30 for 30 documentary, "The Good, The Bad, The Hungry.")
Nicknamed "Tsunami," the slender dynamo won six straight titles but hasn't entered since 2009 following his refusal to sign an exclusive contract with MLE. In 2010, Kobayashi was arrested for rushing the stage when Chestnut won his fourth title.
And plenty of detractors regard it as a circus freak show because it inherently offers trainwreck appeal to see how many dogs competitors can eat before spewing.
Studies have warned that contestants risk death by overeating, and one 2007 study called it a potentially "self-destructive form of behavior."
It can also stir up some political controversy. In 2019, the Washington Post compared George Shea to Donald Trump for ginning up a "jingoistic" America vs. Japan rivalry between Chestnut and Kobayashi. The Japanese star felt betrayed when his American fans turned their back on him to root for Chestnut.
Last year, three animal rights protesters charged the stage, and one elbowed Chestnut out of the way. Without missing a beat, Chestnut grabbed him in a headlock, tossed him to the floor, then went back to chewing.
The man they call "Jaws" ended up downing 63 hot dogs for his record 15th Nathan's championship.
Wehry, who was next to Chestnut when the protesters jumped on stage, praised the champion for going "full bloodsport."
"I don't know how you're going to one-up that. Going full America on the 4th of July — while still holding on to your hot dog?" he asked. "He went Jean-Claude Van Damme on the guy. Bravo!"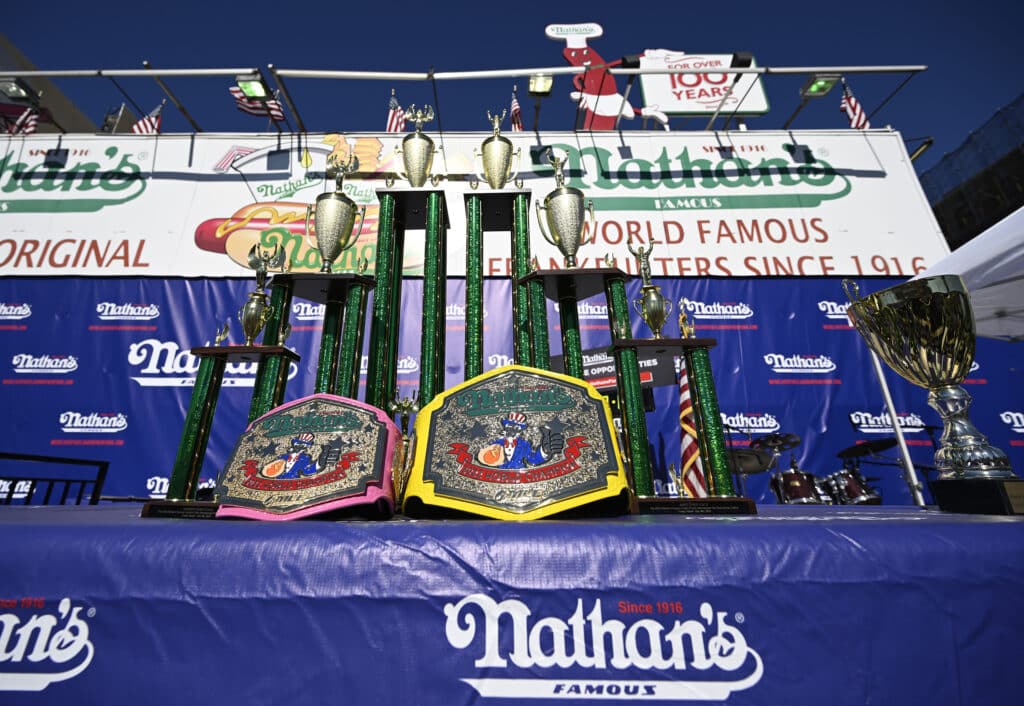 Hallowed Ground
Laugh all you want, but competitive eaters think of the original Nathan's location as "hallowed ground," the same way golfers regard Augusta National Golf Club or football players think of the Green Bay Packers' Lambeau Field.
Starting as a nickel hot dog stand by Nathan Handwerker in 1916, Nathan's has become the most famous hot dog brand in the world.
President Franklin D. Roosevelt famously served Nathan's to Winston Churchill and Joseph Stalin. First Lady Jacqueline Kennedy dished them up at the White House. In his last will and testament, Lower East Side native Walter Matthau asked the delicious dogs be served at his funeral.
Then there's Coney Island itself. The historic neighborhood just steps from the Atlantic Ocean brings an atmosphere other sites can't match.
This is the storied home of one of the country's first amusement parks and seaside resorts in the 19th century, the gritty neighborhood where Al "Scarface" Capone got his scars before leaving Brooklyn for Chicago (Capone foolishly insulted the sister of a fellow gangster), and the home of Luna Park and the 96-year old "Cyclone" roller coaster. It's also the colorful setting for movies and TV shows ranging from "The Warriors" to "Seinfeld."
What better stage for the quintessential outdoor New York summer event?
"You know the best who've ever done it have stepped on that stage on the corner of Surf and Stillwell," Wehry said. "So whether you're going to place 12th or you're going there to take home the mustard belt like myself, you know the history that comes with that."