In the News
In early May, Japanese gaming company Square Enix sold $300 million worth of intellectual property related to major franchises — including "Tomb Raider". The capital is supposedly earmarked for funding its blockchain initiatives, which have been one of the more profitable use cases in the crypto space. 
In the sale, Swedish game maker Embracer Group acquired the assets, including whole subsidiaries Eidos and Crystal Studios, plus more than 50 gaming titles worth of IP which have yet to be valued.
While Square Enix has indicated an interest in blockchain gaming, its exact strategy has been unclear. The company was not specific in how it would invest capital into projects but has stated that the new cash would "enables the launch of new businesses by moving forward with investments in fields including blockchain, AI, and the cloud." 
Embracer Group is no stranger to acquisitions. The company currently controls more than 850 game franchises across 119 studios. As of March 2022, the company disclosed $3.8 billion in assets as of March 2022, and its market value is currently $5.6 billion.
There has also been evidence from outsiders that Square Enix is serious about its blockchain ambitions. A Tokyo-based consultant, Dr. Serkan Toto with Kantan Games, believes Square Enix is fully engaged in building out blockchain gaming properties: "I think they will really invest significantly in the blockchain and metaverse space. Their president announced this move enough times now."
Square Enix has also been public about their ambitions dating back to 2018. Various shareholder letters have grouped blockchain, AI, 3D modeling, and robotics as part of their future investment and R&D strategies.
VC Activity in the Current Market Environment
Square isn't the only company charging headfirst into blockchain — pitches for blockchain-based games are still coming to investors. Rewind to the same time last eighteen months ago, and blockchain gaming pitches were few and far between.
As of May 2022, $4.8 billion of capital has been invested in the space over 566 deals, according to Pitchbook. And according to investment bank Drake Star Partners, there have been nearly $1 billion in private investments into blockchain gaming in Q2 2022 alone.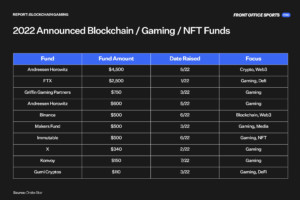 Blockchain gaming has been a focal point for inventors this year. Blockchain game-related companies have received roughly 30% of all game-related venture-backed funding — totaling $1.2 billion — in the first quarter, according to Drake Star.
Previously, there had been a question as to whether or not blockchain gaming would crowd out investment in traditional game segments. Blockchain games are undoubtedly attractive to investors, but the segment is still small relative to the total gaming landscape ($180 billion) which is estimated to be larger than the music and Hollywood industries combined. Based on Q1 numbers, the investment landscape hasn't felt the same market downturn.
Additionally, there are some market indicators that suggest the scales might be tipping even more towards blockchain gaming. According to VentureBeat, at the company's GamesBeat Summit 2022 event, an investor indicated that 90% of inbound pitches at one game VC were blockchain-related — a marked shift from the traditional split. 
According to other VCs involved in the space, anywhere from 50% to 90% of incoming pitches are blockchain-gaming-centric. The largest blockchain deal in the first half of 2022 has been Aminoca's $359 million raise, valuing the company at over $5 billion.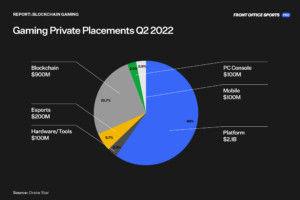 Per Drake Star, the first half of 2022 saw top funds in the NFT and blockchain gaming space raise a cumulative $10.5 billion in capital*. 
Overview
Startups in this space are currently integrating aspects of blockchain technology into video games in an effort to alter gaming business models and increase player agency. 
Blockchain technologies, notably in the form of non-fungible tokens (NFTs) and decentralized autonomous organizations (DAOs), are seen as a way to disaggregate revenue streams away from publishers, giving more control and ownership to players, while also giving players and developers more autonomy than existing alternatives. 
Blockchain gaming companies are either creating blockchain games or providing the infrastructure that enables them.
The Play-to-Earn Economy Revisited
In 2021, Pro examined the P2E economy through the lens of "Axie Infinity." 
In 2022, "Axie" has lost some of its luster, but the P2E space has expanded beyond its community. P2E games have emerged as the leading form of blockchain-based gaming. 
As the concept's name implies, players are able to earn small amounts of cryptocurrency by playing the game, predominantly through activities such as contests, tasks, battles, or any other mechanism related to game functionality.
"Axie Infinity," still the most popular P2E game globally by player count and capital, requires players to use NFT Axies, or digital creatures, through purchase or rental. Players can then battle with others to earn the games native currency "Smooth Love Potion" ("SLP"), one of the games' cryptocurrency tokens, which in turn can be used to breed Axies to create an entirely new Axie NFT.
Such a system incentivizes players to earn more SLP by playing the game in order to create newer and better Axies — which they could potentially sell for a profit. 
The game's developer, Sky Mavin, benefits from players willing to purchase more premium Axie NFTs — similar to the purchase of skins in traditional games. Moreover, the developer earns a small royalty on every NFT transaction. Adding more players into the ecosystem has boosted the price of the AXS token used by the game for governance. For Axie specifically, there has been some question as to whether the game mechanics lead to Ponzi-nomics. 
In late 2021, Sky Mavis stated that it needed a growing axie pool to let new players join "Axie Infinity" because, unlike a traditional game, the studio wasn't supposed to simply create more characters out of thin air. 
According to the Verge, the company eventually planned to introduce more skins and hoped people would acquire Axies for "the intrinsic value they can provide to players in the form of competitive, social, and progression-based fun and achievements." In the short term, their primary use was generating currency that could create more NFTs for sale or rental, which only worked if there were consumers.
The system requires players to keep joining up, regardless of the value generated. In August 2021, a cryptocurrency writer and decentralized autonomous organization operator who goes by M Goes wrote a widely cited Medium post calling "Axie Infinity" the "biggest Ponzi scheme in crypto."
According to M, none of the game's potential long-term business models could support its biggest short-term selling point. The system was only sustainable with a huge demand for more SLP and Axies, and maintaining that would require an infinite number of new signups in perpetuity — kind of like a Ponzi scheme. 
Some still believe the economic model makes sense, and that earning what is the equivalent of a living by playing games is a meaningful innovation. While "Axie Infinity" provides just one model, it shows the ways developers can leverage the blockchain to incentivize players and grow revenue. 
Timeline & Context
November 28, 2017: The Launch of 'CryptoKitties'
"CryptoKitties," widely considered the first blockchain game, allows users to purchase NFT pets and then breed them to create unique variants. The game sparked a crypto collectible phenomenon and demonstrated how blockchain games could gain a loyal following among crypto-enthusiasts. More akin to collectibles, the original version of the game allowed users to derive little utilities from the CryptoKitties NFTs other than price appreciation. 
March 2018: 'Axie Infinity' Debuts 
"Axie Infinity" features a similar creature system to CryptoKitties but includes a battle element as a core game mechanic. It has become the poster child for blockchain games and P2E, popularizing the "play-to-earn" model of blockchain games, in which users can be rewarded with cryptocurrency through the successful completion of in-game tasks within the game.
November 12, 2021: Forte Raises $725.0 million 
Forte, an infrastructure provider for the blockchain gaming ecosystem, raises an enormous round of funding courtesy of Tiger Global Management, Andreessen Horowitz, and Warner Music Group, among others. The large fundraise is a bet on the inevitability of blockchain penetrating into the gaming ecosystem. The largest venture and growth equity funds continue to see opportunities in the new gaming economy, with an increasing emphasis placed on IP and infrastructure.  
May 2, 2022: Square Enix Pivots to Blockchain
Japanese video game publisher Square Enix, traditionally a backer of AAA console titles, offloads some of its major studios in a pivot to retool and focus on blockchain gaming. It is one of the first major publishers, along with Ubisoft, to make a solid commitment to blockchain gaming. Blockchain-based games continue to become more intertwined with the overall gaming ecosystem, as Epic Games founder Tim Sweeney has made it clear that stores should allow for the integration of NFT-based games into stores. While game developers have not fully adopted blockchain-based games, companies such as Epic are leaning into blockchain and metaverse-based games. 
Additional Information: Participants
Below, we have included a graphic of some of the main market participants as of July 2022. 
*represents only the top 10 funds raised.