The first MLB jersey sales numbers were released April 21, and much to nobody's surprise, the Chicago Cubs are doing well.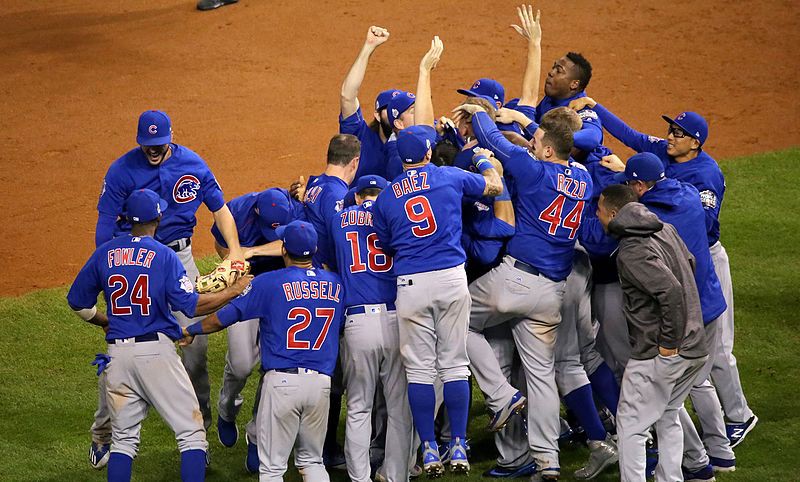 Per ESPN's Darren Rovell, Cubs third-baseman Kris Bryant leads baseball in total jerseys sold, with teammate Anthony Rizzo close behind. Los Angeles Dodgers ace Clayton Kershaw finds himself in third, but he's bookended by another two Cubs.
Infielder Javy Baez and outfielder Kyle Schwarber round out the top five, giving the Northsiders four of the five most-popular jerseys in Major League Baseball.
It's not hard to imagine why; the Cubs won the franchise's first World Series since 1908, breaking longest championship drought in American professional sports history.
It also doesn't hurt that they're loaded with young talent, too. Rizzo is the old man of the aforementioned group at just 27 years old.
https://frontofficesports.com/the-best-caps-in-all-of-minor-league-baseball-51c95be17d26
The overall list is remarkably dominated by young players. The average age of top-sellers is 26.5, with stars like Noah Syndergaard, Corey Seager, and Mike Trout helping to fill out the top ten.
The oldest player on the list in Cardinals' catcher Yadier Molina (34), with the youngest being Seager (22).
For Major League Baseball, one of its biggest challenges has been recapturing the young fan. The NBA and NFL may have surpassed MLB in popularity, but with this latest trove of young stars, baseball is in a good spot.
"Baseball is on a roll," writes Sports Illustrated columnist Tom Verducci. "The 2016 season ended with the most watched World Series game in a quarter of a century, followed by a parade that drew the largest recorded gathering of mankind in the history of the Western Hemisphere."
https://frontofficesports.com/the-best-caps-in-all-of-minor-league-baseball-51c95be17d26
Verducci suggests the best way to ensure baseball's resurgence is to ride the momentum, and much of that wave will be pushed by the young, marketable talent.
Baseball is also making more money than ever, despite the popular narratives about the "dying sport" that have been circulating.
"For years polls have said baseball is the most problematic of the major U.S. sports and that the game is declining in popularity," writes Forbes' Mike Ozanian. "Now, to reality. The average MLB team is worth $1.54 billion, 19% more than one year ago."
"Values were driven higher by new local television deals that are increasing at roughly a two-fold rate, surging profitability, and the escalating value of Major League Baseball Advanced Media, the Internet and technology arm of MLB."
In other words, baseball is fine. And with surging popularity paired with a crop of young stars, the wave has yet to crest.
---
Front Office Sports is a leading multi-platform publication and industry resource that covers the intersection of business and sports.
Want to learn more, or have a story featured about you or your organization? Contact us today.