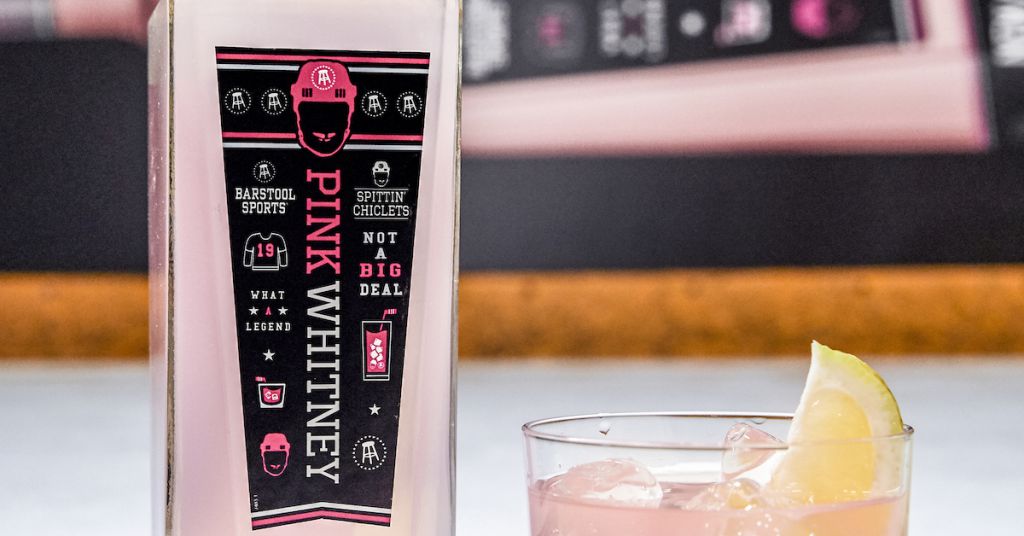 The Spittin' Chiclets New Amsterdam Pink Whitney vodka isn't slated to hit the market until September 1, but a few stores in Minnesota let it go early and created plenty of buzz.
According to a representative from MGM Wine & Spirits in Mankato, Minnesota, the store sold more than 200 bottles in three days after posting about its arrival on social media. The store also ordered more than 100 12-pack cases and expects those to move quickly as well.
The demand and early reception to Pink Whitney isn't a surprise to Barstool Sports CRO Deirdre Lester – in fact, Lester said it is confirmation the company is on its way to being a full-blown lifestyle brand.
"Barstool and the sub-brands are lifestyle brands, and as you can imagine, we'll look for ways to bring that to life," Lester said. "We're like a modern-day Marvel [Comics]. We're not only a media property people read, consume and follow; they want to wear, hold and touch us. We're looking for partnerships to make that happen."
Pink Whitney was born out of an ad read for New Amsterdam on Spittin' Chiclets when host and former NHL player Ryan Whitney said his favorite drink was pink lemonade and vodka. New Amsterdam took notice and brought it to life.
"Normally when you have a brand sponsorship with a media entity, you give them some key phrases to talk about the brand, but we realized you can't do that with them," said Michael Sachs, director of marketing with New Amsterdam. "It was just, 'Talk about it any way you want to,' and that's how it came about and instantly there was a lot of consumer engagement. It became a sensation and it forced us to have a conversation of, 'How do we take advantage of this?'"
The vodka took nearly 10 months to bring to market, Sachs said, and it's the first colored vodka the company has released.
The early consumer demand has excited the New Amsterdam team, so much so the company is investing in two ad spots with the Spittin' Chiclets hosts and is getting product display space in retail outlets and even behind the bar at on-premise locations, a rarity for New Amsterdam flavored vodkas, Sachs said.
"Anytime we launch a flavor, there's demand, but before we've even gotten to stores, they're already asking for it," he said. "We can leverage that and because the retailers know there's a built-in consumer base we want to go big with this. It's why we're seeing 50-case displays and selling through."
Sachs said displays should be seen nationwide after the official release, with an especially large presence in Barstool's backyard of New York City and Boston.
It's not the first direct-to-consumer brand partnership for Barstool, as Lester noted other partnerships with brands like Thursday Boots, but she said it's the largest yet. Lester hopes the New Amsterdam vodka collaboration can show other partners the potential of deeper activations.
"We've been able to go full-funnel with our partners, creating awareness with our brand and the ability to drive sales," she said. "We're definitely looking for more opportunities to be a full-funnel partner, but it has to be authentic. We can't do it for everyone, but we'll look for ways to create additional value for our franchises and take our IP further than a media brand."
Helping move product is a major reason spirit companies are partnering more with outside brands and celebrities as they look to get a leg up in a crowded marketplace, said Tim Weigel, chief mixologist for Hakkasan Group. He also noted celebrities starting liquor brands, like Casamigos tequila and a mezcal brand by Breaking Bad duo, Bryan Cranston and Aaron Paul.
READ MORE: Kansas City Royal Whit Merrifield Highlights Boulevard Brewing Campaign
"Bottom line is they'll do whatever they can do to push more cases," Weigel said. "Lowering prices only goes so far, so to reach more people they'll find ways to sell more."
If all goes according to plan and the excitement about Pink Whitney from Barstool, New Amsterdam and consumers continues, Sachs sees the product as being a long-term play for the spirits company.
"Given the enthusiasm, we expect this to be one of our largest flavors ever," he said.