Ball Corporation is making its next move in sports to help push sustainability, putting its name on the home of the Denver Nuggets and Colorado Avalanche.
The naming rights deal to the arena that has been known as the Pepsi Center is the keystone piece of a broader agreement with Kroenke Sports & Entertainment, the ownership group of the two Denver teams. The holding company also owns the Los Angeles Rams, Arsenal F.C. and the NLL's Colorado Mammoth — which also plays at the Denver area arena. Terms of the deal were not disclosed.
Ball Corp., largely known for aluminum cans, released the Ball Aluminum Cup, essentially a thin aluminum version of plastic cups seen at arenas across the globe, at the then-Pepsi Center in 2019. The partnership will expand the cup's presence to Emirates Stadium in England and SoFi Stadium in Los Angeles.
"We are thrilled to bring our name to 'Ball Arena,' but more importantly this partnership is about the opportunity these venues give us to have important conversations and create impactful experiences in these hubs of cultural and community moments," said John Hayes, Ball Corp. president and chief executive officer.
Ball is rapidly expanding its distribution of the aluminum cups, which began last year with Pepsi Center and a partnership with the University of Colorado and its athletics program — Ball Corp. is based in Colorado. It then also was used at Super Bowl LIV at Miami's Hard Rock Stadium, Mercedes Benz Stadium in Atlanta and the Waste Management Phoenix Open, among other global events.
The Colorado connection was critical for the new naming rights deal, according to KSE Founder and Chairman Stan Kroenke. PepsiCo. had been the naming rights partner since the arena opened in 1999 — extending for one year in 2019 after an initial 20-year deal that reportedly paid $68 million.
"Our goal in selecting a long-term international venues partner was to find a Colorado-based company with global renown to grow side-by-side with our talented young teams," Kroenke said. "Ball Corporation is an ideal fit for that vision, an innovative leader that shares our commitment to our local community, to environmental sustainability and creating quality jobs in Colorado."
Rather than the 93 billion plastic cups that are discarded every year globally, Hayes said the aluminum cups are infinitely recyclable, with 75% of all aluminum ever produced still in use today. According to Hayes, a new aluminum beverage product can be ready within 60 days of a recycled package.
"This partnership is about re-imaging a return to venues where we are creating less waste," he said.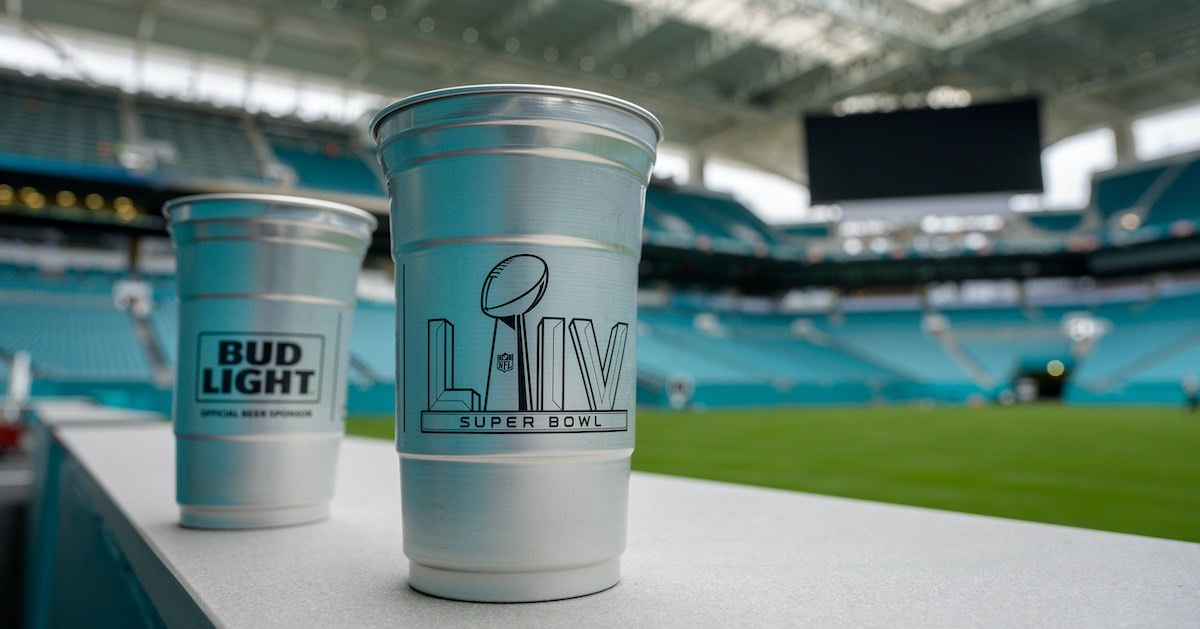 The partnership with KSE has a goal of creating a closed-loop system for recycling by 2022 at Ball Arena, while transitioning to 100% aluminum for its beverage packaging.
As Ball Corp. has ramped up distribution of the aluminum cups, the company also announced late last year a dedicated manufacturing facility in Rome, Georgia. That facility should open later this year.
"At Ball, when we approach the investment, we think five to ten years down the line," Ball Corp. General Manager Sebastian Siethoff told FOS earlier this year. "This is a heavily capitalized business with very long-term planning horizons, and we have bigger plans beyond this factory."
Since the inception of the cup, sports has been viewed as an avenue for the growth of the cup — in large part because of the masses of fans who enter the stadium and consume a variety of beverages.
"Sports and entertainment venues have an amazing opportunity to engage, educate and inspire fans about how choosing and recycling aluminum is an easy way to make a more sustainable choice," Hayes said. "We have the opportunity to introduce new and fun aluminum beverage packaging choices to visitors in a way that will have a lasting, positive impression on how people view their role in minimizing their own environmental impact."