Atlanta Motor Speedway announced Tuesday that they will not repave the track until after the 2018 Monster Energy Cup Series race.
At 20 years old, Atlanta's surface is the second oldest racing surface in NASCAR.
A consensus favorite track to race at, Atlanta's slick racing surface causes the cars to handle differently and forces drivers to alter their strategies.
Last paved in 1997, Atlanta Motor Speedway will continue to conduct work on the pavement and have some parts sealed up to stop further cracking and splitting.
Since '97, Atlanta has held over 100 series races ranging from the NASCAR Cup and IndyCar to Legends car races.
"The overwhelming majority have urged us to hold off on paving," said AMS President Ed Clark, "so that we can enjoy at least one more weekend of high-speed slipping and sliding in 2018 before the new surface is installed."
Much of the NASCAR community from drivers and team members to fans across the nation spoke out about the impending repave, and ended up getting their wishes for one more year.
"Drivers hate repaves. We want to see the surfaces last as long as they can. But the reality is nothing lasts forever," said 2017 Atlanta winner Brad Keselowski.
MORE: LVMS AND PENNZOIL AGREE TO ENTITLEMENT SPONSORSHIP
The worn out surfaces in NASCAR give a track its uniqueness, especially when NASCAR runs seven 1.5 mile tracks, like Atlanta, with similar racing grooves and lanes.
Speedway Motorsports Inc., who owns Atlanta Motor Speedway, saw a stock increase at .42 percent after closing at $19.29 Thursday. This is among the highest trading prices over the last 52 weeks.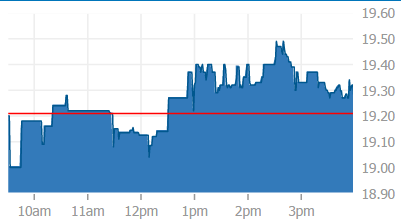 Not only has this decision been good news for race teams and fans, but has created more exposure for buyers on the stock market. NASCAR's number one goal in 2017 was to figure out how to increase the fan base and exposure in any way possible; and Atlanta's recent decision seems to sit well with everyone.