From ticket specials to giveaways, promotions are a great way to engage fans and give them a little 'something extra.'
Welcome to the Promo Spotlight! Each month, I will look at some of the best promotions that have taken place around the sports world and share them with you. Promotions play an important part in enhancing the fan experience and can sometimes be the deciding factor in someone going to a game or not. From ticket specials to giveaways, promotions are a great way to engage fans and give them a little 'something extra.'
https://frontofficesports.com/march-promo-spotlight-c74a9b644c92
When the calendar hits April, it signals the return of baseball: the sport known for wacky promotions delivered during its first month back, while colleges are closing out their seasons strong. Keep reading to find out who had the best promotions best in April!
Tony Allen Pepper Grinder, Grizzlies, 4/9: Tony Allen's Twitter bio clearly states that he's "always grinding." In fact, his nickname is "The GrindFather." Now, he'll grind 4,000 Grizzlies' fans pepper. This is a phenomenal giveaway to honor the three-time First Team All-Defense member who's always grinding.
First. Team. All. Pepper. Grinder.

1st 4,000 fans at today's game get @aa000G9 Pepper Grinder's! Don't miss out. pic.twitter.com/KgWtb0LtQD

— Memphis Grizzlies (@memgrizz) April 9, 2017
Bringer of Rain Umbrella, Toronto Blue Jays, 4/16: The Blue Jays may have the man nicknamed "Bringer of Rain" on their team in Josh Donaldson, but they still want to keep their fans dry. Not only is it a very visually appealing umbrella, color-wise, but the swing sequence of Donaldson is a really cool design, as well.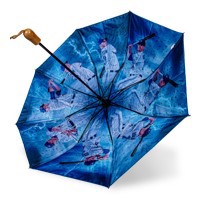 Cargo Shorts Retirement Party, Georgetown Hoyas, 4/29: It doesn't matter what side of the cargo shorts debate you're on, you're going to love this promotion from the Hoyas. Wanting to end cargo shorts once and for all, the Hoyas held a retirement party for the infamous piece of clothing at their men's lacrosse game. Fans were able to donate their cargo shorts, write a goodbye speech and cut the pockets off their shorts. They even bought a cake that had a picture of cargo shorts and said, "Thanks for the memories, but it's time to Car-GO!"
Beyond the Promotion:
"I have been trying to talk my dad out of cargo shorts for about five years, and he recently (within the last year) made the transition. This gave me the motivation to try it on a larger scale. Cargo shorts, like our former promos about Kale and the Hot Dog Sandwich, are very polarizing, so that is why we decided to take a stance on one side of the argument. It causes a discussion amongst the media and fans, and hopefully drives more eyes to what we are doing here." –Chris Grosse, Assistant AD for Marketing
👀🎂👀 pic.twitter.com/gYuzxCCsxQ

— 𝘾𝙝𝙧𝙞𝙨 𝙂𝙧𝙤𝙨𝙨𝙚 (@Chris_Grosse) April 28, 2017
Today, as @HoyasMLacrosse was defeating St. John's, fans were donating their cargo shorts and trading in functionality for fashion! pic.twitter.com/5L8hrvyh30

— Georgetown Hoyas (@GeorgetownHoyas) April 29, 2017
Goat Tees for Goatees, Navy Baseball, 4/29: When it comes to mascot-themed promotions, most teams give out a figurine or do something kid-related. Not Navy. They found one of the most unique ways to honor their mascot, Bill the Goat, with a promotion that people of all ages could enjoy. Goat Tees were handed out to the first 100 fans with a goatee (real or fake) and a face… er… goatee-painting station was on-site for those who wanted a goatee painted on. Other activities included goat-themed trivia, the 7th inning stretch led by Bill the Goat, and foul balls announced by goats.
Beyond the Promotion:
"The idea came about when thinking of ways to incorporate our mascot, Bill the Goat, into a baseball promotion. I think that baseball inherently lends itself to out of the box promotions, and this is a great way to celebrate Bill and his facial hair. –Alex Toltzis, Assistant Director of Marketing
Goat Tees for Goatees with @NavyAthletics was a success! #NavyBaseball pic.twitter.com/xiR5xZvk53

— Alex Toltzis (@AlexToltzis) April 29, 2017
What does the Goat say?

Find out and channel your inner Bill the Goat this Saturday at the #NavyBaseball game with Goatees for 🐐👕 pic.twitter.com/GpLbhsAiFj

— Navy Athletics (@NavyAthletics) April 24, 2017
Croakie and Bow Tie Set, Lexington Legends, 4/29: It may be early in the season, but the Legends already have one of the most stylish giveaways of the year. I absolutely love this croakie and bow tie set. It's already a classy giveaway, but having a mustache print makes it even classier.
🚨 Giveaway Alert 🚨

Croakie & Bow Tie giveaway on 4/29 just in time for the @KentuckyDerby! 🐎🌹

📲 BUY TICKETS: https://t.co/XpZ1H8P3iZ pic.twitter.com/kV09PxWDtE

— Lexington Legends (@LexingtonLegend) April 22, 2017
---
Front Office Sports is a leading multi-platform publication and industry resource that covers the intersection of business and sports.
Want to learn more, or have a story featured about you or your organization? Contact us today.