Toyota's stable of drivers includes a combination of some of the most established and up-and-coming names. How is Toyota able to obtain all these drivers? It's in large part thanks to Toyota Racing Development's Driver Development Program.
Drivers Erik Jones and Christopher Bell have participated in the manufacturers Development's Driver Development Program, while Kyle Busch operates Kyle Busch Motorsports and mentors the best up-and-coming drivers in the Toyota stable. What is it that makes TRD's program a success? There's nobody better to explain it than the executives and drivers themselves. From finding a driver to building relationships, providing equipment and increasing diversity – Toyota Racing Development continues to be successful, and they don't plan on stopping anytime soon.
The Driver Development Program
TRD has a very extensive process that they go through to find drivers who they want to put through their Driver Development Program. Jack Irving, the Director of Team & Support Services for Toyota Racing, is one of the masterminds behind the program and essentially works as a scout for Toyota. Irving attends hundreds of races each year and uses a combination of evaluations and analytics to help him try to find the next potential superstar.
"We've created ways of analyzing data to locate a driver," said Irving. "We look at the equipment they're in, the overall ability, the strength of the field they're competing against and other factors. We'll run them through various tests with different setups and crew chiefs and evaluate them. We also have a website that drivers who we aren't actively recruiting can go on and fill out a resume of sorts. We have everything on it, from personal information to racing statistics. It lets us sort of keep tabs on them."
The toughest thing for Irving and the TRD team is that while they may attend multiple races each season, they can only watch a certain driver a limited number of times. It's not like baseball, where a scout can watch a team for 162 games. Instead, Irving might see a driver three or four times and have to base his evaluation solely on those races. To maximize his time at the track, Irving uses a scoring system for each driver he watches compete.
"We rate drivers on a multitude of things. It's on a 1-10 scale. At the track, we might get ratings from four or five different people, and we can use those analytics to create comparisons for different data," said Irving. "We've got to find the best kids at a young age and be able to bring them along and develop them within our program."
Once Toyota finds the next best drivers, they then begin the pivotal tasks of keeping them under the Toyota umbrella, while providing top-notch equipment and teams to serve as mentors.
Toyota Racing Development and Relationships
In any sport, it's tough to keep the talent you have. Lebron James left the Cavaliers for the Heat in his infamous "Decision" on primetime TV, and many other stars have left teams for more money or a chance at winning a title. Toyota, however, competes for championships (the manufacturer won the 2017 Monster Energy NASCAR Cup Series championship with driver Martin Truex Jr.) and has a low turnover rate. The key is relationships with its crop of drivers, according to Toyota Racing Development President David Wilson.
"We try to build a relationship with these kids," said Wilson. "Get to know them off the race track. Get to know their families, their parents. We want them to get a sense of who we are as a company, as a team and a measure of our commitment. While we're in this to develop competitive young men and women, it's frankly important that we do it in a respectful manner and treat them right. It starts with the emotional connection. Beyond that, it's about the hardware and being able to partner with teams that have the capabilities and commitment to put these kids in the best equipment."
Equipment and Mentorship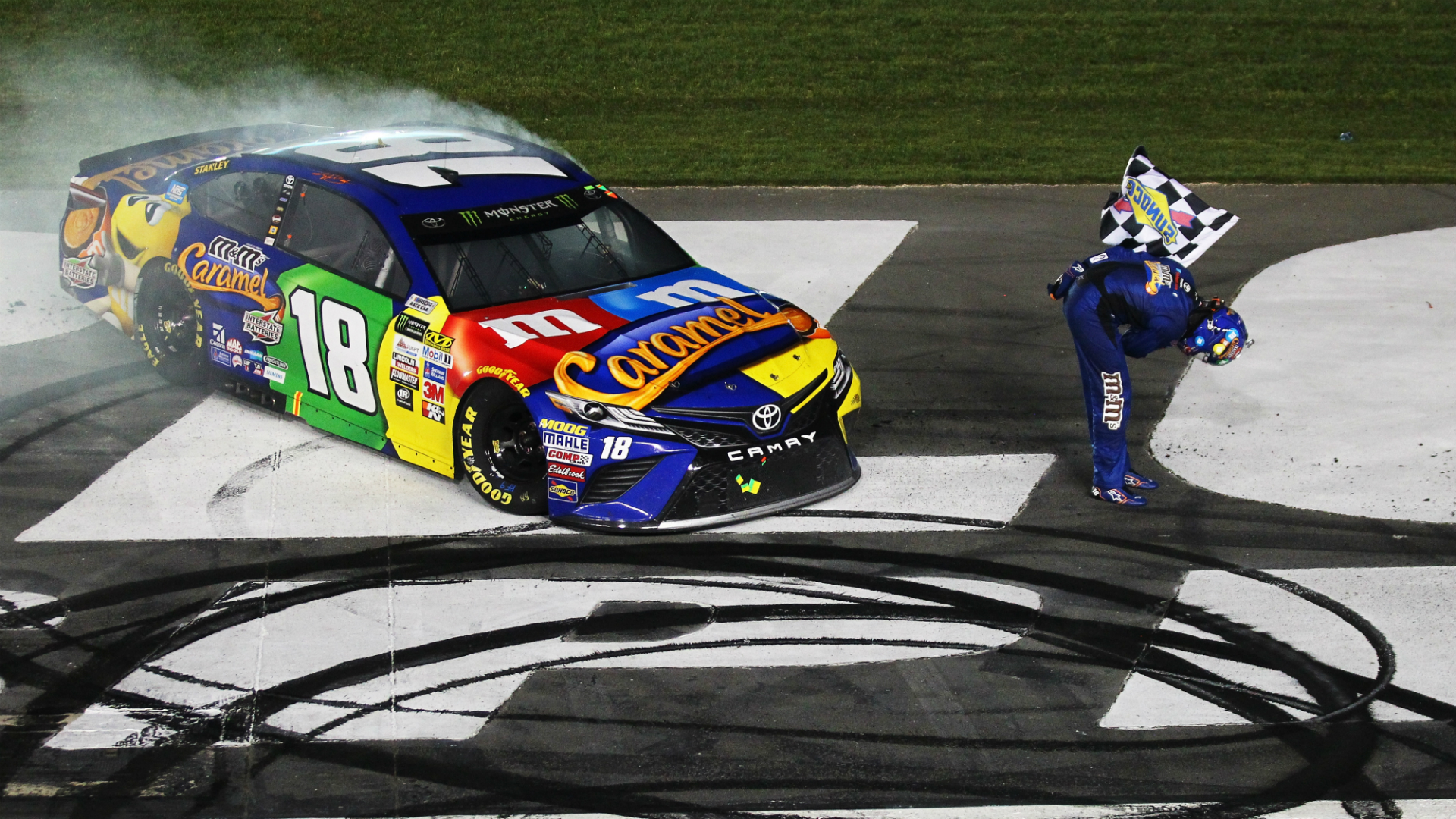 Teams like Kyle Busch Motorsports offer not only the best equipment for drivers, but the chance to be mentored by a Monster Energy NASCAR Cup Series champion.
"We are looking for teams that want to work with us and that are committed to mentoring these kids," stated Wilson. "Kyle (Busch) is one of the best. There is nothing better than to listen to him and hear him coach up a driver, crew chief, and team engineer. He's amazing."
Busch isn't afraid to tell his drivers when they do something right, but he doesn't shy away from addressing issues on the track either.
"I tell them all how it is," said the former MENCS champion. "If they do something wrong, I tell them they did something wrong. There's a point where me being the boss, but also being a racecar driver, I understand who is at fault or who should have done something different. I'm able to explain those things and to try to get the most out of our drivers as they go on and go through the years."
The championship winner knows that he has the platform he does because of his on-track success. Certainly, it ensures that drivers are always listening when he speaks.
Said Busch: "I think my on-track success is a huge part of what we're able to do and accomplish at KBM. I think it gives the younger guys a reason to listen because if I wasn't successful but had this race team, then it would kind of be like what's this guy know?"
One driver Busch has mentored is Christopher Bell, while Bell's JGR teammate Erik Jones was remarkably the first-ever driver to go through the TRD program.
Christopher Bell and Erik Jones: Toyota's Next Stars?
Last season, Christopher Bell won the NASCAR Camping World Truck Series championship with Kyle Busch Motorsports. His reward? Moving to Joe Gibbs Racing and running a full schedule in the NASCAR XFINITY Series. Jones, who competed with Furniture Row Racing last season, is also a product of the TRD Driver Development Program. This year, he'll move to JGR to pilot the No. 20 Toyota in the MENCS.
Bell grew up racing on dirt tracks, but has transitioned to asphalt like a natural. He can thank his team owner for helping that transition go seamlessly.
"He (Busch) helped me become a NASCAR racer," said Bell. "What that means is growing up racing sprint cars on the dirt tracks, they taught me good habits that could translate to NASCAR. A big part of it was the longer distances. In sprint car racing, you go as fast as you can for a certain number of laps and hope to be out front when it's over. In NASCAR, a lot more goes into it than running fast."
While Bell is a product of Toyota's program, Jones holds the distinction of being the first driver to go through the Driver Development Program.
"I think for me, being a part of Toyota, it means a lot of different things, said the second-year MENCS driver. "I wouldn't have the opportunities that I've had in NASCAR without them. I think early on even in ARCA with Venturini Motorsports and then in trucks with Kyle Busch Motorsports, Toyota was always such a big influence and a big part of my career right from the start, when I got out of late models."
The man who watched Erik Jones? Jack Irving. He had some assistance from Kyle Busch too, who let the Toyota brass know just how good Jones was.
"Kyle (Busch) let us know how good Erik (Jones) really was when he was racing late models for KBM," said Irving. "When we first started evaluating Erik, his IQ was off the charts. At a young age, his communication was vastly different than most, which let him give feedback to the crew chief who then was able to alter the car, and not just alter it, but alter it in a positive way. We evaluated Erik throughout the program, but especially during his time with KBM. Erik won and he won quickly. What he showed was that his ceiling continued to rise and ultimately that helped him get to the Cup Series quickly."
With Bell moving up to the NASCAR XFINITY Series and Jones competing in his second full-time Monster Energy Cup Series season, Toyota's evaluation and research has paid off. Are these two the next big stars of the Cup Series? Time will tell.
Diversity: A Call to Action
Think it's only male drivers in the Toyota stable? Think again. Toyota has a call-to-action from its top executives to find the next great female driver. Hailie Deegan and Natalie Decker are two of the young women who hope to make their mark and achieve their ultimate goal of making it to NASCAR's premier series.
"We have a commitment to diversity," said Wilson. "We have a call to action from top management to find a more diverse driver lineup. The sport is gender and race neutral. It's upsetting that there haven't been more possibilities for girls, but Danica helped to truly open the door and we've seen there will be plenty of opportunities and fast."
Decker will compete in the ARCA Racing Series with Venturini Motorsports, a trusted TRD partner, while Deegan, the 16-year-old daughter of motocross superstar Brian Deegan, will run the full K&N Pro Series West schedule.
"Just 18 months ago, I was trying to figure out the next steps for my late model career," stated Deegan. "If you had told me I'd be where I am now I wouldn't have believed you. All the training, practice and hard work is paying off. At first, it was a weird feeling being in this position. I'd see drivers were once in my position and now I'm in the same position as them. I never thought I'd be racing stock cars. Toyota paved the way for me."
Deegan wants to win and win quickly. While taking a checkered flag is at the top of her list, she also knows just how much of a positive influence she can have on young girls that watch her put the pedal to the metal.
"I want to be the one to open doors," she said. "There have been girls in the K&N Series that have raced, but they've never won. I want to be the one to race and win. I want to open doors so that girls can follow in my footsteps."
Deegan grew up racing bikes and while many tangible aspects will transfer to the asphalt, she relies most on an inspirational quote from her father.
"We have a saying that it's always important to have fun and it's the most fun to win. I try to remember that."
Primed for success, the budding star, who many friends and family call the "Dirt Princess," has one piece of advice for girls who want to race.
"I'm out there with guys and parents don't want a girl beating their sons out there on the race track. When that happens, some people get upset, so it's important to not let people get to you and just keep your head up."
As for Toyota's plans for Deegan and Decker? Well, this might be the only time that going slow actually wins a race in motorsports.
"Natalie and Hailie have done very well in the places that they've raced," Wilson noted. "What we've learned is that every driver adapts differently. Some take to (pavement racing, full-bodied cars) like a fish in water and others slowly. You don't want to push too hard, but we have to keep challenging them. We think the world of them."
The Future
With championships under their belt, including the most recent MENCS title, what's next for Toyota and the Driver Development Program? Continue to build on its success and quite simply, never stop improving.
"We have a reputation that we care about these kids and we put their best interests first," noted Wilson. "Yes, we want to develop drivers that will be a part of TRD, but most importantly we have a quality reputation that we do the best we can for these young kids. It's early, but we're happy with what we've done so far. Time will tell whether this model has a long-term value. I genuinely believe it does. It's the right thing to do and it's different. I think we're famous in motorsports for taking the path less traveled."
The good news for Toyota is that they've stocked their stable with young drivers, something that Bell recognizes makes the program so successful.
"Toyota has invested in young and up-and-coming drivers. Erik and I are a product of that. They (TRD) do a great job and without them, I certainly wouldn't be where I am today."

As the guru behind it all, Wilson won't rest anytime soon.
"We're exploring new ideas," he said. "One of the things that we're doing is talking to other sports and looking at the ways that they develop their athletes. We know there's no one size fits all approach and we can learn from other leagues. We aspire to build on what we've done. I'll be excited to see what we've built in even 10 years."