Collette Smith's hiring is another step in the right direction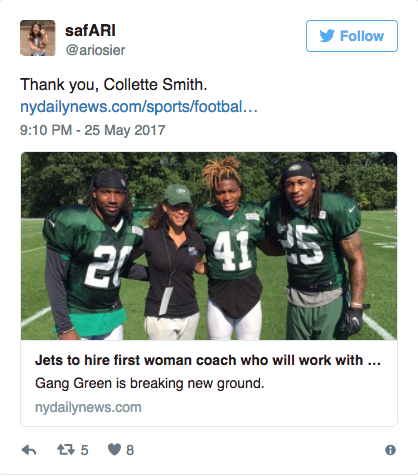 It is an incredible thought that the opportunity to be the first female, NFL coach has been seized. Now, the opportunities will move to the individual team level. As integration throughout the entire league is becoming prominent, another first has been checked off the list — Collette Smith has been hired as an intern to work with defensive backs during the New York Jets' Training Camp.
The Jets have never had a female coach in their organization's history, so with this hire, yet another triumphant opportunity is seized.
---
Smith is the third female coach in NFL history, preceded by Jen Welter and Kathryn Smith.
Welter was the first in 2015 as a preseason coach with the Cardinals under, head coach, Bruce Arians. Smith followed shortly after in 2016 as a quality control coach with the Buffalo Bills. Interestingly enough, the current head coach of the New York Jets, Todd Bowles, is very close to Arians — playing under him at Temple and serving as his defensive coordinator in Arizona in 2013–14.
---
The journey for Collette Smith has been a very exciting one, but certainly not an easy one.
mith, 44, played three years for the New York Sharks in the Independent Women's Football League. She has also been a coach and marketing executive for the team after a significant knee injury.
"We as women carry a lot on our shoulders," Smith said. "Right now, it happens to be football for me. This is a way for me to help empower women. Don't dream small, play big and go for it."
https://frontofficesports.com/who-are-you-when-work-isnt-looking-fffd368a293a
There will certainly be some push back by football fans all across the board about a female coach, as we have seen with the previous two female, NFL coaching hires. Some comments seen in response to announcements on NBC Sports and CBS Sports include:




Though these comments are extreme, they illustrate some of the underlying stereotypes women are forced to fight in American society. At some time or another, whether it was in the locker room in a halftime crunch or not, many women have experienced similar adversity adding a little extra weight on their shoulders.
It is moving to watch women overcome this very adversity, especially in the public eye at a high level like the NFL. Big things are ahead for women in the coaching world, and women like Collette Smith are actively paving the way.
Smith lightheartedly explains how special this opportunity is because it is close to her home and heart:
"I'm over the top. I'm humbled, and I'm proud," Smith explained to New York Daily News. "This could have happened with any NFL team. But it just so happened that it was with my beloved New York Jets. This is bigger because of that. God forbid it would have been with the Patriots. But I still would have done it."
The emotional journey Smith has experienced through her recent endeavors is heartwarming. It will be even more heartwarming watching her grow into bigger roles. Right now, she is shocking the world and taking the NFL by storm.
https://frontofficesports.com/who-are-you-when-work-isnt-looking-fffd368a293a
However, what will be most heartwarming is when news like this becomes a normality; when we live in a world where these "firsts" are few and far between. Smith weighs in on this idea —
"One day a woman will come to a football team, and it won't be a big story. It'll just be football. When that day comes, I'll be more honored and even more proud."
Well Collette, on behalf of many women across the globe, until that day comes, thank you for making women across America proud.
---
Front Office Sports is a leading multi-platform publication and industry resource that covers the intersection of business and sports.
Want to learn more, or have a story featured about you or your organization? Contact us today.
If you liked this, click the???? below so other people will see this here on Medium.