For years, NASCAR viewership and attendance have seen a decrease. Part of these problems stem from the aging fan-base and the unique sameness that the sport offers.
If last week's Daytona 500 was any indication, NASCAR might be in for a good year.
Ratings were up 5% from 2016's race, which saw the closest finish in NASCAR history, and viewership peaked at 11.9 million.
Want more great content like this? Be sure to subscribe to our newsletter!
Sunday's numbers were the highest for the Daytona 500 since 2015's race which saw 13.4 million viewers tune in. Viewership for The Great American Race peaked in 2006 when 19.4 million tuned in to see Jimmie Johnson win in a green-white-checker finish.
Not only were ratings up across the board, but NASCAR saw a key spike in the "millennial" age group.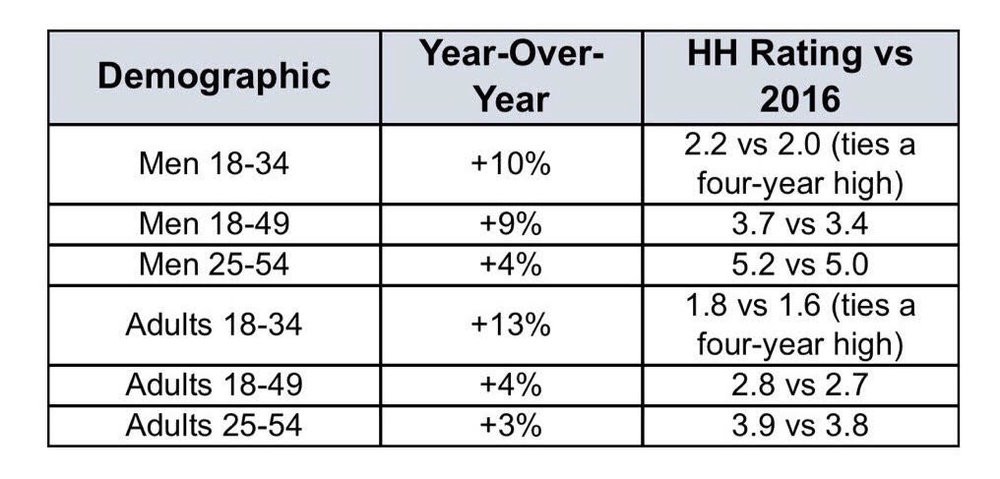 The largest spike in TV ratings over the weekend was in adults aged 18–34. In this age demographic, NASCAR saw an increase in viewership by 13 percent. That increase ties a four-year high in viewership.
With the average NASCAR fan being 48 years old, it is a crucial time to strike a balance between appealing to lifelong fans and capturing the attention of the next generation.
While the spike may be a sign of good things to come, years of decreased interest in the sport, economic downturn, and increased ticket prices has impacted tracks across the country.
Speedway Motorsports Inc., based in Concord, NC, owns nine race tracks and claims that admission dropped 28 percent from 2010 to 2015. At International Speedway Corporation's 13 tracks, admission fell 19 percent and Dover Motorsports admission fell 51 percent in six years.
Not only have attendance rates been declining, but ISC has removed thousands of seats from some of its tracks. According to Forbes, 13,000 seats were removed from Michigan International Speedway and Auto Club with an additional 20,000 being removed from Richmond International Raceway.
With new initiatives such as NASCAR's deal with Monster Energy and 2016 Rookie of the Year Chase Elliott offers a ticketing promotional at various tracks. The tickets are $24 and aim to get the college age demographic out to the track on race day, NASCAR is aiming to make the sport more sell-able to the younger masses.
One week into the season, things are looking up.
Only time will tell if this positive momentum will continue.