Why Travelers hit a hole-in-one with this activation.

In today's sport industry, sponsors are expecting more and more from events. Typical ways to showcase sponsors like signage, radio, television, and print no longer cut it. Sports organizations must get creative to satisfy their sponsors and maximize their sponsorship deals. The Travelers Championship was able to do this by creating Travelers Championship Hole 15 ½ Charity Challenge.
During most PGA TOUR tournaments, a Tuesday practice round does not generate much attention from fans, media and players. However, that was not the case at this past week's Travelers Championship in Cromwell, Connecticut. The Travelers Championship created a sponsorship activation event with their title sponsor, The Travelers Companies, which generated a unique interest.
The Travelers Championship Hole 15 ½ Charity Challenge is a closet to the pin competition, where PGA TOUR pros compete to earn $10,000 to donate to their charity of choice.
https://www.golfchannel.com/media?guid=QeUTg9Ty1vxbE4G5j0OwiDqdtL5YVptX
During players practice round, they get an attempt at the 88-yard par one 15 ½ hole. The hole is a 40-foot wide, 15-foot long floating green shaped in the form of the Travelers red umbrella logo.
The temporary, red umbrella hole is in the center of the four-acre lake that is surrounded by the 15th, 16th and 17th holes. The red umbrella green is equipped with a turf landing surface and a flagstick.
The Travelers red umbrella logo green stays in the lake on the other days of the tournament, serving as the title sponsor's logo.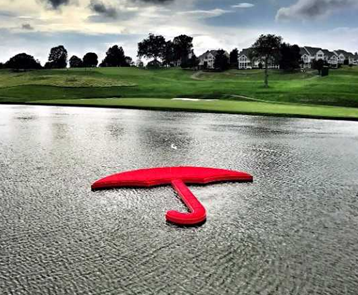 This sponsorship activation event was implemented in the 2009 Travelers Championship, where it was awarded the PGA TOUR's "Best Title Sponsor Integration" of the 2009 PGA TOUR season.
This year at the Eighth Annual Travelers Championship Hole 15 ½ Charity Challenge, John Huh won the closet to the pin challenge. Huh will split the donation of $10,000 provided by Travelers to two local charities, Hospital for Special Care and Hole in the Wall Camp.
This sponsorship really stands out because of the Travelers Championship's ability to activate their partnership with The Travelers Companies. The challenge was able to capture an audience on a day that is typically uneventful, as well as, maximize the activations audience through social media. This activation was a success because the Travelers Championship's ability to create brand awareness for their title sponsor and showcase the Travelers community responsibility.
As sponsors continue to want more from clients, sports organizations will need to get creative in the ways they activate sponsorship. Keep an eye out for more interactive sponsorship activations in the future.
---
Front Office Sports is a leading multi-platform publication and industry resource that covers the intersection of business and sports.
Want to learn more, or have a story featured about you or your organization? Contact us today.
If you liked this, click the???? below so other people will see this here on Medium.