What's Happening?
It was reported by Business Insider on September 24th that the venture capital firm Andreesen Horowitz ("A16z") is raising a new fund dedicated solely to gaming. The announcement comes on the heels of the firm raising its largest ever sector specific fund – its $2.2 billion Crypto III fund.
While the size of the fund is yet to be announced, A16z has already been investing heavily in the space to the tune of $1.08 billion (including an exit from Parsec as they were acquired by Unity) since the beginning of 2021. These investments were concentrated in three main sectors:

Crypto / blockchain gaming
Mobile gaming
Traditional online gaming
It appears as though Andreesen is looking to invest at the intersection of gaming and crypto. This comes, in large part, from the firm's belief that in order for "minimum viable participation" to be reached in crypto, a gaming framework or layer will be required.
From an adoption standpoint, gaming can benefit greatly from some of the tenants of blockchain. Players benefit from:
Increased financialization: Players can use assets in games as collateral to trade for other items or experiences
Financial alignments: The ability for gamers to participate in their game economies and receive actual financial benefit
Interoperability: Participation across ecosystem (i.e. being able to bring characters across from Roblox into League of Legends)
While game developers and game creators benefit from:
Better game economies: Better ability to monetize gamers vs. the existing free-to-play model
Reduced customer acquisition costs: Sharing a portion of economics with players and creators in your game economies means lower customer acquisition costs than traditional free-to-play games
Captured leakage costs: When games are created in a closed ecosystem there tends to be economic activity that takes place outside of the game economy and transactions are lost — interoperability fixes this

Andreesen Horowitz has honed in on this trend, specifically on the concept of "play-to-earn", a mechanism by which players complete tasks within a game to earn a form of wage or salary. Andreesen placed an initial bet on the convergence of blockchain and gaming with its investment in YGG, an NFT-based play-to-earn company, in late August.
For more information on the investment and understanding the top current example of "play-to-earn" (Axie Infinity), check out this resource.
Additionally, there has been a shift in player and demographic behavior. As gaming demographics expand, there has been a shift away from player vs. player ("PvP") gaming and a shift towards more collaborative gaming models players vs. environment ("PvE") where, instead of competing in one-on-one battles with other players, the objective is to collaborate to accomplish AI-generated challenges. This promotes world building, task completion, and lays the groundwork for more games, such as those described above, to be brought to market.
Why Does It Matter?
Market size. The gaming market was estimated at $180 billion in 2020, which was larger than the global movie and North American sports markets combined (according to the Motion Picture Association and PWC). The market is expected to grow to $218 billion by 2023 (depicted in the graphic below). Newzoo forecasts that 77% of 2023 spending, or $168 billion, will be on in-game items.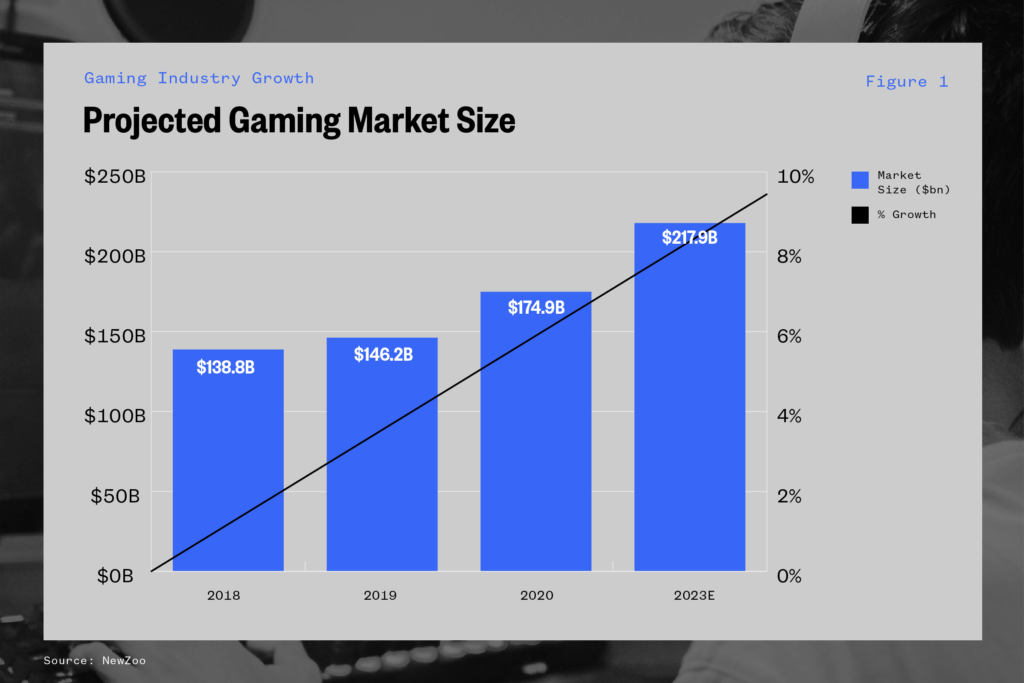 If the thesis presented above is correct and the characteristics of blockchain gaming allow for deeper monetization of existing paying players and some monetization of unpaid players, there is a potentially significant upside to market size and subsequently large amounts of capital availability which could be deployed in a number of ways.
What's Next?
We will continue to monitor Andreesen's new gaming fund along with established gaming investing funds such as BITKRAFT, Galaxy Interactive, Griffin Gaming Partners, and Makers Fund to see where dollars are flowing in the space. If blockchain-based gaming continues to be an area of focus, we could see entirely new in-game economies arising.
Investments to Date:
| | | |
| --- | --- | --- |
| Company | Date | Financing Size ($mm) |
| Axie Infinity | 10/5/2021 | 152.00 |
| Dapper Labs | 9/22/2021 | 250.00 |
| Elodie | 9/16/2021 | 32.50 |
| Parsec* | 9/14/2021 | 320.00 |
| Mountaintop Studios | 8/18/2021 | 30.00 |
| Virtually Human Studio | 7/21/2021 | 20.00 |
| Modernizing Park Chain | 7/16/2021 | N/A |
| Singularity 6 | 7/1/2021 | 30.00 |
| Yield Guild | 6/16/2021 | 4.00 |
| One More Game | 6/8/2021 | N/A |
| Z League | 6/2/2021 | 13.48 |
| Sleeper | 6/1/2021 | 40.00 |
| Forte | 5/20/2021 | 185.00 |
| Low Key | 3/31/2021 | 7.00 |
| Roblox** | 3/10/2021 | 13,824.75 |

*M&A (acquired by Unity)
**IPO