The goal of the deal is much bigger than many would expect.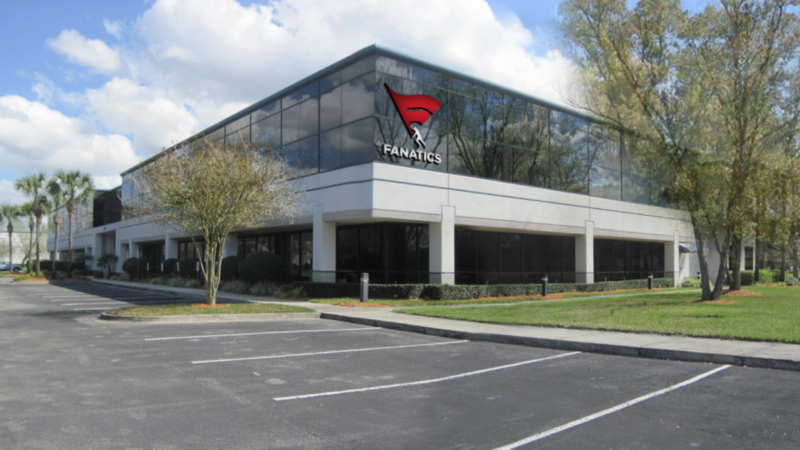 The National Football League certainly has its share of larger business partners.
From advertisers to broadcast partners, a who's who of American business makes their way to their Park Avenue offices. However, much more rare is the case where the NFL actually purchases an ownership stake in one of these partners.
Recently, this was the case, as the NFL purchased a three percent ownership stake in Fanatics Inc, — an online e-commerce merchandiser based in Jacksonville, Florida.
https://frontofficesports.com/nfl-facilities-are-finding-new-life-beyond-gameday-f636031974c
Fanatics has grown from a startup that generated $1 million dollars in revenue back in 2013 to a valuation of $3 billion dollars, according to Fortune in 2016.
Several possible opportunities await as the league took a few pages out of the merchandising playbook in making the deal.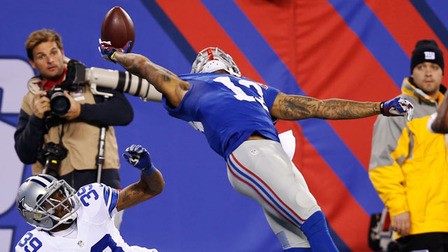 PAST INVOLVEMENT BETWEEN THE NFL AND FANATICS
Even before the purchase of the ownership stake in May of this year, the NFL and its partners had developed a productive relationship with Fanatics.
Earlier this year, the NFL Players Association (NFLPA) hosted their fourth externship program (think of it as a quick, external internship) for players still active in the game. Fanatics has been a participating host company for the last three years. The purpose is to help prepare these players for life and opportunities after their careers in the NFL come to a close.
The NFLPA summarized the effort as an opportunity to "Get experience in marketing, operations, merchandising, fan services, management, and product design & development plus be a part of various special projects." The website, The Undefeated, reported that this year's class of players expanded to six enrollees.
https://frontofficesports.com/nfl-facilities-are-finding-new-life-beyond-gameday-f636031974c
Another effort has been a foray into the concept of instant merchandise. In 2016, Fortune shared that the NFL had begun a partnership with Fanatics to create merchandise based on "micro moments," such as the famous one-handed catch by Odell Beckham Jr. on Sunday Night Football in 2014.
Fanatics CEO Doug Mack spoke of this opportunity as a response to living in an "on-demand world."
In merchandising, lead time is a big deal. Not just in product, but in many methods of traditional marketing and advertising. Research into product trends can go on for a year or more in advance. Efforts to reduce product lead time can tamper with cost and impact the travel route a product takes to a warehouse or brick and mortar store for consumers to buy.
According to Licensing Magazine, the NFLPA was very interested in this possibility and saw more. Ahmad Nassar and Steven Scebelo, the President and Vice President respectively of NFL Players Inc. (licensing arm of the NFLPA), referenced that the ability to reduce product cycle on a player t-shirt from 90 to 180 days down to 24 to 48 hours enabled such instant merchandise while a topic was still topical.
Nassar shared the game-changing idea of "…getting to the point where a person can go on the website and order a t-shirt that doesn't really exist," and "… 48 hours later, it's in the customer's mailbox."
https://frontofficesports.com/nfl-facilities-are-finding-new-life-beyond-gameday-f636031974c
Beyond this, the two NFL Players Inc. executives highlighted various opportunities: products that emphasize the college connection current players have, unique promotions, education, mobile gaming, and the ability to partner with their recent creation, ACE Media (Athlete Content & Entertainment Media) that creates sports-lifestyle content for NFL players. Even trading cards have entered into the mix as Panini America produced instant player cards as selections were made during the 2017 NFL Draft.

SPECIFICS OF THE DEAL
Fanatics has grown substantially from operating a single store in The Avenues Mall in the southern part of Jacksonville back in 1995 — a mall that used to host player autograph signing sessions back when the Jaguars were a young expansion team.
A report from Sports Business Journal noted that the vote among NFL owners was unanimous to infuse roughly $95 million dollars of investment to purchase the three percent equity stake in Fanatics.
The Florida-Times Union reported that the company's chairman, Michael Rubin, is the largest stakeholder in the equity group at roughly 70 percent.
Previous to this deal, Fanatics had acquired VF Corporation's Licensed Sports Group and their Majestic Athletic clothing brand (which currently outfits Major League Baseball teams). Fanatics also completed an agreement with Under Armour around outfitting MLB teams with uniforms in 2020 after the Majestic deal expires.
Major League Baseball joins the NFL and the NFLPA with ownership stakes in the online retailer. MLB owns about a $50 million dollar stake in the company for 1.5 percent equity.
At the time of the deal, Fanatics was already running the NFL's online store as well as that of Major League Baseball.
Strategically, business experts have speculated publicly that the NFL made the move for more financial upside in the business growth. Traditionally, a licensing fee represents the standard compensation model, but an ownership stake puts much more skin in the game for risk and reward.
As a practical application, the website, Digital Commerce 360, shared an example of how next year, Nike (as the current, largest producer and seller of NFL player merchandise) will then have to go through Fanatics and pay a sub-license fee to continue to sell goods. The NFL will then see a small cut of that fee following the equity stake.
The NFLPA is also giving Fanatics the right to determine which companies can or can't use players' names and images on clothing in the broader deal. The online publication also noted that the NFLPA hoped to use the deal to expand the number of NFL players on merchandise from a current 1,000 in number to ultimately make 2,000 players marketable.
INDUSTRY TRENDS AT PLAY
The NFLPA commented on the deal initially by saying, "We have spent significant time evaluating industry trends and new business models in order to determine the most effective way to achieve these objectives (maximize sales and assortment as well as generate increased exposure for players)."
The explosion of e-commerce growth versus brick and mortar stores may be obvious to those tied to the merchandising world. It has been impacting major retailers today and for the better part of the last decade. Planning campaigns and seasonal merchandise is a job in itself that takes months and months of research and execution.
While many retailers have sought to adjust to this changing world, Fanatics has stepped in and thrived. The deal looks to capitalize on this and additional trends.
https://frontofficesports.com/nfl-facilities-are-finding-new-life-beyond-gameday-f636031974c
Fanatics, itself, has pumped significant internal investments into technology in recent years to be able to handle the aspirational dreams and wants of the NFL and NFLPA. ESPN reported that more than $100 million has been pumped into technology and production improvements to reduce lead time from an idea or moment into the opportunity to see an image to click "buy" online.
The company, Salesforce also noted in a press release that Fanatics was partnering with them to "create personalized, 1-to-1 journeys for its customers in real time and at scale." The use of their Marketing Cloud is meant to scale marketing efforts for the creation of timely merchandise.
Use of the software will even allow for use of predictive analytics — which has become a critical trend for many retailers and other industries in terms of using big data through transactions and even tests in the field to predict future results of initiatives.
On the subject of licensing fees, the deal, as noted, allows for the NFL to capture a larger share than a traditional deal under a partial ownership model.
On a larger scale, this owned and operated (O&O) model in the media world has been a notable trend due to the financial impact of licensing fees and negotiations around them. As television networks decided which shows would be retained for up-fronts the last several years, the importance of a network owning a studio and their impact on the licensing fee became key factors in the fate of shows like Tim Allen's 'Last Man Standing' and 'The Goldbergs.'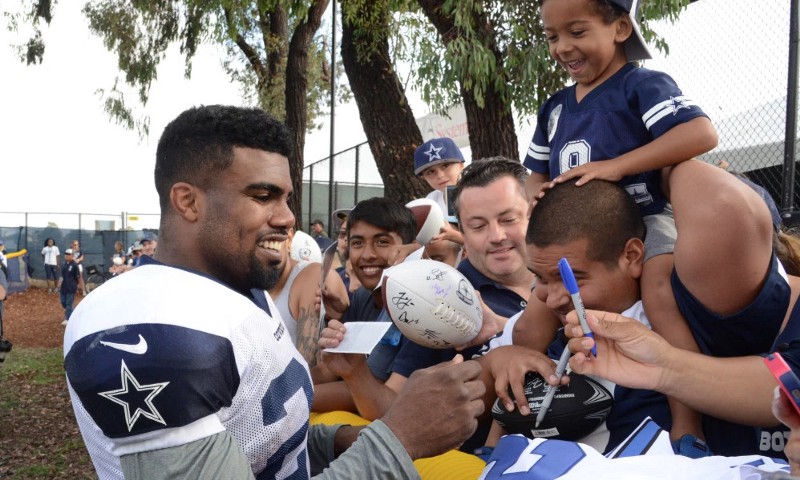 OPPORTUNITIES AHEAD
Beyond instantaneous production of merchandise, new opportunities await the NFL and its players from the deal.
Previously, in 2015, Fanatics had reached a deal through their Fanatics Authentic memorabilia division with Green Bay Packers quarterback Aaron Rodgers to serve as his sole provider of authentic memorabilia to fans.
Rodgers, at the time, noted, "By partnering with Fanatics, I can trust that my fans will get the best in authentic autographed collectables and I look forward to working together into the future."
Speed ahead to today and shortly after the NFL deal, Dallas Cowboys running back Ezekiel Elliott made his own deal with the company.
Elliott stated, "The two most important things to me were to give my fans the coolest selection of memorabilia and to have a premium company authenticate and distribute my collectibles."
Deals such as these highlight a number of opportunities the NFL has to increase revenue for the risk taken in their obtaining equity.
In a changing world where online media and second screens challenge traditional television networks and e-commerce sites take on the brick and mortar powerhouses, the NFL is taking steps they believe will allow them to capitalize and flourish.
Their new ownership stake in Fanatics continues to show the blueprint of a league that is looking to evolve alongside that changing world to continue to grow the game and the bottom line.
---
Front Office Sports is a leading multi-platform publication and industry resource that covers the intersection of business and sports.
Want to learn more, or have a story featured about you or your organization? Contact us today.
---
If you liked this, click the???? below so other people will see this here on Medium.