These three activations can serve as motivation for all of us.
It's no secret that sports fans love to be involved with their teams.
From dancing their way to the big screen to getting a retweet to wearing gear, fans love feeling like part the team. The same can be said about brands.
You will often find a company serving as the presenting sponsor for a fan cam, giveaway or a play on the field. They want to get their name out there, and sports is one of the biggest platforms available.
Whether it's a professional or college team, companies love being able to call themselves "A Proud Sponsor of Team A."
As the 2016–2017 college sports season comes to a close, I thought I would look back at some of the best sponsorship activations from the year. Each one has unique elements that both engage fans and give brands the exposure they seek.
University of South Florida and Big Frog T-Shirts
Everyone loves free t-shirts, especially when they're shot from a cannon. This year, the University of South Florida partnered with Tampa-based Big Frog T-Shirts to bring Bulls fans a t-shirt cannon for the men's and women's basketball seasons.
"It was a mutual partnership [with Big Frog]," said Adam Schemm, USF Assistant AD for Marketing. "They wanted to get involved with USF, and USF wanted someone who could be integrated into game entertainment in a unique way."
Throughout the year, Big Frog provided different t-shirts, while sponsoring the t-shirt cannon during basketball games.
According to Schemm, the t-shirt cannon was a hit among the younger demographic of fans and students. He said he could "see the anticipation [in the fans]" when the cannon came out. Schemm hopes to continue enhancing game entertainment to engage students and fans.
https://frontofficesports.com/brand-food-inspiring-party-crashers-everywhere-5d4b90907e8b
The t-shirt cannon was so popular, that when the University of Washington broke the record for 'Biggest T-Shirt Toss in College Athletics' during a men's basketball game on February 18, USF decided it wanted to beat that.
During the last women's basketball of the year on February 27, the Bulls successfully bested the Huskies' t-shirt toss record (1,400) by distributing 1,512 t-shirts during a media timeout.
Getting a t-shirt company to sponsor the t-shirt cannon was a brilliant move by USF. Not only does it give Big Frog T-Shirts exposure and let them say they're a sponsor of USF Athletics, but it's also relevant to the product they sell. For USF, partnering with a local company helps show their dedication to the community.
Schemm hopes to continue enhancing game entertainment to engage students and fans in the coming years.
Georgetown University and Xerox
During the 2016–2017 basketball season, creative powerhouse Georgetown and Xerox took the second year of their fan cam partnership to new heights. They built off last year's 'Copy That Dance' cam and turned it into 'Copy That Scene,' encouraging students and fans to copy a famous scene from a movie or TV show.
In an earlier article with Front Office Sports, Assistant AD for Marketing Chris Grosse said that for year two, they "wanted to take [the fan cam feature] to a new level by doing something truly unique."
Not only did they hit the nail on the head with 'Copy That Scene,' the partnership with Xerox itself is a win. It highlights one of Xerox's many assets in a way that engages fans and gives exposure to the company when videos of the fan cam are shared on social media. It also gives Georgetown's creativity exposure.
"For us, it isn't just about the experience during the game, it is also about creating something fans will share on social media after the game," said Grosse earlier this year.
https://frontofficesports.com/brand-food-inspiring-party-crashers-everywhere-5d4b90907e8b
After two wildly successful years of partnership, Grosse said Xerox's goals for year three are to showcase their commitment to higher education, sell their equipment on campus and grow their campus exposure. It will be interesting to see what the two sides come up with next year.
Indiana University and Adidas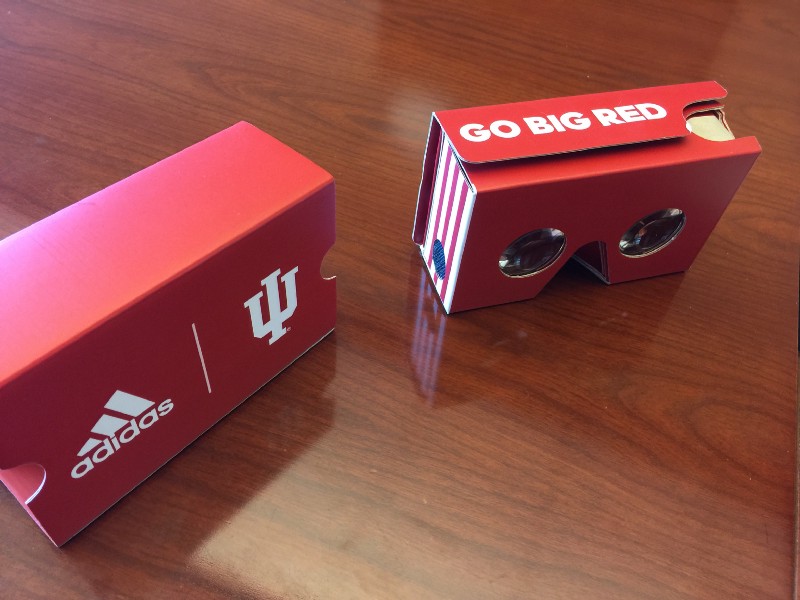 On February 25, Indiana University and Adidas executed a Guinness World Record promotion when they provided 2,000 cardboard VR headsets to students at a men's basketball game, creating the largest collective VR experience.
Not only was this an outstanding promotion, it is also a great example of two brands in an established partnership bringing an idea to fruition.
"We have a contract with Adidas where they outline some money for marketing and promotions, but they have to be creative ideas. […] We presented the [VR headset] idea to Adidas and they loved it," said Jeremy Gray, Senior Associate AD for Strategic communications and Fan Experience.
Having an established sponsor to work with allowed Indiana to go above-and-beyond the normal in-game promotion and do something that hasn't been done before. Additionally, the design of the cardboard VR headset gave exposure and bragging rights to both sides.
Working with the school's official apparel company was a great move, and something that other schools could start doing in the future.
---
Front Office Sports is a leading multi-platform publication and industry resource that covers the intersection of business and sports.
Want to learn more, or have a story featured about you or your organization? Contact us today.
If you liked this, click the???? below so other people will see this here on Medium.